Description
12.28 Friday (Bluegrass)
Nectar & The PBJ Present:
"Bluegrass Zipper" feat.KITCHEN DWELLERS with THE WARREN G. HARDINGSa full night of interwoven sets with no breaks!
$12adv / $16dos
8pm

doors
9pm

show
21+
Nectar Lounge
412 N 36th St
KITCHEN DWELLERS
Bozeman, MT-based bluegrass quartet Kitchen Dwellers are riding the wave of their sophomore release, Ghost in the Bottle, an album produced by Leftover Salmon's Andy Thorn. The album also features Twiddle's Mihali Savoulidis​, who joined the band in the studio to record the album's first single "Vision of More." The band continues to relentlessly tour the country, captivating audiences with their own unique style, dubbed "Galaxy Grass."
Formed while attending college at Montana State, the group has burst onto the bluegrass scene sharing the stage with acts such as Railroad Earth, Greensky Bluegrass, The Infamous Stringdusters and Twiddle. In recent years the band has begun to tour nationally, hitting notable venues and festivals around the country including The Brooklyn Bowl, The Fox Theatre, Delfest, Telluride Bluegrass Festival, Northwest String Summit, and The Frendly Gathering.
THE WARREN G. HARDINGS
The Warren G. Hardings are a high-energy stringband from Seattle, Washington. Heavily influenced by America's roots, folk and bluegrass heritage, they belong to a generation of young musicians that continues to evolve and adapt these acoustic traditions for the 21st century. The band has a deep affinity for the music of legendary bluegrass pioneers such as Bill Monroe and Flatt & Scruggs, as well as the countless artists following in their footsteps who have helped progress the genre to the rich and diverse art form it is today. The Warren G's draw on this legacy and contemporary influences, ranging from pop to punk, to create a live show experience that promises a foot-stomping party atmosphere and a good time for all. Whether ripping through old standards or performing original songs, the band strives to provide an infectious energy that gets the crowd moving.
Andrew Knapp – Bass
Andrew began plucking bass as a youngster, spending days in his basement learning the ever important Zeppelin catalog to supplement the public school repertoire of Beethoven and Basie. After a subsequent degree in Music at Whitworth University, his search for a place in society led him to the whims of folk and bluegrass. True to his roots, he is leaving his modern mark on the traditional tunes of America's past.
Gabriel Marowitz – Mandolin
Gabriel was first inspired to pick up a mandolin after accidentally stumbling into a Yonder Mountain String Band show in Boulder, Colorado. This started a journey down the bluegrass rabbit hole leading further and further into the past, until he reemerged with a beard, heavily calloused fingers and many new friends.
Heath Reinhard – Banjo
Heath lives in the trees, we call him coach. His banjo fell into his hands from the high heavens while he wasn't looking and he learned to play it before he had ever touched one. Hailing from New York City, his attitude says it all.
Joe Ellingson – Guitar
Joe has been playing music since he was inspired by his mother's musings as a child. Growing up in a family of roving musicians his picking fingers matured at a young age in the Cascadian wood.
Lee Callender – Fiddle
Lee's been making music and playing fiddle for the majority of his life. His bluegrass appreciation blossomed during his years with the Saline Fiddlers, a premier youth fiddling group out of Saline, Michigan. During his involvement with the Fiddlers, Lee performed on stage with many notable musicians including Mark O'Connor, Natalie MacMaster, Mountain Heart, The Infamous String Dusters, Darol Anger, Jeremy Kittel, and Richard Greene.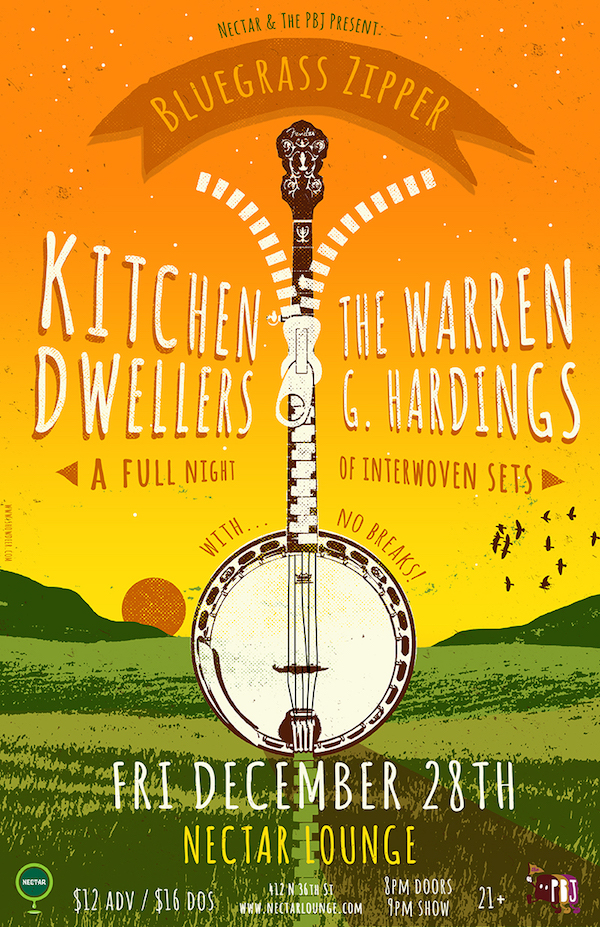 Performers
Date and Time
Location
Refund Policy