Event Information
Location
Cervantes' Other Side
2637 Welton St.
Denver, CO 80205
About this Event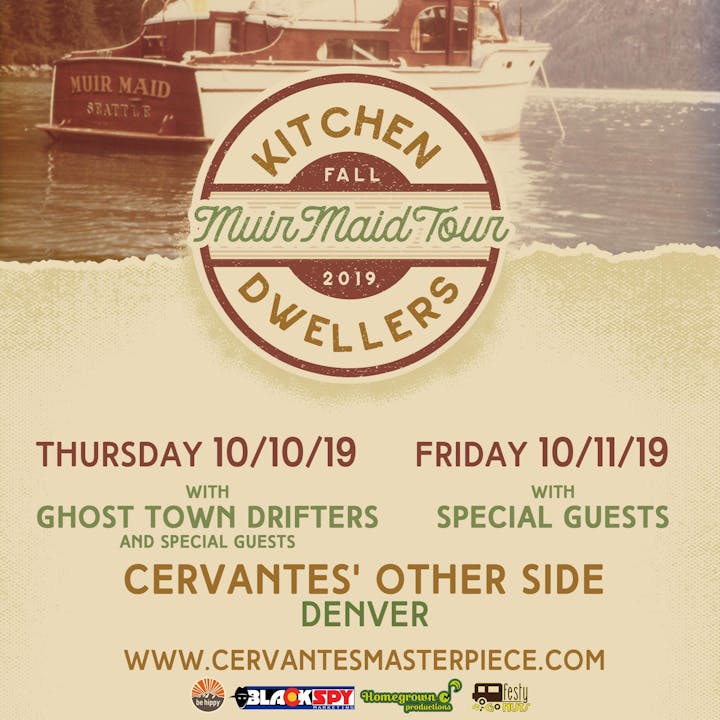 Kitchen Dwellers ft. Special Guest Chris Pandolfi of the Infamous Stringdusters w/ Casey Rusell & The Night People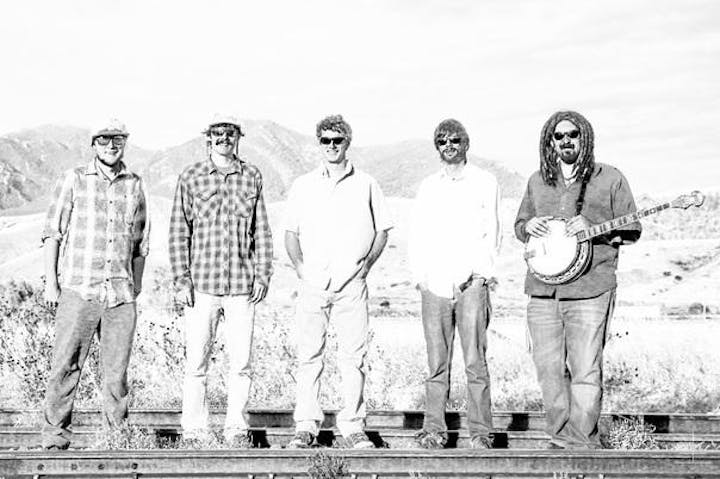 Kitchen Dwellers
Kitchen Dwellers formed three years ago below the Bridger Mountains with the sizzle of afternoon breakfast and the warmth of Irish coffee brewing in the kitchen. What began as a trio, Shawn Swain, Joe Funk, and Kyle Shelstad began writing music and playing traditionals searching for originality and occasionally, other life forms. Torrin Daniels was quickly added on Banjo and the band began playing shows around Bozeman, Montana. The boys began getting into cluster plucks and playing shows with the well established, local bluegrass exrtaordinaires Flatt Cheddar. In the spring of 2012, they added the multi-instrumentalist, Tyler Schultz on fiddle just in time to hit the road for Colorado. The Kitchen Dwellers have opened for high profile artists like Greensky Bluegrass, Pete Kartsounes, WhiteWater Ramble, Head for the Hills, and the Deadly Gentlemen. In the winter of 2013 they won the Zoo Music Awards, a Montana Music Competition based on performance, originality, and popularity. They continue to master their sound, create original work, and foster their live performances.
The boys in this band (not to be confused with boy bands) hail from all over this great country we call the United States. With Joe Funk from Alaska, Shawn Swain from Colorado, Torrin Daniels from Montana, Tyler Schultz from Illinois, and Kyle Shelstad from Wisconsin, they come together to form the most democratic, free form sonic bliss. The standard bluegrass lineup of banjo, mando, fiddle, guitar, and bass, this band's sound is anything but standard. Combining elements of the intergalactic space travel, bluegrass, blues, psychedelic rock and roll, and picking that resembles the sound of laser beams being fired at your head, you'll leave ever wanting more. Download and SHARE our music!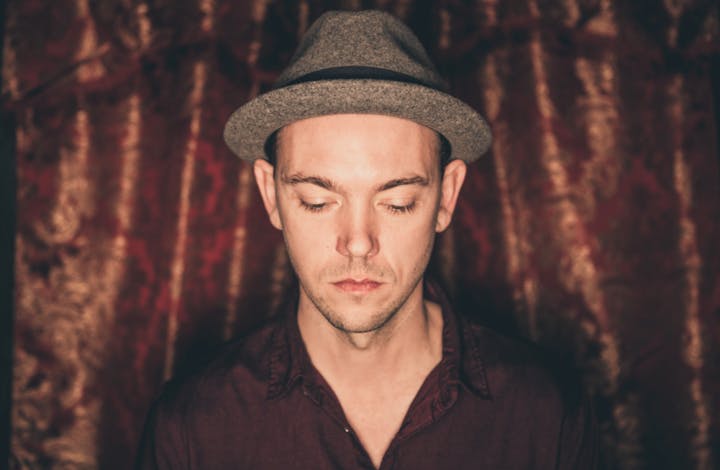 My name is Chris Pandolfi, aka TRAD+. I'm a full time musician, producer and all-around creative based in Denver, Colorado.
Music was all around me growing up. My grandparents, Frank and Carmela Pandolfi, started the Connecticut Opera Association in 1942. I never met my grandfather, but my grandmother got us playing piano at a really young age. I loved every sound I heard. Ultimately inspired by my older brother Jono's musical tastes and exploits, I got my first banjo in the summer of 1997. The next ten or so years flew by. During that time I got my undergrad degree at Dartmouth College and then went on to be the first ever banjo principal at the Berklee College of Music before moving to Nashville, TN in 2004. Along the way I was lucky to work with many amazing people, but ultimately I started a band with great musicians who are also my great friends–The Infamous Stringdusters. We have been touring for about 9 years, have a bunch of albums, a Grammy nomination and our own festival. We strive to make good original music, explore the world and enjoy life.
I have a few banjo-centric solo albums that I wrote and produced (Looking Glass and the Handoff), that feature some of my favorite acoustic players. I do session work in Denver and work as a producer for other artists/bands, helping them craft their music, a job I absolutely love to do. While my solo side of things focused on the banjo for a long time, lately I have been on a newer, broader musical journey: TRAD+. It's a landscape of sounds–electronic, acoustic, vinyl sampling, live drums, deep textures, live jams and more. , Founding Fathers.
Music has always been my passion, but I also love to write and create short motion pictures. I started working on video around 2007, filming the 'Dusters hijinx, documentary style. Since then I have enjoyed finding more and more creative ways to use the camera/editing software, from stop-motion to performance to ski vids. My writing focuses mostly on our adventures and our musical scene, a subject that's always interested me along my journey from the Northeast to Nashville, Virginia and now Colorado. Bluegrass is its own world, filled with incredible musicianship and a short but vibrant history of crazy characters, trends and changes. A few of my pieces about the current state of the bluegrass world reached a big audience. In the wake of that attention the International Bluegrass Music Association asked me to deliver a keynote address at the 2011 World of Bluegrass in Nashville, TN (their annual business conference), giving some real recognition to a new vision of a bigger, more connected acoustic world. We are excited to be a part of whatever comes next for bluegrass.
Performers
Date and Time
Location
Cervantes' Other Side
2637 Welton St.
Denver, CO 80205
Refund Policy