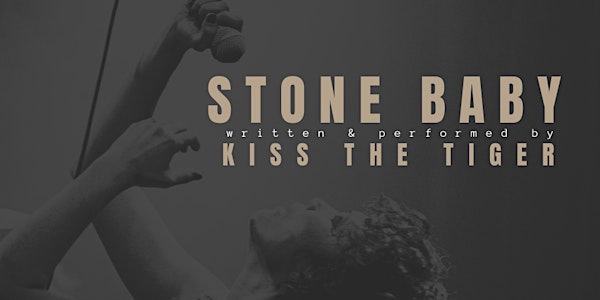 Kiss the Tiger Presents: Stone Baby (Early Show)
Stone Baby will knock the wind out of you and leave you begging for more." — Talkin' Broadway
When and where
Location
Icehouse 2528 Nicollet Avenue Minneapolis, 55404
Refund Policy
Contact the organizer to request a refund.
About this event
$15 ADVANCE // $20 DAY OF SHOW // 5PM DOORS // 6PM EARLY SHOW // 21+
About the show:
"Stone Baby will knock the wind out of you and leave you begging for more." — Talkin' Broadway
"Stone Baby is a concert/theater/performance hybrid unlike anything I've seen before. The rock concert storytelling format in the vein of Hedwig and the Angry Inch combines original rock music [by Kiss the Tiger] and a wild story about a musician who chooses her art no matter the consequences." — Cherry & Spoon
Stone Baby is back after its successful world premiere in March of 2021. A girl born of stone and born to rock, Stone Baby is a mythological origin story that explores unbridled liberation through one's journey into rock and roll. Blurring the intersection of theater and live music by challenging the boundaries of each, Stone Baby presents as a live rock show with theatrical, story-driven flair. Stone Baby is an energetic, fast, loud, blood-pumping, live performance experience blending spoken word and rock music.
Stone Baby was written by Kiss the Tiger and was originally commissioned by and co-produced with Trademark Theater.
About the band:
At a time when the world seems intent on pushing us further inward and further apart, Kiss the Tiger are here to rattle our bones and bust us out of our cocoons with some good old fashioned rock and roll.
Fronted by the magnetic and disarming Meghan Kreidler, who draws on her background in theater to break the fourth wall between audience and band with her righteous fist pumps and high kicks, this is a band that doesn't just play. They combust. And watching them set the stage ablaze, it's hard not to feel that tension that's been built up in all of us these past few years slowly release, too, like a collective exhale set to ratcheting guitars, buoyant bass lines and Kreidler's perfectly pitched screams. Theirs is a clean-burning fire. Hell, you might even call it healing.
"We want to give the audience an experience that is visceral and jolts them awake—creating community in that moment," Kreidler notes. "I think that's a really nice gift you can give people: Just let go." 
Over the past few years Kiss the Tiger have set the Twin Cities ablaze, and there's nary a club, block party, park amphitheater or backyard that they haven't transformed with their commanding live shows. And their rigorous performance schedule has paid off: The band has never sounded tighter or more certain of its mission. Kreidler is backed on stage by her longtime partner and creative foil, Michael Anderson, on rhythm guitar, plus lead guitarist Bridger Fruth, bassist Paul DeLong, and drummer Jay DeHut. — Andrea Swensson