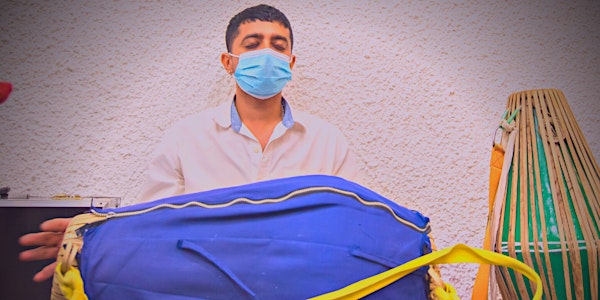 Kirtan - music meditation for healing + lecture (10 Oct)
Healing our hearts with sing-along musical meditation
When and where
Location
Gita Reading Society 13 Cuff Road Singapore, 209724 Singapore
About this event
This is an additional Kirtan event with lecture by Chaitanya Charan Prabhu who is a monk, mentor and spiritual author. Prabhu is visiting Singapore for a few days so we are really honoured to have some of his time to talk more about spiritual seeking. You can read more about him here
https://www.thespiritualscientist.com/about-the-author/
--------
Many of us think of yoga as physical exercises to enhance one's physique, with an occasional short meditation for its calming effects. But that is only the tip of the iceberg. How to we deal with our intense human emotions or trauma that accumulated as we progress in our lives?
According to ancient yoga, the human body is made up of the multiple layers—physical, mental, emotional; and there are many practices to bring light to our being.
Emotions are vital and sacred; like pockets of energy waiting to be released; emotions are not obstacles but our guiding lights to finding the ultimate bliss in life. The ancient yogis gave us Bhakti Yoga, the yoga of devotion, to channel that energy and guide us back to our source.
Bhakti is about a relationship with the universe and it is all encompassing that it embraces every color on the emotional spectrum. In Bhakti Yoga, we lead with our hearts. We sing, we dance, we play music, write poetry, cook, paint and do everything with love —as part of our interaction with the Divine.
Kirtan, the practice of chanting mantras, is perhaps the most important technique in bhakti yoga (Man means "Mind" and Tra means "to Control").
The practice is simple but internally it works magic in our hearts. Externally, we're just repetitively singing with simple melodies and a few Sanskrit words. But it helps us to put our analytical minds aside and singing from within. We sing from our heart that is crying out for love. We channel whatever emotion we're feeling into our voice.
Deep healing happens, walls will melt, wounds will heal, trauma will heal, hate & unforgiveness will dissolve. Long-submerged emotions come to the surface.
As we sing, we immerse ourselves in an endless river of love from the universe. And we enter into a meditative & blissful state that allow our hearts to heal and re-open the infinite universal source of love within us.
There is no need to understand the language of the mantra. No need for mental speculation nor any intellectual adjustment. It is automatic, from the spiritual platform, and anyone can take part without any previous qualification.
Join us for Kirtan to heal our hearts:
10 Oct
730pm – 9pm (Kirtan & Lecture)
Gita Reading Society
13 Cuff Road (Little India)
A homecooked dinner is served after Kirtan.
Pay As You Wish
Drop a donation in the temple on the actual day. All donation proceeds to the maintenance of the temple.
Purchase a free ticket on Eventbrite to book your spot. Please cancel if you cannot make it so that someone else can have the spot. Limited spots available due to social distancing.
This event is organised by a group of volunteers who just love kirtan so much that they like to share their joy.
Things to note:
- Dress code: modest
No revealing / sleeveless top. Bottom should be longer than knee length
- We will be barefoot in the temple
- We will be sitting on the floor but plenty of chairs available if you prefer chairs
Things to bring:
- Water bottle
- Scarf/jacket if you are afraid of cold from Aircon
What we will be doing:
- Short lecture about the practice
- Singing in the musical meditation
- Bring home a bento box of homecooked dinner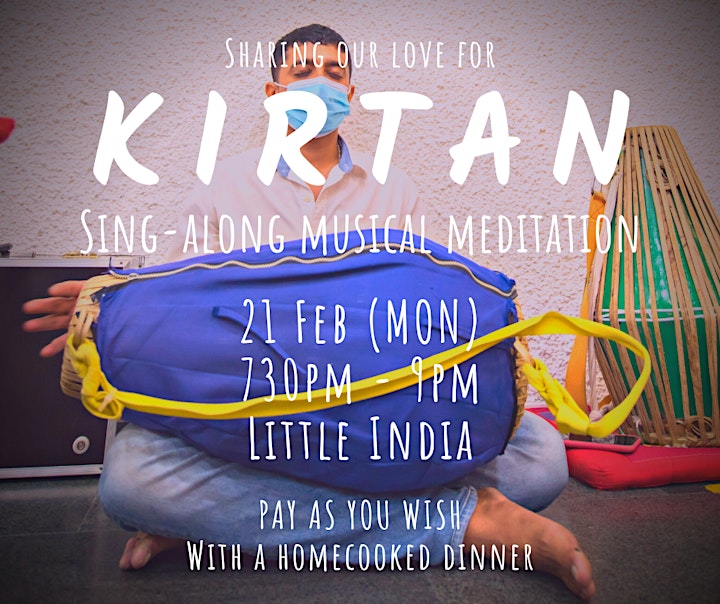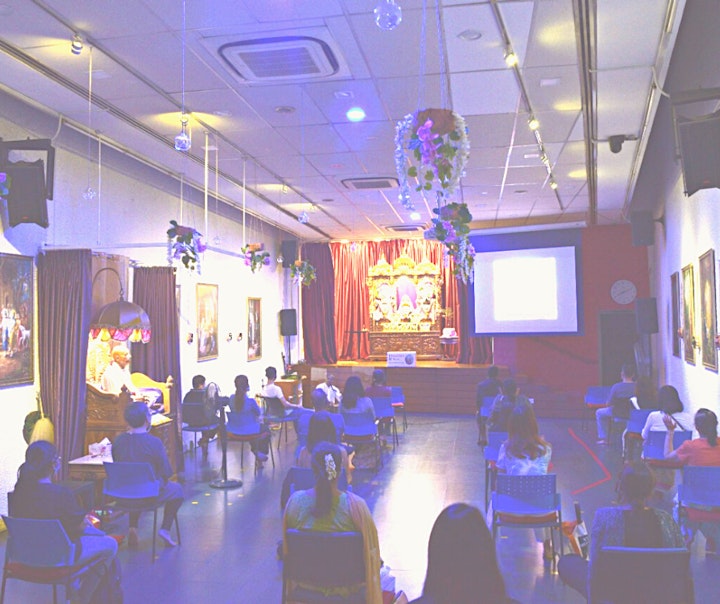 About your organiser:
Koh Hwee Hwee
Reiki Healer, Hatha Yoga Instructor & Bhakti Yogi
Hwee fell in love with the low impact workout of Yoga Asana (which was gentle for her teenage injured spine). With multiple injuries in her life, it led to her become an alignment focused Yoga instructor & Reiki Healer. Through her personal experience of managing her injuries & pain, she is even more mindful in giving variations and modifications for all body types during asana practice.
Wanting to know yoga beyond the physical aspects (Asanas), she went to one of the oldest yoga school in world, G.S. College of Yoga and Cultural Synthesis, Kaivalydham in Lonavla, Pune, India in 2017 and attained her Hatha Yoga teaching certifications from both Kaivalydham and Quality Council of India (QCI) by Indian Yoga Association. Hwee is also a RYT500 certified yoga teacher.
Turning point of her life:
Through a traumatic relationship in 2013 and depression in 2016 & 2020, Hwee searched for a spiritual meaning in her existence, a deeper meaning in life and an identity on this Earth. She often wondered why did she come into existence? Is there more to life than this shell that we live in? The search led her to the practice of breath meditation, Rebirthing Breathwork, Vipassana meditation, Kundalini Yoga and many more. She was happier with those practices, however something was still missing.
She left her corporate job in search of "herself" in 2017 and landed herself in a Gauḍīya Vaiṣṇava temple. Through living as Bhakti Yogi's Brahmacharini (nun) in the temple's ashram, she finally found "herself", the true meaning and identity in life. She is now a practising Vaiṣṇavi.
As an advocate of self awareness, she believes that the whole point of practising yoga is to increase self awareness. She wishes that when she was in her childhood, someone had taught her self-regulation techniques, or simply being aware of her emotions. Now, she aspires to help people of all ages learn more about themselves and equip them with self-help techniques.
Join Hwee for Reiki healing, asanas and pranayama practice via zoom or in-person.
Hwee is also proficient in Chinese and Japanese language. Please also follow her on Instagram and Facebook @NamasteWithHwee
https://www.facebook.com/namastewithhwee/
https://www.instagram.com/namastewithhwee/