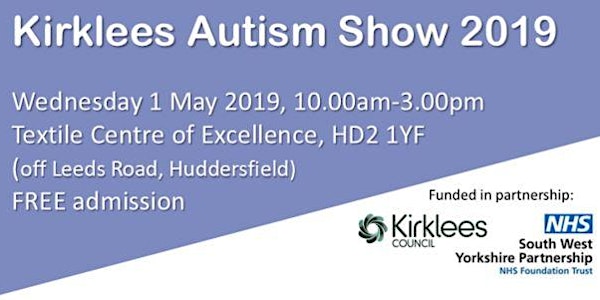 Kirklees Autism Show 2019 - Public Event
When and where
Location
Textile Centre of Excellence Red Doles Lane Huddersfield HD2 1YF United Kingdom
Description
1. We are delighted to invite you to the Kirklees Autism Show 2019!
2. You can find out information on autism services in Kirklees for adults, young people and children.
3. You can speak to professionals to find out more about things that are important to people with an Autism Spectrum Condition, such as employment, education, housing, leisure activities, diagnosis...and much more. Register now to reserve your place.
4. Hear my story. We will have talks through the day from the view point of those who live with Autism and professionals. Some talks proved to be very popular and was sold out on the day, if you would like to grab yourself an advanced ticket for some of the talks then please click on the link below for those you are interested in, but don't worry if you forget as some will be held back to book on the day on a first come basis. Remember to book this main event too.
11.00 – 11.30 – Environmental Assessment
Presentation will be given on the day by Stephen Simpson, who is a Senior Autism Practitioner with South West Yorkshire Partnership NHS Foundation Trust (SWYPFT). He will be talking about guidance on changes that can be made to a space, be it one room or a whole building, which will benefit children and adults with Autism or Asperger Syndrome. Booking on the day
11.45 – 12.15 – Adult with Autism
Greg is a young man with Autism who is going to talk about his experience of autism in his daily life. This was so popular last year that we have asked Greg to come back again. There will be some spaces on the day but it is advisable to reserve your seat https://www.eventbrite.com/e/autism-show-2019-greg-adult-with-autism-tickets-56402486355
1.15 – 1.45 – Brain in Hand Presentation
Brain in Hand is smartphone app that puts people in control of their support. It provides easy access to reminders, notes, coping strategies and a team of trained professionals when and where it's needed.
https://www.eventbrite.com/e/autism-show-2019-brain-in-hand-tickets-56407127236
2.00 – 2.30 – Parent of a Person with Autism
Helga will talk to you today about her experiences on being a parent of someone with Autism. This will be an interesting talk and well worth grabbing yourself an advanced ticket to avoid disappointment - https://www.eventbrite.com/e/autism-show-2019-helga-parent-of-a-person-with-autism-tickets-56406074086
5. Hearing loop – available in all rooms
6. Disabled toilets – located close to the main conference room/reception area
7. Lifts to floors – no lift is required as all the rooms are ground floor level.
8. Quiet Room - there is a quiet room available which will be on a first served basis.


So book your tickets for what will be another successful Autism event for Kirklees and wider audiences.