Description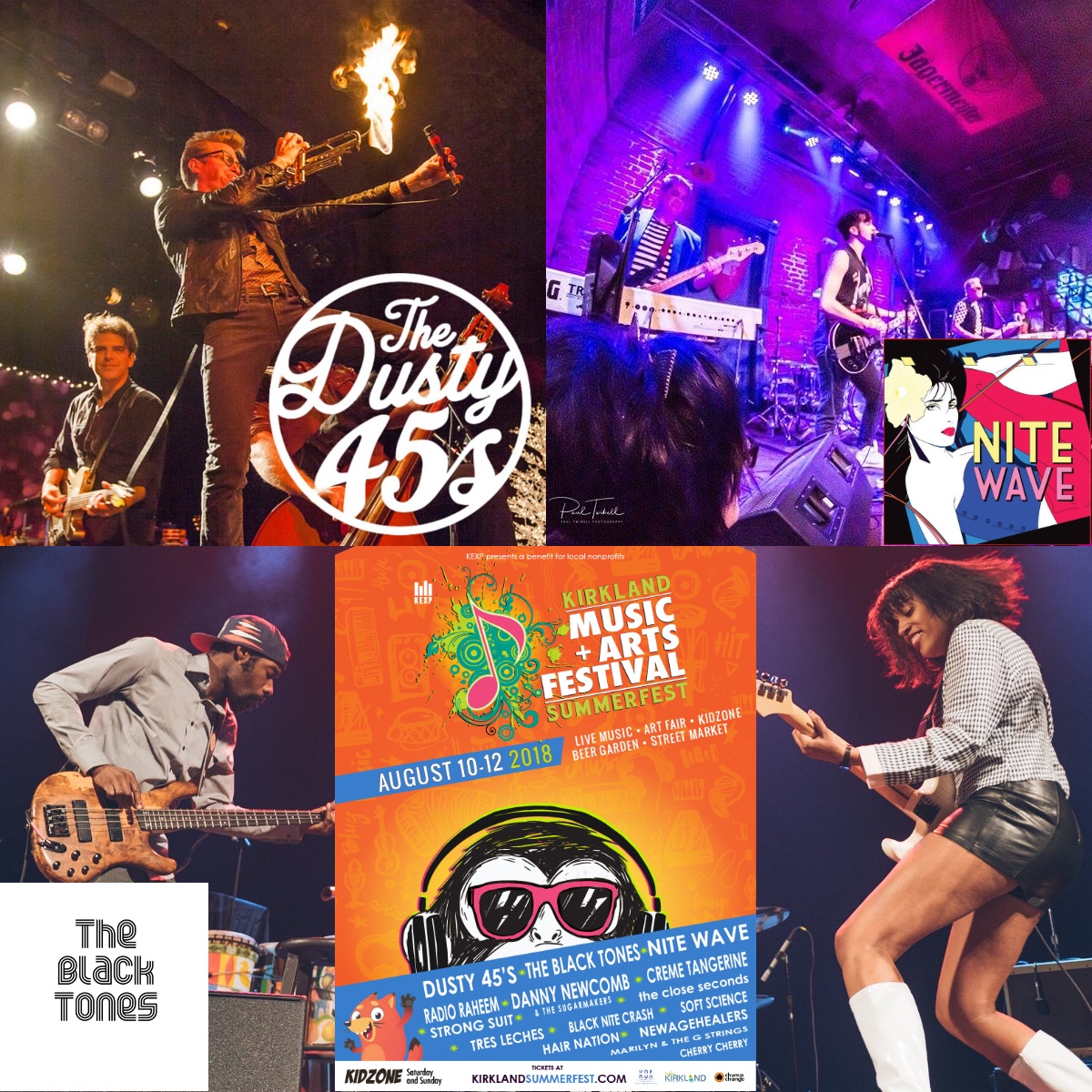 Admission to Kirkland Summerfest is free. There is no cover charge to the beer garden on Sunday.
KEXP presents Kirkland Summerfest 2018, a three day music+arts festival where attendees can discover a diverse lineup of acclaimed local musicians performing at the waterfront MAIN STAGE and Beer Garden. Kirkland's historic downtown is the area's arts and entertainment district, ideal for fans, artists and muscians to enjoy the perfect weekend of summer music and art.
Happy hour beer prices and no cover until 6 PM every day! One night only tickets are available at the door, $5 Friday night and $10 Saturday night. See our whole schedule here.
ONLINE TICKET OPTIONS
$15 Concert a la carte Ticket includes:
Friday and Saturday night admission to MAIN STAGE beer garden (ages 21+)
all beverages are a la carte
More tickets available at festival gate
ONLINE ONLY $40 Festival Pass includes:
Weekend admission to MAIN STAGE beer garden (ages 21+)

$25 in drink tokens

2018 Souvenir Glass

2018 Souvenir Lanyard

Enjoy Happy Hour pricing all day, all night, all weekend

Unlimited re-entry

$25 Saturday Morning Beer+Yoga at Marina Park - Saturday 8/11 at 11 am
1 delicious ice cold local beer
Saturday night admission to MAIN STAGE beer garden (ages 21+)
Bring your own yoga mat
Description:

Celebrate summer with the joy of a cold beer and the mindfulness of yoga. Join yoga teacher Stephanie Larson in a 45 minute flow incorporating sips of delicious beers on tap from local brewers. Come see what the "buzz" surrounding beer yoga is all about. Saturday, August 11 at 11am. 21+ Marina Park.

$25 Sunday Morning Beer+Zumba at Marina Park - Sunday 8/12 at 10 am

1 delicious ice cold local beer
Zumba in the Pavilion at Marina Park
Description:

Join internationally renowned instructors Tracy Herrick and Stephanie Larson as we take the "work" out of workout, by mixing low-intensity and high-intensity moves for an interval-style, calorie-burning dance fitness party. Once the Latin, World rhythms and Top 40 hits take over, you'll see why Zumba Fitness classes are often called exercise in disguise. Super effective? Super fun? Check and check. Sunday August 12th 10am Marina Park.
Please keep in mind all guests at the main stage must be 21+ with valid ID to enter the beer garden. Available while supplies last.
Entry Only tickets available at the door while supplies last.
How does this work? Cover starts each day at 6 PM. Once cover begins, that day's wristband will be required for re-entry. Festival Pass holders will have unlimited access all weekend long.
MAIN STAGE Schedule
FRIDAY AUGUST 10
9 PM CREME TANGERINE
7 PM HAIR NATION
5 PM CHERRY CHERRY
3:30 PM MARILYN AND THE G STRINGS
SATURDAY AUGUST 11
9 PM NITE WAVE
7 PM THE DUSTY 45s
5:30 PM THE BLACK TONES
4 PM RADIO RAHEEM
2:30 PM NEWAGEHEALERS
1 PM BLACK NITE CRASH
SUNDAY AUGUST 12
5PM STRONG SUIT
3:30 PM DANNY NEWCOMB & THE SUGARMAKERS
2 PM THE CLOSE SECONDS
12:30 PM TRES LECHES
11 AM SOFT SCIENCE
More information can be found at www.kirklandsummerfest.com, or directed to hello@chumpchangeproductions.com
Tickets available while supplies last, and online ticket sales end the day before the event. Additional day-of tickets will be available on site.