Kirk Citron at The Interval: The Long News

Tuesday, January 19, 2016 from 6:30 PM to 8:30 PM (PST)
Event Details
The Long Now Foundation welcomes
Kirk Citron
advertising and media expert

"The Long News: What Stories Will Matter for Centuries?"
@ The Interval at Long Now: check-in begins at 6:30; talk will start at 7:30 
Join us afterwards for drinks and conversation with our speaker

After a long and successful career in advertisting, Kirk Citron has turned his attention to the news. Taking a long perspective that contrasts with the sensationalist and click-bait trends of many of today's news sources, Kirk's critique asks what stories will matter for decades, centuries, even millennia?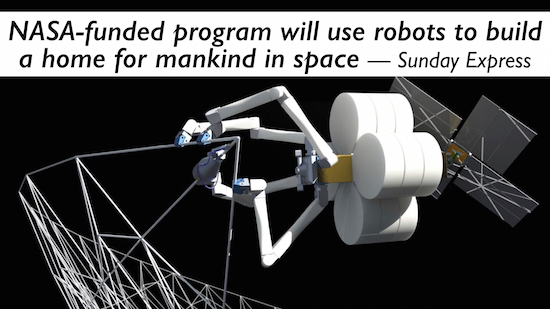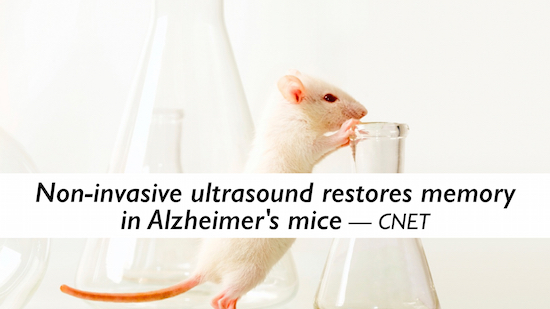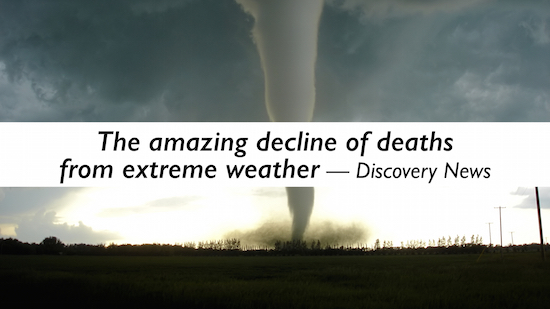 Beginning in 02009 Kirk collaborated with Long Now to curate a section of our blog called "The Long News" featuring stories that will have consequence for a very long time. He has continued that focus on news that is not just about yesterday but also about tomorrow. Not every headline has the potential to shape our future. Seen through the lens of what will be important for the long-term, the stories that really matter stand out.

At The Interval Kirk will discuss how he assesses the long-term impact of the news. He will show examples, like those shown here, of what developments may have long-term impact and how they differ from what seem to be the "biggest" stories from the fast-churning, news cycle view. What will matter in the 22nd century and beyond?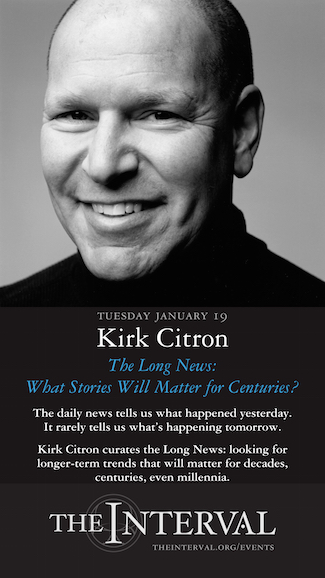 Kirk Citron was a co-founder of the celebrated digital advertising agency AKQA. For his work with companies like Mercedes-Benz, Sony, Target, Gap, and General Motors, amongst many others, Kirk has been inducted into the American Advertising Federation's Hall of Achievement.
Today he consults for companies with his agency (Citron Haligman) and advises non-profits. Kirk has also written for the stage and for television. As a speaker he appears at events around the country including the annual TED conference.

Join us for our first talk of 02016: a truly long-term thinking take on what may be the news of the century....

Long Now members get early notice about Interval events: become a member today
When & Where

The Interval at Long Now
Fort Mason Center
2 Marina Blvd
San Francisco, CA 94123


Tuesday, January 19, 2016 from 6:30 PM to 8:30 PM (PST)
Add to my calendar
Kirk Citron at The Interval: The Long News