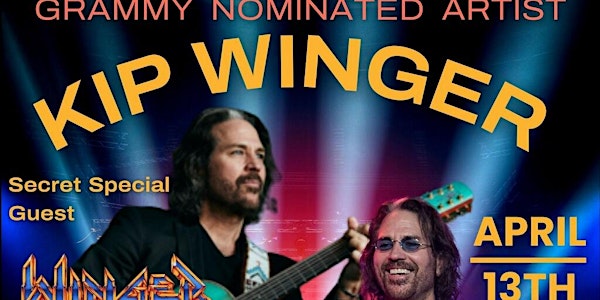 KIP WINGER From the rock group Winger, with Dakota and Black Orange Band
Kip Winger live and up close
Date and time
Thursday, April 13 · 7 - 10pm EDT
Location
G-Force Entertainment, Bangor 633 Stillwater Avenue #Unit 1180A Bangor, ME 04401
Refund Policy
Contact the organizer to request a refund.
Eventbrite's fee is nonrefundable.
About this event
Winger was born in Colorado to parents who were both musicians. At age 16, Winger began studying classical music after hearing the works of composers such as Debussy, Ravel, and Stravinsky in ballet class. At that time he sent a demo tape to Alan Parsons, from whom he received a personal reply.[a]
As a teenager, Winger played in a band named Blackwood Creek with his brothers Nate and Paul plus friend Peter Fletcher (formerly in Pigmy Love Circus). Blackwood Creek disbanded in 1980. Kip, his brothers, and Fletcher also played the Denver area bar scene as the band Colorado. Winger's first release was a Rainbow Music Hall live recording of the song "Wizard of the Key" on the KAZY Thunder on the Mountain compilation in 1980 under the band name Winger which was the Colorado band line-up under a different name.[3]
In 1982, he studied with Sam Guarnaccia in Denver then moved to New York City and waited tables while studying composition with Edgar Grana.[4]
Kip Winger's first commercial break came in 1984, when he co-wrote the song "Bang Bang" for Kix's third album, Midnite Dynamite.[5] During that time he was working closely with the record producer Beau Hill, recording bass and vocals on various records. While Reb Beach was working on Fiona Flanagan's Beyond the Pale record at Atlantic, Winger and Beach were introduced to each other and later began recording demos. In 1985, Winger joined Alice Cooper's band. After making two albums and touring with Cooper, much of the time alongside keyboardist/guitarist Paul Taylor, Winger left in March 1987 to focus on his own band.
Winger returned to New York to work on songs with Reb Beach, and they were soon joined by Paul Taylor and drummer Rod Morgenstein. They initially performed under the name Sahara, but eventually changed their name to Winger, at Alice Cooper's suggestion.
The band Winger released three albums (Winger (1988), In the Heart of the Young (1990), and Pull (1993)) before moving on to solo careers.
Solo career
Kip Winger then moved to New Mexico to work on his solo career, and study with Richard Hermann at the University of New Mexico.
He worked and recorded three solo records in Santa Fe, New Mexico: This Conversation Seems Like a Dream, Down Incognito and Songs from the Ocean Floor.
In 2002 Winger moved to Nashville, Tennessee and began working on his fourth solo record, From the Moon to the Sun (2008), which he co-produced with Cenk Eroglu.
Reunited Winger
Kip Winger performing with Winger in 2007
In September 2006, it was announced that Winger would be reformed, with the Pull era line-up, to record the band's fourth studio album, IV, and to go on tour[6] to support it. During this tour, Winger recorded Winger Live which was released on CD and DVD in 2007. It was also confirmed that an anthology of rare tracks and early recordings, Demo Anthology (2007) would be released, as well as an autographed limited-edition album, Seventeen: The Demos, where only 300 copies were made.
In 2009, Winger recorded their fifth studio album, Karma, which was hailed as their best record.[7] The band toured the US, Europe and South America.
We have two of the biggest rock bands in the area opening for Kip Winger. Black Orange and Dakota.
Dakota is a powerful 80s and 90s rock band from Bangor, Maine.
Black Orange is Bobby Whitebear / Rob Carlton/ Armand Polito/ Jay Spaulding original Rock Band From Maine!
G-Force has a dedicated staff to ensure everyone safety the following rules apply: Weapons of any kind are prohibited. This includes any knives, or knives on key chains, guns or any sharp objects, no backpacks ,no animals only with exceptions for service animals, no liquid or drinks or food from outside, no bulky purses, or bags, signs, and babies. Bring only essentials. There is plenty of places to hang jackets but hanging jackets will be at the attendees own risk. Tickets are sold and are non-refundable. Sorry absolutely no refunds.
NO camera's [sic] or recorders permitted in the venue. Do not arrive with any form of audio or visual recording equipment unless you have purchased a press pass a minimum 48 hrs prior to all shows.