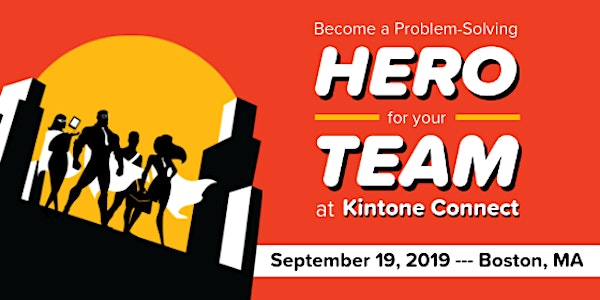 Kintone Connect Boston
Kintone Connect is coming to Boston's District Hall on September 19th, don't miss out on a free half-day conference with local leaders.
When and where
Location
District Hall 75 Northern Avenue Boston, MA 02210
About this event
Fresh off a great Kintone Connect event in Los Angeles in August, we are coming to Boston's District Hall next on Sept 19th with insightful local leader speakers, practical teamwork building takeaways, technology transformation success stories, and the Social Impact Challenge – Don't miss it!
Join an all-star cast of local community social impact leaders and experts, Kintone's CEO and top leadership, and successful Kintone client champions for a half day of learning, connecting, inspiration and impact at the District Hall.Through interactive discussions, workshops and presentations on technology, teamwork and making an impact, you'll collect valuable takeaways from the following Connect speakers:
Local community leaders:
Natalia Urtubey, City of Boston's Director of Small Business
Allison Flors, Program Director of national non-profit Musical Empowerment
Jess Charlap, Make a Mark Make-a-thon leader and Innovation Community Guide
Kintone Client Champions:
Michael Callahan, Owner of Michael Callahan & Associates
Heather Johnson, Compliance leader, Conrad Industries
Eric Kaufman, Founder of nEKcel (ex-VP of JP Morgan, Prudential & Rabobank)
Kintonians:
Dave Landa, Kintone CEO
Nim Grinvald, Kintone Technical Evangelist
Taisei Chiba, Kintone Product Lead
Tim Edingfield, Kintone NPO Community Lead
And, specifically, a few of the things you'll learn are how to:
Reduce employee turnover from 30% to under 5% & reinvigorate revenue growth
Hear how the intentional interaction of policies, culture & tools transformed one organization's teamwork, engagement & productivity helping lower turnover rate from close to 30% to consistently under 5%; and drove many years of stagnant growth toward renewed double-digit revenue growth.
Problem Solve & Teamwork Build with the 'Aspiration Engine' Method
Learn the principals of the Aspiration Engine method and how, through encouraging team transparency, responsibility and respect, it can build strong teamwork while addressing an organization's key challenges and issues all in a framework of continually making things better.
Use New Teamwork & Custom Application Tools to save time & money
Learn how one organization transformed their processes to reduce team member efforts from 3 days to 3 minutes, and another organization has saved 65% on software costs by moving team members from disconnected off-the-shelf software to an integrated suite of agile custom solutions while expanding the reach of their non-profit organization.
Social Impact Challenge 2019 - Be part of something bigger
As part of making technology a tool for everyone and teamwork better everywhere, we're hosting a special session at Kintone Connect Boston to promote new solutions for a social issue that affects American communities everywhere.
With the support and teamwork of our valued partner, TechSoup, this year we are addressing the United Nations Sustainable Development Goal #2 of Zero Hunger by 2030. You'll hear about many big solution concepts developed by a team of community experts on youth hunger using tech & teamwork and will provide your feedback on which solution you think will be most effective. Kintone will then build the solution concept with the most votes and give it back to the communities for free. Learn more about the issue and our Social Impact Challenge here.
See images below of our Kintone Connect in LA on August 20th
BOSTON AGENDA
8:00 am Registration & Networking Breakfast
9:00 am Teamwork & Technology Keynote – Kintone CEO
9:30 am Policy, Culture & Tools for Teamwork, Engagement & Happiness
9:45 am Social Impact Challenge Introduction & Voting
10:15 am Networking Break
10:45 am "Aspiration Engine" Workshop – teamwork & problem-solving
11:15 am Teamwork& Technology Making an Impact Expert Panel
12:00 pm Lunch Break
1:00 pm 'Making Teamwork Better' – Stories Showcase
2:00 pm Post-Event Networking
The best part – it's FREE!
Boston - September 19th
See images and video below of our Kintone Connect in LA on August 20th