Kinski + Minibeast + New Pope + E ~ FREE DOWNLOAD WITH ADVANCE TICKET

Saturday, October 24, 2015 at 7:00 PM

-

Sunday, October 25, 2015 at 12:30 AM (EDT)
Event Details
Big news! Every advance ticket will be emailed a free download code for Kinski's new album!!
Save two bucks on advance tix and get ready with free music!!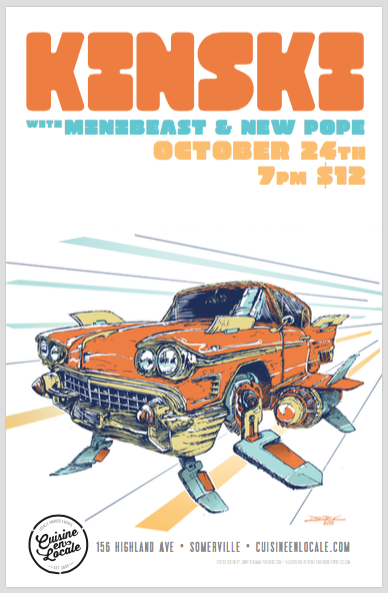 KINSKI (Seattle, WA)
MINIBEAST (Providence, RI)
NEW POPE (Roslindale, MA)
+TBA
+++KINSKI+++
"A grizzled and grungy riff-rock powerhouse and bottomless pit of arena-ready, fist-pumping anthemry. It's high-wattage wah-wah and noise pedal stomping stoner chug. Mind-frying." – Brad Cohan, Noisey
OFFICIAL SITE: kinski.net
FACEBOOK: www.facebook.com/kinski.band
TWITTER: twitter.com/KinskiSeattle
INSTAGRAM: instagram.com/kinskiseattle
NOISEY video premiere for "I Fell Like A Fucking Flower"
+++MINIBEAST+++
Minibeast is the musical creation of Peter Prescott (Mission Of Burma, Volcano Suns, Kustomized, Peer Group). Minibeast combines surf, psych, punk, easy listening, 60's children's music, and soundtrack influences to create instrumental soundscapes.
Minibeast live is a four piece band. Peter is joined by musicians Gillian Chadwick (Ex Reverie), Alec K. Redfearn (Alec K. Redfearn & The Eyesores, Hornets), and Rick Pelletier (Oceans of the Moon, Six Finger Satellite, La Machine).
"Shamblin', ramblin', psuave, psychotic and psychedelic! Like a nerve in that fine ass that won't stop a-twitchin'... Gin and Neurotoxin... Soylent Green for a Now Generation that never happened! Purchase these frequencies BEFORE THEY PURCHASE YOU!" -- Hugh Remick
+++New Pope+++
+++E+++
Many molecules possess rotational and vibrational states excited by very specific wavelengths in this band.
When & Where

ONCE @ Cuisine en Locale
156 Highland ave
Somerville, MA 02144


Saturday, October 24, 2015 at 7:00 PM

-

Sunday, October 25, 2015 at 12:30 AM (EDT)
Add to my calendar
Organizer
ONCE is a venue operated by Cuisine en Locale at 156 Highland Ave, Somerville MA, in the former historic Anthony's Event Halls.  We have two performance spaces- a 100 person lounge and a 300 person music hall, which can be used together or separately.
We host events, shows and performances. To book please email Events@enLocale.com
Created in 2005, Cuisine en Locale serves as the Boston area's only all-local food company, delivering farm-sourced meals to homes and offices, and providing highly appointed locavore catering and event planning services to parties big and small. CeL proudly feeds people wholesome, delicious, scratch cooking while supporting the environment and local economy.
Information about our upcoming events can be found at www.enlocale.com