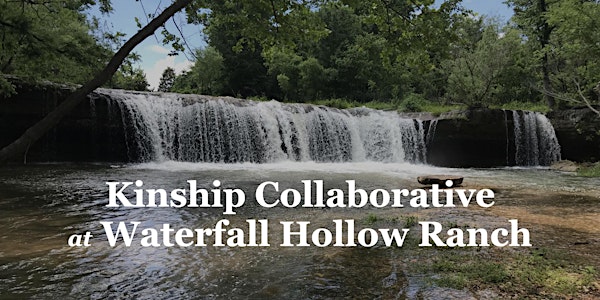 Kinship Collaborative at Waterfall Hollow Ranch
A one-day experience of kinship with each other and the land to inspire new possibilities and practices in our everyday lives
Date and time
Saturday, June 24 · 9am - 8pm CDT
Location
Waterfall Hollow Ranch 24956 North Old Toll Gate Road Tahlequah, OK 74464
Refund Policy
Contact the organizer to request a refund.
Eventbrite's fee is nonrefundable.
About this event
Overview
We live in a time when we are increasingly disconnected from each other and the land, and our physical, relational, and spiritual health suffers as a result. What would it look like to reconnect and experience kinship with each other and the land? Influenced by the deep time of geology, our cultural landscape has been sculpted through a mélange of terranes both allochthonous (originating at a distance from the present location) and autochthonous (indigenous to a place). As such, we are called to embrace the constant reworking of the old to create what is new. What practices are crucial for maintaining resonant relationships and experiencing joy and wellbeing? Join us for this unique kinship collaborative as we learn and explore possibilities together!
Nestled on the western flank of the Ozarks, Waterfall Hollow Ranch is an ideal setting for exploring questions of kinship and experiencing a guided forest walk, cultivation activities, leisure time, and communal meals. This Kinship Collaborative will be facilitated by Wes and Stephanie Vander Lugt, co-founders of Kinship Plot, and hosted by Joel and Sarah Donohue, geologists and nature enthusiasts. Lunch, dinner, beverages, and snacks are provided, and you can read more about the schedule, facilitators, and FAQs below. Space is limited, so we recommend reserving your spot early. We look forward to welcoming you at Waterfall Hollow Ranch in June!
Schedule
900am Arrive and settle in
915 Welcome and intro
1000 Kinship through attention: contemplative forest walk
1200pm Kinship through reflection-on-action: discussion during lunch
100 Kinship through creativity: collaborative project
200 Kinship through cultivation: pick your activity!
300 Kinship through dialogue: group discussion
400 Kinship through sabbath: rest and leisure time
600 Kinship through feasting: dinner
800 Wrap up and head home
About the Facilitators and Hosts
Wes and Stephanie Vander Lugt are the co-founders of Kinship Plot. Wes is a pastor-theologian, writer, educator, nonprofit leader, and arts advocate with a passion for beauty, slowness, cultivation, and kinship. Stephanie is a minister and social-worker-in-training with a passion for the gift economy, healing, and peace-making through practices of embodied faith.
Joel and Sarah Donohue are geologists by training, lovers of all things outdoors, and the stewards of Waterfall Hollow Ranch, where they cultivate hops and honey, deep friendships, and a deliberate life of listening and observing, which is in keeping with their faith and heritage.
FAQs
Can I carpool? If you are coming from Tulsa, please indicate your interest in carpooling during registration and we will help coordinate.
What is included in the cost? The total cost is $85, which covers all food and beverages (lunch and dinner), supplies, facilitation, and Eventbrite fees.
What should I bring? Water bottle, walking shoes, chacos or other footwear for walking in the water, journal, pen, rain jacket, swimming suit and towel (for leisure time if you wish…there is a waterfall and swimming hole!)
What if it rains? Light rain will not deter our activities (bring appropriate gear), but in the case of heavy rain, we will adjust our activities accordingly.
Can you accommodate mobility restrictions? If walking is difficult for you, we can provide vehicular access to the land during the forest walk and leisure time.
Can you accommodate dietary allergies and restrictions? Yes, if you let us know what restrictions you have during registration, we will do our best to accommodate.
I notice that the facilitators are ministers. Do I need to be Christian to participate? While the facilitators are Christian leaders, everyone is welcome from all or no religious traditions. The facilitators will integrate some of their spiritual beliefs and practices into various aspects of the day, but you will also be invited to integrate your own.
Do I need any previous knowledge or experience to attend? Not at all! Whether the idea of kinship is familiar or strange, and whether or not you are accustomed to outdoor activities, everyone is wildly welcome.
What is Kinship Plot? Kinship Plot is a community of learning and practice that imagines and embodies resonant relationship of every kind. It is based out of Charlotte, NC, but has a strong network in Tulsa and other locations around the world. You can learn more by clicking here.