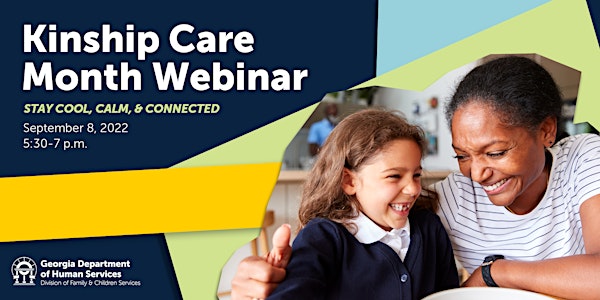 Kinship Care Month Webinar: Stay cool, calm, and connected
Join us for a webinar focused on helping caregivers learn how to stay cool, calm, and connected.
About this event
Decades of research on human development conclude that our kids learn how to self-soothe only after having plenty of experience with the supportive engagement of a caring adult. They can't calm down unless we show them how it's done. When you learn to become a co-regulator for your child, you get to be the loving parent you aspire to be and have a child who feels better. It's a win-win! Tools you can use:
- Understand your triggers and how to manage them
- Discover your role in escalating conflict
- Respond more intentionally
- Make use of "adult time out"
- Build safe communities of support
- Learn how to ask for help and apologize
- Breathe, ground, and regulate together before and during a conflict.