Kino VR Czasoprzestrzenie 2019 - przegląd doświadczeń filmowych wirtualnej rzeczywistości
About this Event
Wydarzeniem towarzyszącym dla Konferencji Laboratorium Narracji Wizualnych będzie przegląd utworów filmowych zrealizowanych z myślą o wirtualnej rzeczywistości. Przez 3 dni, dziesięć godzin dziennie, na 12 stanowiskach publiczność będzie mogła nieodpłatnie doświadczać kilkunastu dokumentów, animacji i filmów fabularnych wyselekcjonowanych spośród najlepszych doświadczeń cinematic VR z całego świata.
W tym roku wśród doświadczeń zobaczymy m.in. zeszłorocznego zwycięzcę Czasoprzestrzeni Limbo w reż. Shehani Fernando, oraz drugie z wyróżnionych doświadczeń The Last Chair w reż. Jessie van Vreden i Anke Teunissen. Zaprezentujemy również aż trzy projekty, które miały swoją premierę na tegorocznym festiwalu w Wenecji, w tym polskie Szepty w reżyserii Jacka Nagłowskiego.
BLOK 1 AUTENTYK
LIMBO || czas trwania: 11 minut || stanowiska: 1,2
Najlepsze Doświadczenie VR Czasoprzestrzeni 2018. Jakie to uczucie uciekać z własnego domu I rozpoczynać życie od nowa w innym kraju? Doświadczenie pozwala wczuć się w tę sytuację pustki I napięcia, kiedy jedyne na co czekasz to decyzja, która zaważy o reszcie Twojego życia. Reż.: Shehani Fernando, Kraj: UK.
The Best VR Experience of Spacetime 2018 review. How does it feel to run away from your own home and start a new life in another country? The experience allows you to feel this situation of emptiness and tension, when all you are waiting for is a decision that will affect the rest of your life. Dir.: Shehani Fernando, Country: UK
THE REAL THING || czas trwania: 16 minut || stanowiska: 1,2
The Real Thing to podróż VR do kopii naszego świata, w której odkrywasz prawdziwe historie z chińskich replik Paryża, Wenecji i Londynu. Reż .: Benoit Felici i Mathias Chelebourg, Kraj: Francja
The Real Thing is a VR journey into a copy of our world, exploring real-life stories inside China's replicas of Paris, Venice and London. Dir.: Benoit Felici and Mathias Chelebourg, Country: France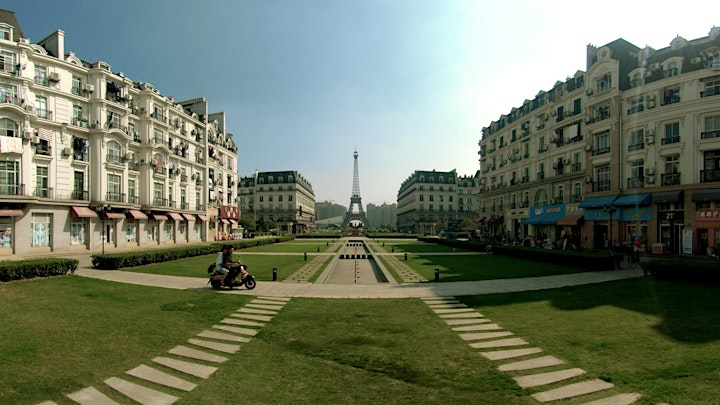 BLOK 2 SZEPTY
SZEPTY /WHISPERS || czas trwania: 22 minuty || stanowiska: 3,4
Na pograniczu polsko-ukraińskim życie toczy się powoli, ale pod powierzchnią gęstość rzeczywistości wymyka się racjonalnemu ujęciu. Życie i śmierć nie oznaczają tutaj trwania i zaniku procesów biologicznych, są one nieprzeniknionymi siłami, które stanowią podstawowe doświadczenie bycia. Tutaj mieszka Szeptucha. Leczy ludzi za mocą słów, gestów i obrazów. Tajemnicza natura, religijna ceremonialność i pogańskie rytuały mieszają się ze sobą na drodze do doświadczenia wciąż żywego tu jeszcze sposobu postrzegania świata. Szepty miały swoją światową premierę na Międzynarodowym Festiwalu Filmowym w Wenecji w 2019r. Reż.: Jacek Nagłowski i Patryk Jordanowicz, Kraj: Polska
On the Polish-Ukrainian borderland the rhythm of life is slow, but underneath the surface of things the density of it leads beyond understanding. Life and death do not mean the persistence and disappearance of biological processes here, they are impenetrable forces that constitute the reality. This is where the Whisperer lives. She heals people using the power of words, gestures and images. Rough nature, religious ceremonies and pagan rituals are what you will encounter along the path to this state of mind. Whispers had its World Premiere at 2019 Venice Film Festival. Dir.: Jacek Nagłowski & Patryk Jordanowicz, Country: Poland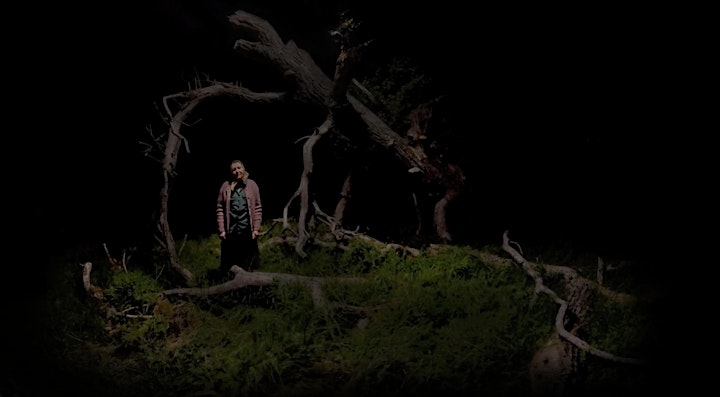 BLOK 3 ANONIMOWA OBECNOŚĆ
THE PASSENGER || czas trwania: 10 minut || stanowiska: 5,6
Podróżujesz w ciemności jadąc na tylnym siedzeniu taksówki. Gdy krajobraz zaczyna się zmieniać, środowisko zewnętrzne staje się coraz bardziej surrealistyczne. Składasz swoją historię - abstrakcyjną i podobną do snu - podążając w kierunku cichego szoku nowego świata. Ta 360-stopniowa animacja poklatkowa VR opowiada historię przybycia do nowego kraju, aby tam odnaleźć się na nowo. Reż .: Isobel Knowles & Van Sowerwine, Kraj: Australia
You are sitting in the back of a taxi, driving in the dark. As the landscape begins to change, the outside environment becomes increasingly surreal. You piece together your story—abstracted and dream-like— as you progress into the quiet shock of a new world. This 360 degree stop-motion VR tells the story of arriving in a new country to live. Dir.: Isobel Knowles & Van Sowerwine, Country: Australia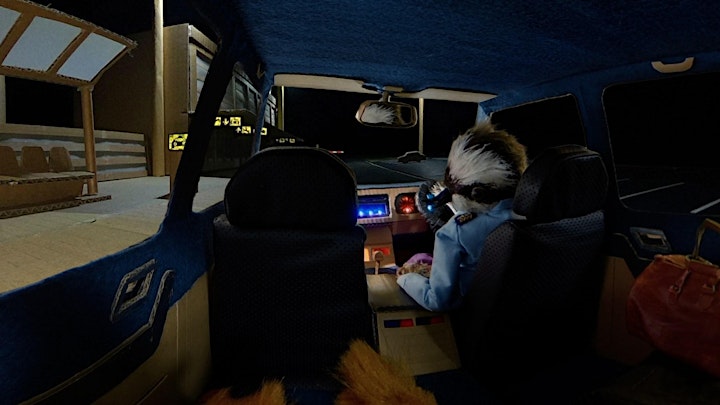 THE BRIDGE || czas trwania: 10 minut || stanowiska: 5,6
W VRowej pracy Nikity Shalennego uczestnik wybiera się poza horyzont, w skompresowaną, długą na ponad czterdzieści tysięcy kilometrów, podróż dookoła świata. W tej grze przypadku trasa podróży wynika z przedłużenia linii, jaką jest most, dalej poprzez świat. Powstałe na podstawie akwareli artysty krajobrazy przechodzą z jednego w drugi, gdy podobne do duchów postacie przemierzają bezkresny świat. Reż.: Nikita Shalleny, Kraj: Ukraina
In Shalenny's VR work the viewer goes beyond the horizon on a compressed forty thousand kilometers journey around the world. A game of chance, the journey is the outcome of a line drawn from a bridge and further across the world, taking place in the dead of night, where fuzzy silhouettes of people tear along through desolated landscapes, fleeing into gray blizzards and shadowy forests. Based on watercolors by the artist, one setting replaces the other as the ghost like figures cross seemingly limitless universe. Dir.: Nikita Shalleny, Country: Ukraine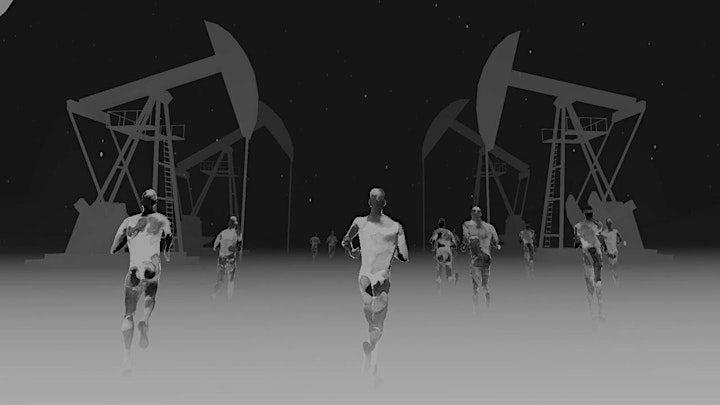 BLOK 4 THE LAST CHAIR
THE LAST CHAIR || czas trwania: 22 minuty || stanowiska: 7,8
The Last Chair to dokument VR o ostatnim etapie życia. Towarzyszymy bohaterowi w jego codziennych czynnościach, a obecność w jego świecie tworzy wyjątkową więź. Doświadczenie było pokazywane w ramach fetiwali IDFA, Tribeca i Hot Docs i wyróżnione w ramach zeszłorocznego przeglądu Czasoprzestrzenie 2018. Reż. Jessie van Vreden i Anke Teunissen, Kraj: Holandia
The Last Chair is a VR documentary about the last stage of life. We accompany the main character in his daily activities, and the presence in his world creates a unique bond. The experience was shown as part of the IDFA, Tribeca and Hot Docs festivals and honored as part of last year's review of SpaceTime 2018. Dir. Jessie van Vreden and Anke Teunissen, Country: Netherlands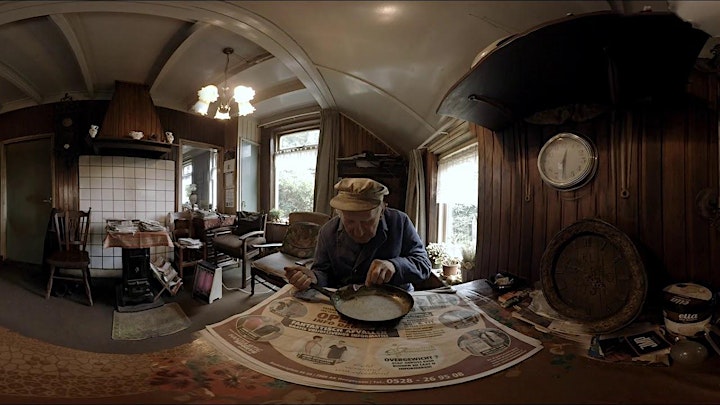 BLOK 5 THE EQUATOR
THE EQUATOR || czas trwania: 30 minut || stanowiska: 9,10
Equator 360 to filmowa wirtualna podróż dookoła świata, pozwalająca doświadczyć magicznej, tajemniczej i pięknej wstęgi różnorodności ekologicznej, którą nazywamy równikiem. Reż .: Nicolas Jolliet, Kraj: Francja
Equator 360 is a Cinema Virtual Reality journey that takes viewers around the globe to experience the magical, mysterious, and beautiful ribbon of ecological diversity we call the Equator. Dir.: Nicolas Jolliet, Country: France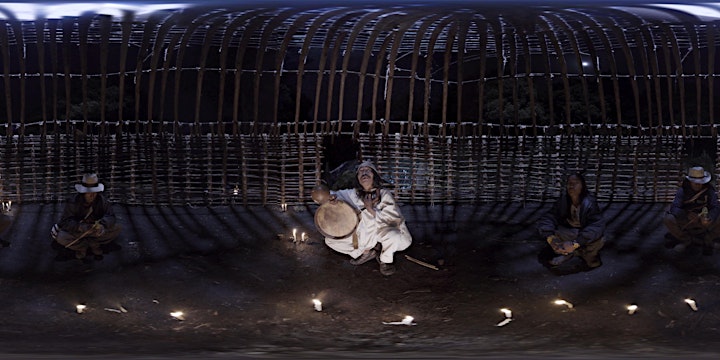 BLOK 6 Z DYSTANSU
-22,7C || czas trwania: 10 minut || stanowiska: 11,12
22,7°C to doświadczenie VR zainspirowane przygodą producenta muzyki elektronicznej Molécule, który pojechał na Grenlandię, aby uchwycić dźwięki Arktyki. Doświadczenie zabierze Cię w podróż inicjacyjną na Dalekiej Północy. Słuchając dźwięków magnetycznej polarnej natury odkryjesz swój wewnętrzny świat,aby osiągnąć swój własny stan harmonii. Reż .: Jan Kounen, Molécule & Amaury La Burthe, Kraj: Francja
-22.7°C is a VR experience inspired by the adventure of electronic music producer Molécule who went to Greenland to capture the sounds of the Arctic to compose. The experience takes you on an initiatory journey in the Far North. Listening to the sounds of the magnetic polar nature, you'll explore your inner world, until reaching a state of harmony. Dir.: Jan Kounen, Molécule & Amaury La Burthe, Country: France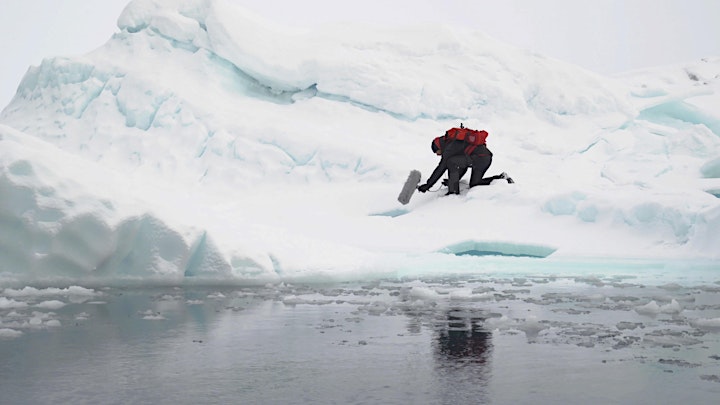 BLOODLESS || czas trwania: 12 minut || stanowiska: 11,12
Bloodless to krótki eksperymentalny film dokumentalny opowiadający o ostatnich chwilach życia pracownicy seksualnej, która została brutalnie zamordowana przez amerykańskiego żołnierza w Dongducheon Camptown w Korei Południowej. Reż .: Gina Kim, Kraj: USA
Bloodless is a short experimental documentary film tracing the last living moments of a sex worker who was brutally murdered by a US soldier at the Dongducheon Camptown in South Korea. Dir.: Gina Kim, Country: USA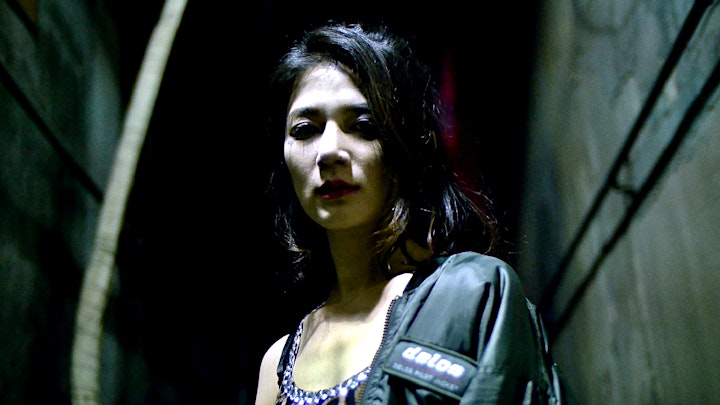 BLOK 7 GOŚCINNE WYSTĘPY
STELLAR ENTAGLEMENT || czas trwania: 10 minut || stanowiska: 13,14
Oddziaływania między cząsteczkami we Wszechświecie leżą u podstaw stosunków między nami. Czy jest jednak możliwe, że niektórzy z nas noszą w sobie dokładnie te same elementy, które współtworzyły życie w innej części Wszechświata? "Stellar Entangelment" (2019) to cinematic VR powstały w wyniku połączenia dwóch galaktyk - grupy art & science Instytut B61 oraz duetu reżyserskiego The Kissinger Twins. Projekt oparty na motywach immersyjnego spektaklu w reżyserii Jana Świerkowskiego opowiada o tajemniczym instytucie naukowym, który stara się zapewnić nieśmiertelność cywilizacji uwięzionej na skazanej na zagładę planecie w odległym rejonie naszej Galaktyki. Reż: Instytut B61 & Kissinger Twins, Kraj: Polska
The connections between particles in the Universe do not differ from the connections between us. Is it possible, however, that some of us are contaminated with the same elements that constituted past civilizations? "Stellar Entangelment" (2019) is a VR project resulting from the merger of two galaxies - the art & science group Instytut B61 and the directing duo The Kissinger Twins. The project, based on the motifs of the immersive spectacle directed by Jan Świerkowski, tells the story of a mysterious scientific institute trying to secure the immortality of a civilization imprisoned on a
doomed planet in a remote region of our Galaxy. Dir: Instytut B61 & Kissinger Twins, Country: Poland
TIME SONG (SCENES FROM THE KEY TO TIME) || czas trwania: 10 minut || stanowiska: 13,14
Key to Time to pełen rozmachu immersyjny film stworzony z myślą o immersyjnym doświadczeniu kinowym. Opowiadana przez niego historia mówi o czasie, miłości i mutacji w obliczu wyzwań, jakie stanowią naukowe hubris, zmiana klimatu i masowe wymieranie gatunków. Nakręcony w technice 3D kina 360°, Key to Time przeplata przeszłość z przyszłością, zabierając widza w podróż, która ukazuje różne pojęcia czasu. Łącząc elementy kina niemego lat 20. XX wieku z wirtualną rzeczywistością, praca ukazuje, jak historyczne wybory odbijają się na współczesnym i przyszłym krajobrazie. Reż.: Roderick Coover & Krzysztof Wołek, Kraj: Polska/USA
Key to Time is an immersive, operatic film designed for immersive cinematic experiences. It tells a story about time, love and mutation faced with the challenges of scientific hubris, climate change and mass extinction. Filmed in 3D 360° cinema, Key to Time mixes past and future, taking spectators on a journey that explores concepts of time. It draws on 1920s silent cinema and virtual reality to address how historic choices echo in troubled landscapes of the present and future. Dir.: Roderick Coover & Krzysztof Wołek, Country: Poland/USA