Kinnie Starr LIVE in Concert at The Virgin Mobile Mod Club

Thursday, 6 September 2012 at 7:00 PM (EDT)
Event Details
Do you love film, music and Toronto?  Join us on September 6th, 2012 at the Virgin Mobile Mod Club (722 College Street) in Toronto. See Juno-Award nominated artist Kinnie Starr LIVE in concert!
Opening acts include:
Montreal band  'NIL' winners of  MOA (National Mobile Artist band search)
Sigrun Stella
JP Saxe 
Hosted by Farley Flex
Tickets are $15 
Doors open at 7pm  
Share this event on Facebook and Twitter.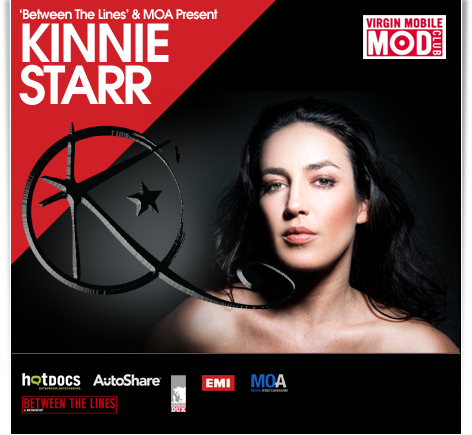 About the Cause:
This concert is being held to raise funds to complete the production of the "Between The Lines" documentary film. The film, currently in production, is about graffiti and street artists in Toronto exploring the subculture of graffiti, the debate about public art. Between the Lines was selected as the second film in 2012 to take part in the Hot Docs International Film Festival's Doc Ignite and has also produced Webisode series called "Graffiti Talks" on the Torontoist. Check out the film trailer here!
About the Performers:
Kinnie Starr (Headliner)
Kinnie Starr is a Juno nominated artist who has toured extensively throughout her career including the UK, Europe, Japan, the US and Canada. She performed at the 2010 Vancouver Olympics, including exalted sets with the Borealis String Quartet, and at Canada's National Aboriginal Achievement Awards on multiple occasions. In 2003 Kinnie was headhunted for her "rare and unique frame" and cast in Cirque du Soleil's famed x-rated show, "Zumanity". That same year she was nominated for a Juno Award as "Best New Artist". The tri-lingual Starr is of mixed European and Mohawk descent, and is a true Canadian at her core. She is acknowledged by many highly esteemed Canadian institutions for her contributions in music, art and culture. In 2008, The Royal British Museum in Victoria, Canada formally recognized her as one of BC's cultural icons.
NIL (Opening Act)
Nil is a Montreal based band that recently won the first season of the new television show Mobile Artists (MOA).  MOA's is a digital platform for independent artists to compete to win a single contract deal with EMI Music and get their single serviced to radio across Canada. Bands also compete to be on the MOA digital compilation that will be serviced to all the MOA digital partners for purchase.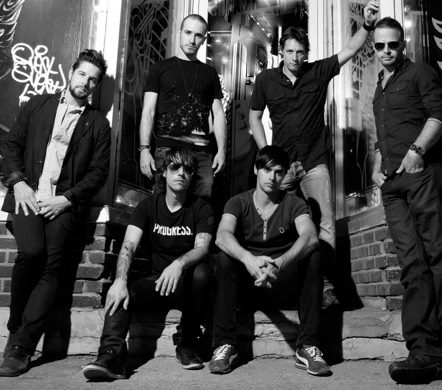 Sigrun Stella (Opening Act)
Sigrun Stella is an Icelandic Canadian Singer/ Songwriter with a folk/soul sound.  Her emotionally affecting voice has been compared to Norah Jones, Joni Mitchell, Adele and Diana Krall. Songs from her recent debut album 'Crazy Blue' have regular airplay on the radio in Europe. Her music has also been featured in several Canadian Films.  

JP Saxe (Opening Act)
JP Saxe is an emerging singer and songwriter worth watching.  He has been called a combination of James Blunt and John Legend with a little bit of Reggae and Hip Hop thrown in. He is not only a singer/songwriter, but multi instrumentalist who has impressed audiences across Toronto with his lyrical ability and vocal creativity. He is the keyboardist for the Toronto Reggae Rock group, Down by Riverside and a founding member of the Toronto pop trio Trading Hearts.  He has collaborated with and played alongside artists such as Nikki Yanofsky, Slakah the Beatchild, Rehan Dalal, Craig Stickland, Philip Nozuka, and many others. He has also been a frequent performer in Jaymz Bee's Jazz FM 91's Jazz Safaris, impressing some of the cities most active music enthusiasts. 
Kinnie Starr LIVE in Concert at The Virgin Mobile Mod Club