Kinky Hair Unlocked
When and where
Location
595 Event Center 595 North Avenue NW Atlanta, GA 30318
Refund Policy
Contact the organizer to request a refund.
Description
KINKY HAIR UNLOCKED
Sponsored by Dark & Lovely Au Naturalé
Friday, April 24th, 2015
Atlanta, Georgia
If you are not local to Atlanta, do not fret. We are proud to offer our Curlfriends Atlanta Takeover 2015 travel package. Make it a weekend vacation and let us handle your logistics! Meanwhile, whether you are local or traveling we promise you don't want to miss Kinky Hair Unlocked on Friday, April 24th, 2015!!! Read on for full details.
About Kinky Hair Unlocked (KHU)
Kinky Hair Unlocked is a seminar style experience focused on educating and empowering kinky textured naturals who long for healthy hair.
Who Should Attend:
Natural hair enthusiasts

New naturals

Relaxed and considering natural

Loose naturals

Loc'ed naturals
ALL hair types are welcome. Hair advice will cater to type 4 naturals (4a, 4b and 4c). No children under 18 years old. Venue has a 10:00pm curfew for kids. Anyone under age must at 10:00pm.
What to Expect:
Shop all your favorite natural hair care brands Ouidad, Qhemet Biologics, Koils by Nature, Mane Choice and more at the Tendrils and Curls pop-up store. Owner Paula Chrishon, Ph.D. aka the hair counselor and her team will be on hand to answer questions and assist shoppers. #supportwomen #supportbrownbusiness
A special Key Note presentation from our premier sponsor Dark and Lovely Au Naturalé! More details to be shared closer to the date.
This event will be MAJOR. Don't miss out secure your ticket today. Due to venue, space is limited be safe and purchase sooner rather than later.
What does General Admission include?
GA tickets include

Free self-serve parking

Photo ops with our (4) VIP vloggers

Complimentary appetizers at happy hour

Giftbag
VIP tickets include

Complimentary valet parking

Priority seating

(2) drink tickets

VIP gift bag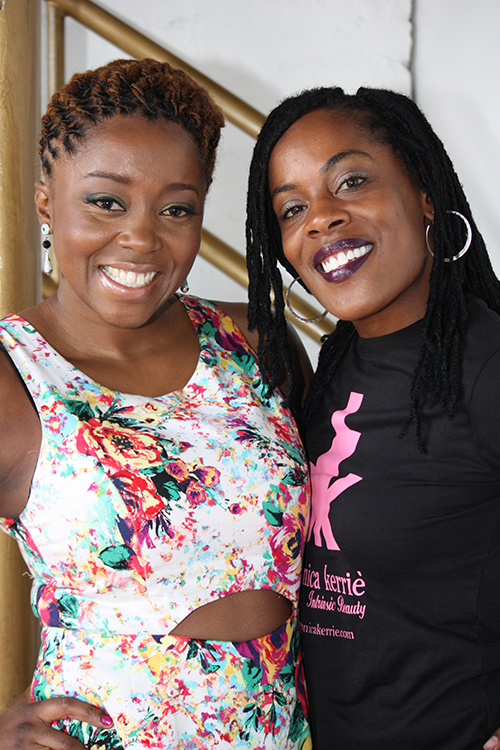 (Photo by 4cHC Media Group/Locs to Talk About 2013)
We've received repeated requests from our audience to host events and we are excited to invite you out to Atlanta for what will be an unforgettable experience.
We've always maintained that the natural hair movement is much bigger than hair. It's about new friendships, new connections, new economic growth and new self-confidence. And it is a culture shift in the definition of beauty.
Every aspect of our agenda for Kinky Hair Unlocked has been designed with these points in mind.
Early registration tickets are SOLD OUT. Demand is very high for this unique event. Act fast and secure your space today!
Sharing is caring. Tweet a friend about Kinky Hair Unlocked or share this event on your social media pages.
We are SO excited to see you. Happy hairscapades to you!

About 4cHairChick.com
4cHairChick was the first website dedicated to celebrating women with 4c Natural Hair. Founded in 2012 during a time when "4c" hadn't officially been added to what is now referred to as "the natural hair type chart," 4cHairChick.com set out on a mission to highlight underrepresented beauty.
The 4cHairChick online community is over 250,000 strong (majority women, but we've got men too). As keen listeners we've grown with the help of our audience. We expanded from 4c hair only to type 4 hair in December 2012 due to feedback from our readership. Sincer then 4cHairChick has kept a spotlight on 4c hair, but we've been sure to expand our content to cater to type 4 naturals being that so many women have multiple textures in their hair.
We know there is controversy around hair typing. At 4cHairChick we believe and maintain that those with coily curls do often need to practice different hair care techniques from those who fall in other parts of the curly spectrum. Therefore we are happy to be the #1 online resource for women with type 4 natural hair.
4cHairChick.com is a mix of natural hair enthusiasts and newly naturals. We love our hair and though we talk about it a lot, we've found that we have many shared interests outside of hair — some of which include entrepreneurship, fashion, and beauty. When you log on to 4cHairChick.com, don't be surprised to see posts about other topics outside of hair.
4c Hair Chick Media Group
www.4cHairChick.com
Info@4cHairChick.com