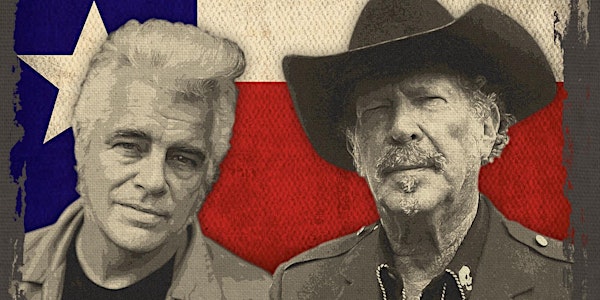 Kinky Friedman & Dale Watson
For the first time ever together on tour - Lone Star Legends!
When and where
Location
The Locks Music 4417 Main St Philadelphia, PA 19127
Performers
Headliners
More Performers
About this event
Kinky Friedman
Where does one go in life, when you wrote your first song at age 11 ('Ole Ben Lucas'), shortly after nearly playing a chess Grand Master (Samuel Reshevsky) to a draw? If you're Kinky Friedman. there was only one way to go: up.
Like so many cool people in the boom generation, Kinky Friedman first saw the world through the Peace Corps in the sixties. Kinky did his PC time in Borneo as an agriculture extension worker, wherein he introduced the Frisbee to the natives and taught farming techniques to people who had been farming successfully for thousands of years. But it was in Borneo that Kinky began to write the tunes that would propel the rest of his life.
Kinky had formed his first band, King Arthur & the Carrots while a student at the University of Texas, prior to his Peace Corps stint, but when he returned to the states, he really got serious with his second band, Kinky Friedman and The Texas Jewboys, the unit for which he is most famous, musically.
For his first album, Kinky released 'Sold American' in 1973 for Vanguard Records. His repertoire mixed social commentary ('We Reserve the Right to Refuse Service to You') and maudlin ballads ('Western Union Wire') with raucous humor (such as 'Get Your Biscuits in the Oven and Your Buns in Bed'). His 'Ride 'Em Jewboy' was an extended tribute to the victims of the Holocaust, and one of his most famous tunes from this session, 'They Ain't Makin' Jews Like Jesus Anymore,' is still on many hip playlists.
In the mid-'70s, Friedman and the Jewboys toured with Bob Dylan & the Rolling Thunder Revue. By 1976 he had recorded his third album, 'Lasso From El Paso,' featuring appearances by Dylan and Eric Clapton. The Texas Jewboys disbanded less than three years later, and Friedman moved to New York, where he became a Sunday night fixture at the legendary Lone Star Cafe. His performances, often featuring guests like Robin Williams and John Belushi, were equally legendary.
During the seventies, Kinky set several high water marks in his early performance career. In 1975, Friedman and the Jewboys taped an Austin City Limits show which was never aired. According to the show's executive producer, Terry Lickona, this was the only time in the show's long history that an episode went unaired. Lickona told the Austin Chronicle "I've seen it many times – I think it was a great show, and it might be as offensive today as it was back then."
Kinky was a musical guest on Saturday Night Live in October 1976, the first year of SNL, and he claims to have been the first full-blooded Jew to take the stage at the Grand Ole Opry. Apparently, this is true.
Starting in the early eighties, Friedman shifted his creative focus to writing detective novels, after a bizarre incident at an ATM machine. Kinky spotted a woman being robbed and dashed to her rescue using his bank card to gain entry to the locked ATM lobby. The episode unleashed Kinky Friedman, the private detective, and sparked a series of detective novels that have become world-famous. Featuring a fictionalized version of himself solving crimes in New York City and dispensing jokes, wisdom, recipes, charm and Jameson's whiskey in equal measure, the books are written in a straightforward style which owes a certain debt to Raymond Chandler, though Kinky has also quite fairly been referred to as the "Mark Twain of Texas."
Kinky continued to tour throughout the eighties, this time in support of his novels, and a series of international publishing deals took that touring around the globe. During this period, his musings began appearing in such places as the New York Times, Playboy and Texas Monthly (where he later wrote a regular column). Ebooks and audio books (read by Kinky, himself) of all his great detective novels are available on line.
In 1986, Kinky took a break from writing and touring to try something new - politics. He ran for justice of the peace in his home town of Kerrville, Texas. Though he lost the race, he did discover a passion for politics. It would be another eighteen years, but he would revisit that arena.
In the nineties, Kinky began branching out with more personal writings. Since then he has discussed everything from social mores ('Kinky Friedman's Guide To Texas Etiquette: Or How To Get To Heaven Or Hell Without Going Through Dallas-Fort Worth') to armadillos ('The Great Psychedelic Armadillo Picnic: A "Walk" In Austin'). He's even written a hit children's book ('The Christmas Pig: A Fable').
In 2004, the Kinkster returned to the political field, this time daring the state of Texas to think big and elect him governor in 2006. Running on a shoestring budget, with help from folks like Jesse Ventura and his Minnesota team of political handlers, Kinky garnered over a half million votes - not good enough to win it, but good enough to influence Texas politics long into the future. Kinky was the first candidate in the history of the state to make it onto the November ballot as an Independent candidate - astounding, considering his campaign motto: "Why the hell not?"
In February 2007, Sustain Records released a compilation of the songs of Kinky Friedman sung by other artists called 'Pearls In The Snow.' The album includes contributions by Dwight Yoakam, Willie Nelson, Lyle Lovett, and Kelly Willis, and is one of two Kinky tribute albums available today. More recently, hot rising star Jesse Dayton recorded a full cd of Kinky songs, which received enormous interest in Nashville and around the US.
A second return to politics in 2014 saw Kinky running for Texas State Agriculture Commissioner on a full-legalization platform that may not have won him an election, but that has been instrumental in Texas now considering both medical use and personal use marijuana legalization in its state legislature, proving once and for all that the Kinkster is truly the "governor of the heart of Texas."
In 2015, Kinky reinvented himself yet again, this time with his first new studio album in decades. Signed to Avenue A Records/Thirty Tigers, Kinky, with the help of producer Brian Molnar and guitarist Joe Cirotti, presented an "all new Kinky," with his cd, 'The Loneliest Man I Ever Met.' Filled with never-heard-before Kinky originals and beautifully rendered covers of such artists as Tom Waits, Warren Zevon and Willie Nelson, the cd is all about Kinky's ultimate ability to deliver much more than just a funny line or humorous tune. The spare, yet lush arrangements all pointed up Kinky's unique talent as both a songwriter and interpreter of great material. Guest performers Nelson, Little Jewford and Mickey Raphael supported but never overrode the simplicity and grace of the tunes and the artist.
In November 2017, a full-on biography from Back Beat Books hit the shelves. Authored by Mary Lou Sullivan, who recently published a highly regarded Johnny Winter bio, and titled 'Everything's Bigger In Texas - The Life And Times Of Kinky Friedman,' it received enormous interest, and it has been an enormous hit.
Kinky has also co-authored a new book (pub date: early 2019) that also promises to be a huge winner. Working with Louie Kemp, lifelong friend and associate of Bob Dylan, Kinky has helped write perhaps the definitive book about Bob Dylan - not so much a biography as a sort of "tales of Bob" excursion through life from the time of his meeting with Louie to the present day. This one is very highly anticipated.
And on July 3rd, he released his first all-new self-penned album in nearly forty years, 'Circus Of Life.' He released it on his own terms and on his own Echo Hill Records label. A monster summer tour followed in June, July, and August. Yep, Kinky is finally doing it his way. Harking to his early years, he has chosen to ignore the Nashville ethos, that all must be concertedly "radio friendly," sweetened, and over-produced. What he and producer Brian Molnar have delivered is simply one of the most beautiful albums of this year or any other. The first single, Autographs In The Rain (Song To Willie) hit heavy rotation on SiriusXM Outlaw Country, and there are at least four more top shelf A sides.
With Joe Cirotti on multiple instruments, and Mickey Raphael, Augie Meyers, Original Jewboy Little Jewford, Clay Meyers and Jim Beal providing amazing grace notes, not a single track on the album fails to reach its very high mark. Kinky may "just have to stick with songwriting" after all. To verify this, he took it on the road, for one of the longest, most comprehensive tours of his storied career. After flash mob-style appearances in Galveston, Houston and Nacogdoches, TX, the 'Circus Of Life Tour' began in earnest in Pittsburgh, and rumor has it that it will continue on forever. Yes, the second act has begun. May it never end.
*********************************************************************************
Dale Watson has flown the flag for classic honky-tonk for over two decades. He's christened his brand of American roots "Ameripolitan" to differentiate it from current crop of Nashville-based pop country. The Alabama-born, Texas-raised Watson may be the hardest working entertainer today and is rapidly approaching legendary status. He is a country music maverick, a true outlaw who stands alongside Waylon Jennings, Willie Nelson, and George Strait as one of the finest country singers and songwriters from the Lone Star State.