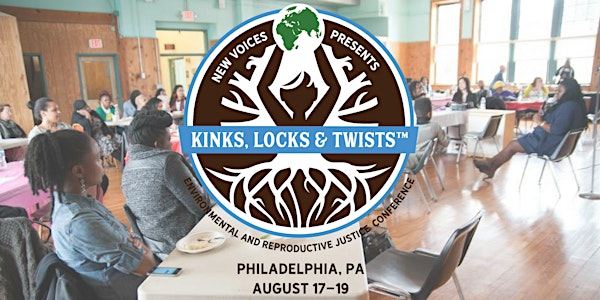 Kinks, Locks & Twists: Environmental & Reproductive Justice Conference™ 201...
Location
Friends Center
1501 Cherry Street
Philadelphia, PA 19102
Description
The Kinks, Locks and Twists Conference offers women of color and allies a unique space to explore the dynamic relationship between the health and well-being of our bodies, communities and ecosystems in both a local and global context.
The three-day experience will feature workshops, skill shares, plenaries, DIY activities, the Black Hair Institute, and health and wellness tutorials.
This year the KLT conference is featuring nationally recognized Black women and WOC leaders in the environmental and reproductive justice movement, including:
Dorothy Roberts, an American scholar, public intellectual, social justice advocate and Author of Killing the Black Body

Sonya Renee Taylor, author, poet, spoken word artist, humanitarian and social justice activist, educator and founder of The Body is Not An Apology movement

Denise Oliver-Velez, Feminist, activist, former Young Lords Party and Black Panther Party member, applied cultural anthropologist and Contributing Editor at the Daily Kos
This year, New Voices is proud to host KLT in Philadelphia in celebration of our growing bases in Philadelphia as well as Cleveland, OH. Our primary venue will be the Friends Center at 1501 Cherry Street and the Black Hair Institute will be hosted at the Philadelphia Center for Architecture at 1218 Arch Street.
KLT has consistently provided a unique and vital space for women and femmes of color to collaborate and grow together as frontline leaders in the Environmental and Reproductive Justice movements. We are very excited about what is in store for this year's KLT Conference and we hope you will join us!

Visit our website for more information about programming, submitting workshop proposals, sponsorship, and more!
Please contact sara@newvoicespittsburgh.org with any additional questions.