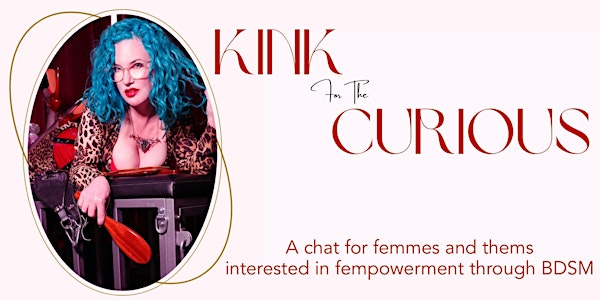 Kink for the Curious: Wicked Minx Edition
Meet Princessa Natasha Strange, listen to stories, ask all the questions about her book; Kink for the Curious and the accompanying course!
Refund Policy
Contact the organizer to request a refund.
Eventbrite's fee is nonrefundable.
About this event
Calling all aspiring Wicked Minx!
I have been busy! I just released Kink for the Curious, A BDSM Activity Book for Beginners. It's a activity book, with color pages, word finds, crossword puzzles, and solid information about kink and BDSM. I has been coaching femmes interested in kink and BDSM for nearly 15 years and this book is packed with solid information presented in a fun whimsical way.
Kink for the Curious was always meant to be a text book for an online course. I wrote it with that in mind. It starts with the self esteem pep talk we all need, before moving into topics like; finding your kinky person, the many shades of consent, games people play, and finally two of my favorite negotiation tools.
My upcoming course, Unleash Your Inner Minx is eight weeks of empowerment, camaraderie and BDSM education with me as your guide. The course is about more then just learning about kink. It's about fempowerment. It's about raising your self esteem, stepping into your dominance, learning about yourself, finding your community.
Because knowing that you aren't the only one having these struggles is one of the most important parts of this journey. Because we've all had these struggles; self esteem, shame, insecurity around kink. Even me. After marrying an abusive partner when I was very young, I struggled to figure out who I really was for years. Stepping into my dominance was a struggle.
Join me for these weekly chats to get to know me, ask me about kink, my book, and learn about my upcoming course. ALMOST every Friday at 11am PST between now and when class starts on February 7th.
CONTACT ME FOR A FREE CODE! This was supposed to be a free event, but changed it to $5 to keep the creepers out after some unwelcome interruption last week.
These chats will take place on Zoom. You are welcome to turn on your camera or just join in the conversation in the chat, but be aware that these will be recorded for ticket holders who can't make the live conversation. Each week will have a theme, but any questions are welcome.
Each chat will last 45 minutes, but I will stay on longer to answer questions as needed! See you there!
UPCOMING!!
December 30th: Kink for the Curious! A Reading! My book just came out and I want to show it off!
January 6th: Kinky New Year's Resolutions! What are yours? How can you make them happen? I'm here to share resources!
January 13th: Happy Friday the 13th! Let's dispelling some myths about kink and BDSM.
January 20th: It's my birthday! Let's talk age, kink, self esteem, and sexual desire.
January 27th: No meeting! I'll be celebrating my birthday in Disneyland!
February 3rd: Mind Games! My favorite. Above all else, kink is about the mental aspect whether you are a top, bottom, or switch. Let's talk about the emotions and feelings we are searching for when we play.
These classes are open to anyone although they are not appropriate for masculine submissives. Femme voices will be centered. Femmes and femme presenting folks are invited to turn on their cameras and interact how every they like - voice or chat. I ask that masc folks keep their cameras off and ask questions in the chat.