Description
Find your new thing for spring at the Made Forever launch celebration ...
Kingsmeadow Community Flat is moving to a new home so come and meet our amazing new partners at a very special party.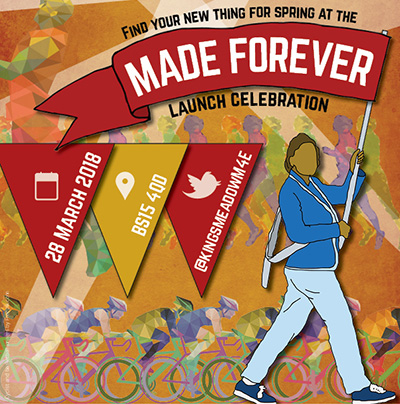 Our vision is to partner with a number of likeminded organisations across the community to bring together opportunities for each other and for new people to get involved. So, come to the launch and…….
…..start a conversation with new friends, partners and community service providers and listen to what they have to offer in our activity hour. These include:
Duke of Edinburgh Scheme
AEK BOCO football club
SportsPound netball
Wellbeing College
Brandon Trust
White House Guardians – International Exchange Students
Empire Fighting Chance
Or if you want to explore new activities for you or have a go yourself, take in one of our activity partners' challenges. These will include:

Beat the Keeper in our football partner's penalty shootout or win a prize for most keepy ups
Sharpshooter challenge – get tips from our walking netball partner and score the most goals in 30 seconds wins a prize
Don't lose your grip - watch our wall climbing expert and have a go or enter the Bouldering challenge in our specially adapted soft play area
Skip your way to success with our Boxing partner – the most reps in 30 seconds wins a prize
Bang your own Drum and enter our creative music partner's Beats per Minute challenge
So whether you want to look, listen and ask, have a go yourself and win a prize, or just see what's on offer there's something for you in our activity hour. And… following all these things to see and do on the day, pleas SIGN UP for our OPEN DAY on …… May 2018 where our community and activity partners will be hosting more events to get involved with or sign up for….
And, after all this activity, we finish the Launch with a hard earned cup cake and cuppa while we make the draw for the prizes, get your goody bag ready and say a few closing words.