| | |
| --- | --- |
| Kings & Queens Conference 2012- sponsored by BSU | |
Event Details
Kings and Queens Conference 2012
Sponsored by SUNY Cortland's
Black Student Union
 The main focus of our conference is to show that every man and woman can be a King or Queen in their own leadership qualities, culture, and education.
We aim that all the students, faculty, staff, and guests to leave our conference feeling Royal and enriched.
Royal and Royalty can be interpreted as feeling confident, proud, and strong within yourself. We would love for all attendees to feel that they too can be a KING or QUEEN in their leadership, culture, and education and spread that persona to others.
Brief Itinerary: 
Late Registration 11am- 12pm (cost $15)
                      This includes the following for all attendees:
 
                            1) Conference
                            2)Brunch and Lunch
                            3)Souvenir Bag with T-shirt and more
                            4) Admission to The BSU Masquerade Ball
Brunch 11am- 12pm
Welcome 12pm- 12:30pm
Workshops 12:45pm- 2:30pm
Lunch 2:35pm- 3:30pm
Keynote speaker will be presenting during lunch.
Follwing the Keynote speaker will be a special performance by the Cortland Dance Company (CDC).
Concluding the conference with Acknowledgments and Closing Remarks.
Our 3 workshops will consist of the following:
     1) Every person can be a king or queen when it comes to... LEADERSHIP
                      lead by: Dr. John Sosa
     2) Every person can be a king or queen when it comes to... EDUCATION
                      featuring an Art Exhibit by multiple artists
     3) Every person can be a king or queen when it comes to... CULTURE
                      lead by: Prof. Noelle Paley
>>>Each workshop is a length of 30 minutes each with a 10 minute break in between each workshop.
The Masquerade Ball:
      -Included in the registration fee
     -Located at the Country Club in Cortland NY from 8pm to 3pm
     -Transportation will begin to pick up guest in front of the Corey Union steps promptly at 8pm and will run periodicly until 4am.
     -Dinner will start promptly at 9pm.
     -Masks for this event will be provided by the Black Student Union at the door of the event.
 *Groups of 6 people or more please click on the "Contact Host" link at the top of your page to request the group discounted rate.
**Those of you who are paying with cash still need to register ONLINE but contact the host for an online waiver and be prepared to pay at the door the day of the event.
***Food will be provided through an oncampus food service, ASC.  Therefore we encourage all willing to attend to register online so you can be accounted for in regards to food.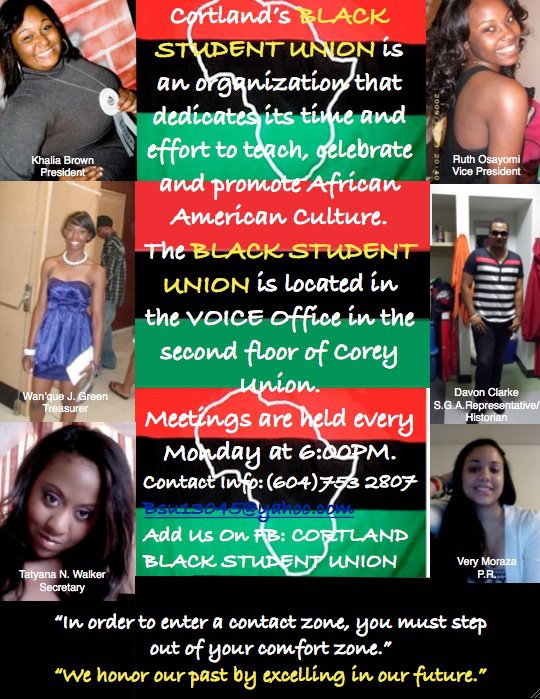 PLEASE BE AWARE THAT ONLINE REGISTRATION WILL END PROMPTLY ON THURSDAY FEBRUARY 16TH AT 9PM.  IF YOU DO NOT REGISTER BY THEN YOU WILL NOT BE ACCOUNTED FOR IN REGARDS TO FOOD.
For further information, questions or comments please feel free to contact us through one of the following active contact sources:
    1-Click on the "Contact the Host" link above.
    2-Email us at bsu13045@cortland.edu
    3- (607)753-2807
Where
SUNY Cortland's Campus
Cortland, 13045


Kings & Queens Conference 2012- sponsored by BSU