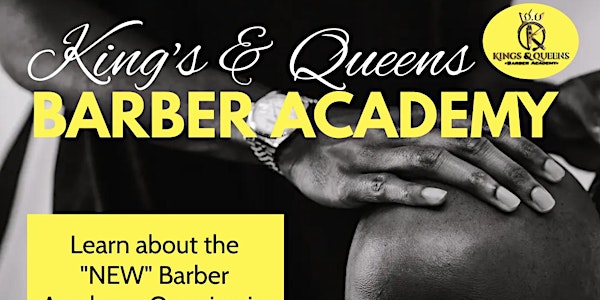 Kings and Queens Barber Academy- New Barber School in Colorado Springs!
We are inviting you to learn about an upcoming "New" Barber Academy opening in Colorado Springs; Kings and Queens Barber Academy.
About this event
About Kings and Queens Barber:
Kings and Queens offers various financial options for enrollment. Learn more at our next information meeting!
The Kings and Queens Barber Academy offers barbering instruction for students training to take the Colorado State Barber Exam to receive their Colorado barber license. The school is staffed with qualified, approved instructors. Our mission is to provide quality education in the field of barbering to prepare students to pass the Colorado State Licensure Exam and become successfully employed in the Barber Industry.
King's & Queen's Barber Academy has been created to bring a unique perspective to the African-American side of barbering. Although we teach the full cope of barbering curriculum for all hair, our emphasis will ensure that new barbers will understand the unique approach and designs of cutting, styling, and caring for the African-American hair.
​​​What you can expect from King's and Queen Barber Academy is a facility that houses a clinical area with a salon atmosphere, in which all assignments are performed on both students and the general public. The clinical area consists of several workstations for students, accompanied by adequate shampoo bowls, hair dryers, and styling chairs to perform client services.
We offer our clients a wide range of services from straight razor shaving, hair styling, beard grooming and even eyebrow trimming. Our retro style shop gives men the opportunity to have their hair treated by professionals that know men's hair. The interior of our facility is intimate and personal, and allows us to maximize the interaction between students and instructors.