Road Trip to Sesame Place, Langhorne PA.
About this event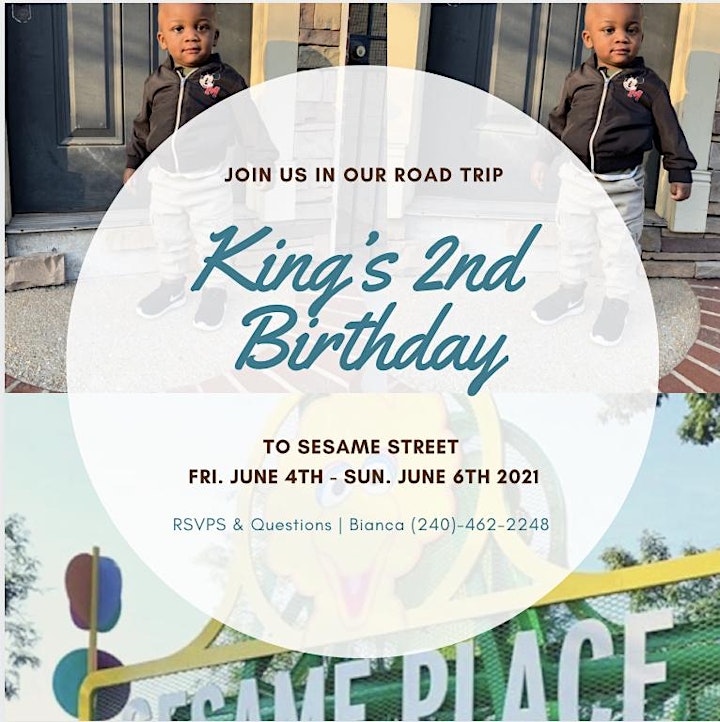 Come and join us in celebrating King's 2nd birthday with a Road Trip to Sesame Place Park, Langhorne PA. Over the course of this fun filled weekend, we have a variety of activities, amusements, & meal options planned.
Lodging Details:
Check In: Friday, June 4th 2021 @ 3 pm
Check Out: Sunday, June 6th 2021 @ 12 pm
Hotel Options:
Rodeway Inn Bristol near Sesame Place
85$ a night
Queen, King & Double Bed Options
14 minutes from park
Free Cancellation/No Prepayments
*Red Roof Inn Philadelphia - Oxford Valley *
100$ a night
King & Double Bed Options
Free Cancellation/No Prepayments
6 minutes from park
Holiday Inn Express Philadelphia NE-Langhorne
155$ a night
King & Queen Room Options
2 minutes from park
Breakfast included
No prepayment/free cancellation
Please contact hotel directly for any extra questions regarding the details of the room or price. ALL room options listed above can be found on either; Groupon.com or Booking.com.
Sesame Place - Amusement Park - Admission Options:
Single Day Admission Ticket
79.99 per ticket
Valid for one visit any operating day, through January 2, 2022
This is an online only offer that will not be available at the park.
Available for purchase @ Sesame Place Admission Tickets
Date-Specific Tickets (06/05/2021)
59.99$ per ticket
Dry Rides + AM Water Play
Valid for dry rides all day and morning water session only
Morning Water Play Session: 10AM - 2PM
This is an online only offer that will not be available at the park.
Children 23 months & younger do not require a ticket or reservation for entry.
ALL RSVPS are needed by Wednesday, May 5th, 2021. ALL reservations and bookings need to be completed by Wednesday, May 26th, 2021.
Hosted by Bianca Sholar - (240)-462-2248