Kingonomics Innovation, Entrepreneurship, Investment & Crowdfunding Conference & Bootcamps @ 50th Anniversary of March on Washington for Jobs and Freedom | August 22-24, 2013 | Washington, DC

Friday, August 23, 2013 at 10:00 AM (EDT)
Event Details
KINGONOMICS
Innovation, Entreprenuership & Investment Conference & Bootcamps Emancipation of Capital Gala Reception | Bootcamps | Shark Tank Casting Call | Crowfunding Forum & Rally Walter E. Washington Convention Center
Thursday, August 22nd, 2013 - Friday, August 23rd, 2013
EXPERTS (MODERATORS, SPEAKERS & PRESENTERS) | SCHEDULE | BOOK 
 
Where Do We Go From Here?
"While Dr. Martin Luther King, Jr. is often remembered for his dream of and fight for equality and freedom for all, many do not realize how keenly focused he was on economic issues. Dr. King believed that without economic opportunity, we do not have the chance to pursue happiness. It was, in fact, while planning the Poor People's March, a dramatic stand on economic issues, that his voice was forever silenced. In his final book, Dr. King posed the question, "Where do we go from here?" – a question many of us are asking in today's unpredictable economy. We believe Kingonomics 2013 offers definitive knowledge, access and opportunity to address today's economic climate and beyond. We welcome your involvement, collaboration and support." + Rodney Sampson, Author Kingonomics; Chair, Kingonomics 2013
 
What To Expect @ Kingonomics @ 50th Anniversary of The March on Washington for Jobs and Freedom.

Kingonomics @ 50th is a two-day  powerful, authentic, interactive and enthusiastic gatheringof existing and aspiring innovators, entrepreneurs, businesses and investors, inspired by the economic philosophies of Dr. Martin Luther King, Jr. and the entrepreneurial and collaborative enthusiasm of Dr. Rodney Sampson. This is the "Kingonomics Rights Movement!" The two days will include The Emancipation of Capital Gala Reception, Seven Interactive Bootcamps, Shark Tank Casting Call & Crowdfunding Rally. Kingonomics will also be streamed live-via-Internet for entrepreneurs and investors around the world to tune into to this historic event. 
THURSDAY, AUGUSTS 22, 2013
Emancipation of Capital Gala Reception
6:00 PM - 10:00 PM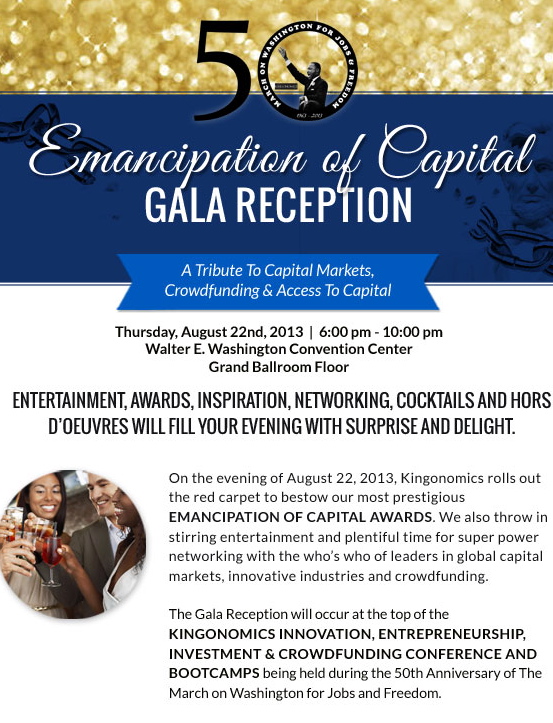 In commemoration of the 150th Anniversary of President Abraham Lincoln's Emancipation Proclamation, The Emancipation of Capital Gala Reception will honor innovators, entrepreneurs and investors that have "emancipated" and transformed their respective industries. This high-profile event will bring together leaders of the business, political, financial and non-profit community with investors, crowd-funding experts and business owners for an evening of networking and conversation.
During the Gala Reception, the Commemorative Photo-journal "I Have A Dream": A 50th Year Testament To The March That Changed America and Graphic Novel, March: Book One, by Congressman John Lewis, Andrew Aydin & Nate Powell



 Honorees
(Partial List of Emancipators & Emerging Emancipators)
David Weild, Former Vice Chairman of Nasdaq; Sue Malone, CEO, Strategies for Small Business; Charles M. Williams & Milton Jones, Founders, Certus Bank; Londell McMillan, Founder, The Norstar Group (The Source and Jones Magazine); Paul Judge, Founder, Judge Ventures; Mark Burnett, Executive Producer, Shark Tank, The Voice, Survivor, The Bible Series; Congressman John Lewis, United States Representative, 5th District; Rev. Al Sharpton, Founder, National Action Network; Jamie Foster Brown, Founder, Sister 2 Sister Magazine; Melanie Few, Founder, Results Inc. & NFL Superbowl Gospel Celebration; David Hodgson, Founder, Paladin Group; Chonchol Gupta, Founder, Rebirth Financial; Sheila Robinson, Founder, Diversity Woman Magazine; Joey Womack, Founder, sf35 & Pipeline; Bishop Wayne T. Jackson & Royal Jackson, Impact Network; Andrew Aydin, Co-Author, MARCH, The Graphic Novel; Ron Kardashian, CEO, Ron Kardashian Enterprises.

FRIDAY, AUGUST 23, 2013
General Sessions & Bootcamps
ABC's Shark Tank Casting 
Crowdfunding Forum & Rally 
Opening Session - 10AM ET
On Friday, August 23rd, 2013, over 100 experts in business and investment and thousands of entrepreneurs from across the United States and around the world will converge live-in-person and online to learn, engage, connect and collaborate. Even more than a cutting-edge event, Kingonomics is an experience that leaves you enlightened, exposed, enabled and ready to embrace the entrepreneurial life to which you've been entrusted and the definitive purpose to which you've been called. Expect an intense, immersive learning and interactive experience, where timely knowledge capital will come from thought leaders who grace our platform, or the person sitting in the seat right next to you. Make it to Kingonomics.

CURRICULUM
The Kingonomics Curriculum The Kingonomics Curriculum is divided into four tracks: Start.Up (for entrepreneurs and business owners) | Invest.Up (for investors) | Sprout.Up (for youth and young adults) and Expose.Up (Crowdfunding).Within the tracks, Kingonomics offers a total of seven bootcamps. Your registration entitles you to the bootcamp of your choice.


Start.Up Track
Start.Up - Designed for new entrepreneurs that are in the pre-revenue and early revenue stages of their business.
 
Invest.Up Track
Invest.Up - Designed for investors interested in understanding and investing in emerging and high-tech markets in America and beyond.
 
Expose.Up
Crowd.Up - Designed to introduce entrepreneurs and investors to the viability of rewards (donations), debt and equity based crowdfunding as a viable way of raising capital for businesses, non-profits and causes. The JOBS Act (Jumpstart Our Business Startups Act) was signed into law by President Barack Obama on April 5th, 2012.
 
Sprout.Up
Sprout.Up - Designed to introduce high school students to the principles of business and entrepreneurship. Designed for high school students. Designed to introduce youth to computer programming, game development and mobile apps.
 

Year.Up - Designed for young adults (18-25) interested in computer programming, financial literacy and entrepreneurship.
NEW! LIVE STREAMING PASSES | $50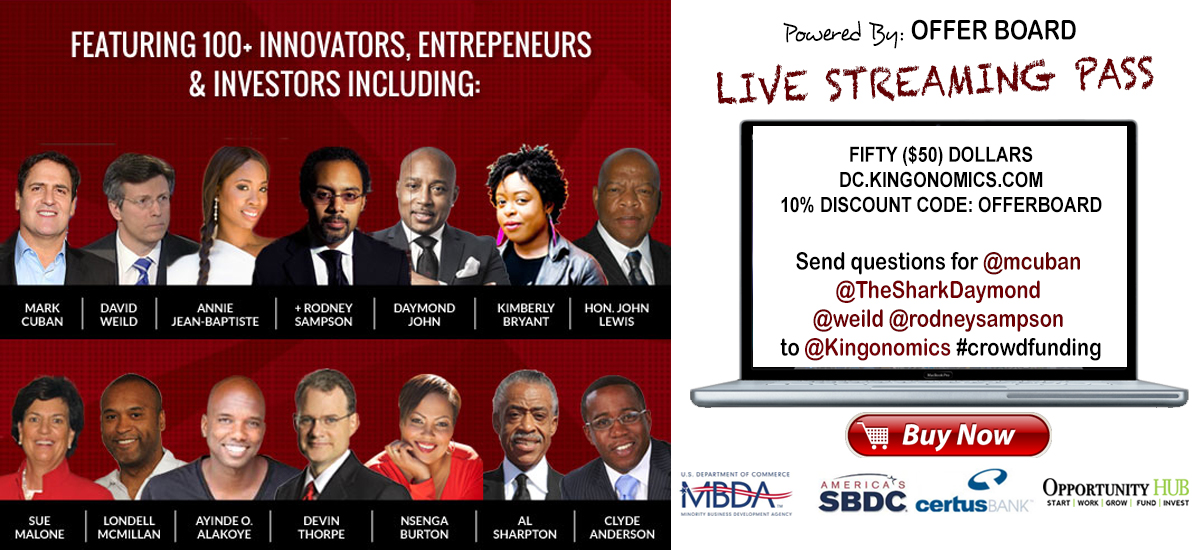 EACH KINGONOMICS PASS ALLOWS ACCESS TO GENERAL SESSION, ONE (1) BOOTCAMP OF CHOICE, KINGONOMICS BOOK & PRIORITY PITCH POSITION ON ABC'S SHARKTANK
Organizer
opportunity.UP :: unleashing private equity conference & events
opportunity.UP is the definitive access to capital platform providing access to to expert knowledge and expert practitioners in innovation, entrepreneurship and investment. With programming focused on ideation, customer discovery, bootstrapping, becoming fundable, embracing new capital markets via crowdfunding and training the next generation of angel investors, attendees learn the innovative, entrepreneurial and investment ecosystems while simultaneously getting the opportunity to interact and network with over 1,000 fellow entrepreneurs and over 100 experts, mentors and accredited investors. We put over a billion dollars in investment capital in the room. opportunity.up is the right room.
This is accomplished by creating an efficient ecosystem of experts, firms, research centers, universities, thought leaders, economists, entrepreneurs, investors and advisors that are presented via Kingonomics large scale conferences, intensive trainings, learning programs, courses, curriculum and certification.

Register for one of our upcoming events. We look forward to meeting you at the nation's definitive access to capital event at the intersection of innovation, entrepreneurship and investment.  
Kingonomics Innovation, Entrepreneurship, Investment & Crowdfunding Conference & Bootcamps @ 50th Anniversary of March on Washington for Jobs and Freedom | August 22-24, 2013 | Washington, DC