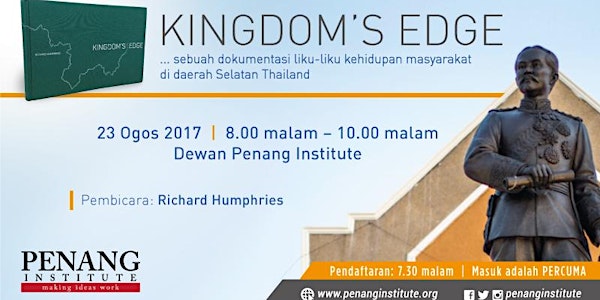 Kingdom's Edge
By Penang Institute & UniKL
When and where
Date and time
Wednesday, August 23, 2017 · 8 - 10pm +08
Location
Penang Institute 10 Jalan Brown George Town, Pulau Pinang 10350 Malaysia
Description
Kingdom's Edge memaparkan sebuah perjalanan selama lapan tahun seorang jurugambar British, Richard Humphries dalam mendokumentasikan kehidupan di daerah Selatan Thailand. Melalui bukunya yang diberi judul sama, Richard, seorang yang fasih berbahasa Melayu, meneliti kerumitan dan ketidakaturan hidup harian di daerah berkonflik paling berbahaya di Asia Tenggara.
Jauh dari gaya liputan media arus perdana yang bernada sama dan membosankan, Richard menemukan sebuah daerah yang penuh dengan kehidupan dan budaya. Ia merupakan sebuah daerah perdagangan, penuh dengan orang muda dan wifi percuma, kedai kopi dan pasar. Sebuah daerah di mana gadis-gadis bertudung membonceng motosikal secara berempat, daerah yang mana masyarakatnya juga akan berdiri pegun dengan serta merta apabila mendengar lagu kebangsaan dimainkan dua kali sehari. Ia juga merupakan daerah di mana suara azan dapat di dengar berkumandang lima kali sehari. Masyarakatnya kompleks, terdiri daripada Muslim dan Buddha, Melayu dan Thai. Daerah ini dipenuhi oleh orang tua dan muda, yang hidup secara tenang namun tetap wujud kegelisahan. Ia adalah daerah yang lebih mirip dengan kota Kuala Lumpur berbanding kota Bangkok.
Melalui naratif visual ini, Richard mempersembahkan sebuah pandangan alternatif dan tepat pada masanya dari salah satu zon konflik yang paling kurang diperkatakan di dunia. Ia adalah sebuah wilayah yang jarang didendangkan, terletak di perbatasan paling hujung di bawah naungan Kerajaan Thailand.
Biografi Richard Humphries
Richard merupakan seorang jurugambar dan penulis yang terkenal dengan pengalaman profesional selama 15 tahun. Asia Tenggara telah menjadi rantau kegemaran beliau.
Richard adalah seorang penglipurlara. Karya beliau memberi tumpuan kepada penerokaan kisah-kisah yang sering tidak diambil perhatian oleh media arus perdana. Beliau umumnya berminat dengan isu-isu sosial terutamanya berkaitan dengan ketegangan etnik dan kaum, identiti dan sempadan, serta isu-isu yang melibatkan pemuliharaan dan alam sekitar.
Richard telah menyiapkan tugasan peringkat antarabangsanya untuk majalah The Guardian, The Times, The Independent, The New York Times, The Washington Post, Newsweek dan Time. Beliau juga pernah bekerja untuk para pelanggan korporat dan komersil seperti Johnson and Johnson, Mott MacDonald, Salini Impregilo, Ericsson dan Lafarge.
Beliau pernah menetap di Indonesia, Thailand dan Afrika Selatan. Pengalaman ini telah membuatkan beliau menjadi penutur bahasa Indonesia dan Melayu yang fasih. Buat masa ini beliau menetap di Malaysia bersama-sama dengan seorang Isteri dan tujuh ekor kucing.