Description
Tickets
Kingdom Wealth Women's Network is a not for profit organisation that runs through the support of sponsors and event attendees.
As a guide we ask event attendees to pay a minimum of £10 on registration for those who are in a position to do so; however we have an open ticket policy to ensure that the event is accessible to those who may not be in a position to contribute the minimum amount. If this applies to you then you are welcome to contribute what you can afford.
Kingdom Wealth Women's Network is a forum where you can be supported, equipped and empowered to walk in your full purpose. It is a place where like minded women meet on a monthly basis to share ideas and hear from experienced women in the Word of God, wealth creation and how to live full and abundant lives.
Kingdom Wealth Women's Network is founded on John 10 V 10 which outlines that God's main intention for people is to have full and abundant lives from Monday through to Sunday. We explore living out your purpose at work and through stepping out into business and wealth creation. Kingdom wealth is not simply financial prosperity. The foundations of kingdom wealth is to pursue a lifestyle under the full influence and abundance of God's Spirit which ultimately leads to expanding God's Kingdom on earth and being a blessing to others.
Come to: -
Learn how to walk in your purpose through a closer walk with God

Hear from expert women in business and how they created wealth using God's principles

Get your questions answered

Meet like minded women

Promote your business or service
What to expect every month?
Worship & prayer

Networking

Experienced speakers in their field

Questions & Answers

A chance to promote your business or service


NEXT EVENT
Monday 27th March 2017
Speaker – Angela De Souza
Topic 1 – Selling with integrity and gaining results
Learn the sales system guaranteed to leave you with more time to spend and more money in your pocket.
Hi, I am Angela and I am a serial entrepreneur! My brain is always whizzing with great ideas often to the frustration of those closest to me. My biggest passion is my husband, four beautiful children, one grandchild and three cats! I am so blessed to have such an amazing family. My LinkedIn title says that I am an ❀ Author ❀ Speaker ❀ Entrepreneur ❀ but what it doesn't say is that I also love to sing in the shower, play my piano and try my hand at some Bob Ross painting.
If my accent confuses you it's because I was born in Crawley, England, but spent all of my childhood in South Africa. I currently live in Cheltenham but who knows where the wind will take me. Some of my business adventures along the way include : A.V.I.D Sales , The Women's Business Club, Maximise magazine and live TV and 7 simple steps.
Topic 2 - Unlocking Purpose
This is session not to be missed. It will guarantee that you leave excited about your vision and purpose. It will help give you more clarity about what you are called to do and help guide you to take the steps to get there.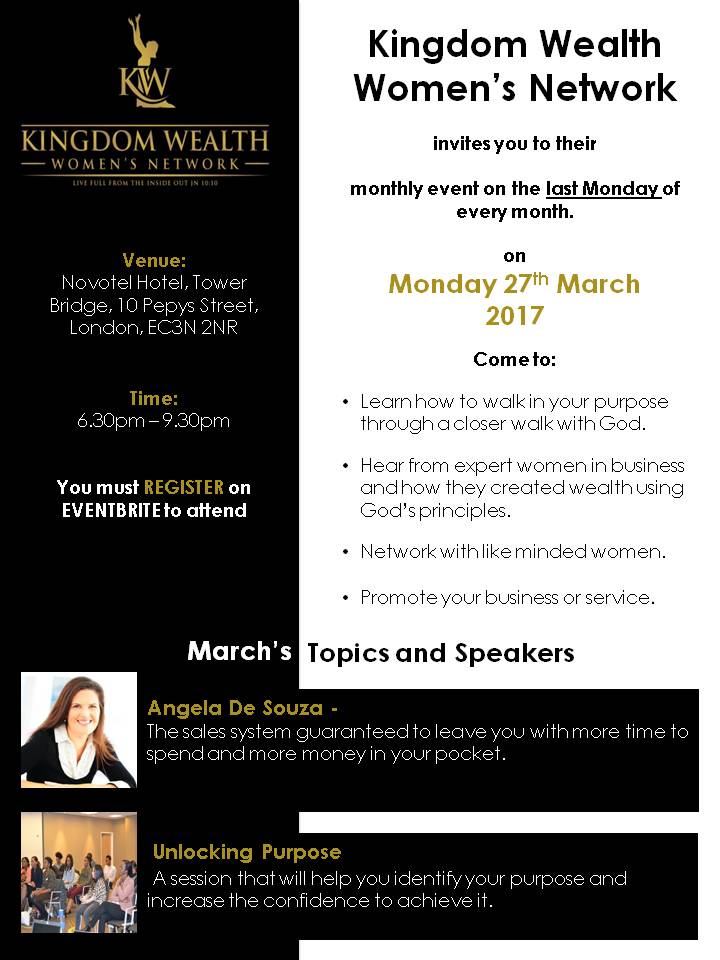 Pictures from KWWN February's Event: