Description
Tickets
Kingdom Wealth Women's Network is a not for profit organisation that runs through the support of sponsors and event attendees.
This event has an open ticket policy . We ask attendees to pay what they can afford to contribute to the cost. As a guide we ask for £10 on registration for those who are in a position to do so; however we want to ensure that the event is accessible to everyone. For those who may not be in a position to contribute the minimum amount you are welcome to contribute what you can afford or select the free ticket option.
Kingdom Wealth Women's Network is a forum where you can be supported, equipped and empowered to walk in your full purpose. It is a place where like minded women meet on a monthly basis to share ideas and hear from experienced women in the Word of God, wealth creation and how to live full and abundant lives.
Kingdom Wealth Women's Network is founded on John 10 V 10 which outlines that God's main intention for people is to have full and abundant lives from Monday through to Sunday. We explore living out your purpose at work and through stepping out into business and wealth creation. Kingdom wealth is not simply financial prosperity. The foundations of kingdom wealth is to pursue a lifestyle under the full influence and abundance of God's Spirit which ultimately leads to expanding God's Kingdom on earth and being a blessing to others.
Come to: -
Learn how to walk in your purpose through a closer walk with God

Hear from expert women in business and how they created wealth using God's principles

Get your questions answered

Meet like minded women

Promote your business or service
What to expect every month?
Worship & prayer

Networking

Experienced speakers in their field

Questions & Answers

A chance to promote your business or service


NEXT EVENT
Monday 24th April 2017
Speaker – Reverend Stella David
Topic 1 – How to run with a prophetic word from God
Learn
how to embrace a prophetic word given to you by God in order to see it realised
Rev Mrs Stella David is a great woman of God and the founder of the Women's ministry of Let the Earth Praise the Lord Ministry. The ministry is called Women of Destiny (WoD). She has a strong passion to deliver the will of God concerning women here on earth. Her vision is to raise women of great faith and to mentor women in their respective callings and ministries.
She is an encourager who is called to stir up the gifts and talents of women who are struggling in various areas of their lives through the power of the Holy Spirit. She is also called to impart the spirit of praise in women which will enable them to rise and shine for God's glory. She is an international speaker and author, an oracle of God with a prophetic mandate for this generation, and has a healing ministry that has touched and blessed many lives.
Topic 2 - Chukwudi Ekeowa -

How to launch your vision starting from nothing



This is session not to be missed. It will guarantee that you leave excited about your vision and purpose. It will help give you more clarity about what you are called to do and help guide you to take the steps to get there.
Chukwudi Ekeowa is the founder of Arise Excel, a vision that is dedicated to birthing other people's vision and goals.
We all have personal and professional targets that we want to achieve, but sometimes those targets are not in harmony with the bigger picture of who we are. At Arise Excel we help you find the answers and results that you are looking for by Creating a clear picture of you vision from the Top down.
Your business or vision is an extension of who you are, so we think it makes sense to start with the individual. The aphorism, "As a man thinketh in his heart, so is he," is as true today as it has been since the beginning of man, so we focus on who you need to become, in order to achieve the business and personal successes you have not achieved before!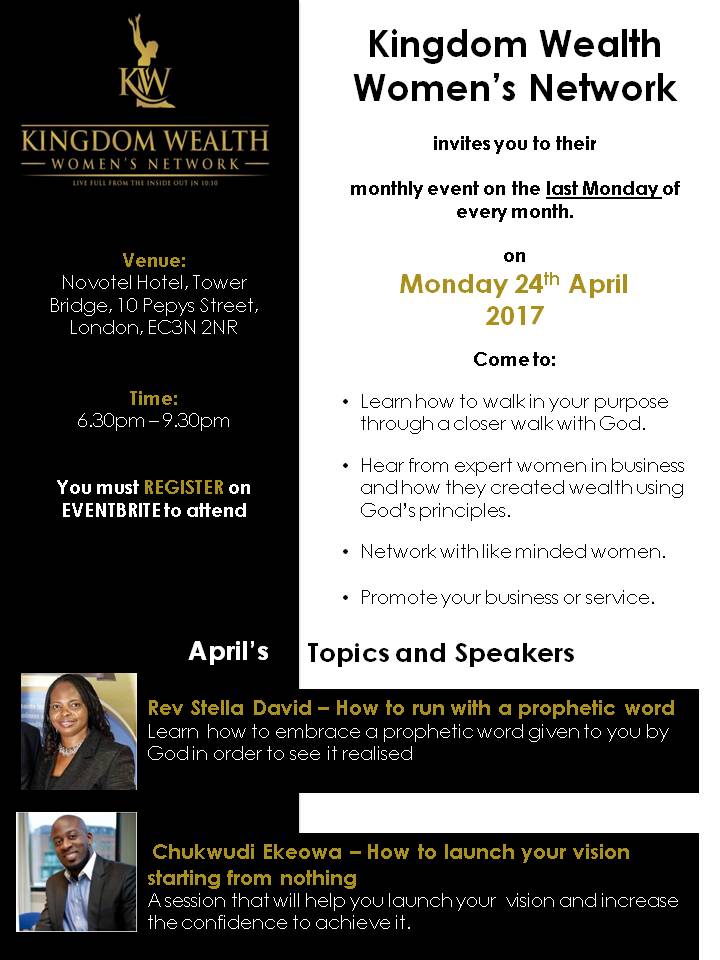 Pictures from KWWN February's Event: