Kingdom Sisters-Empowerment Call

Monday, January 5, 2015 from 8:00 PM to 9:00 PM (EST)
Event Details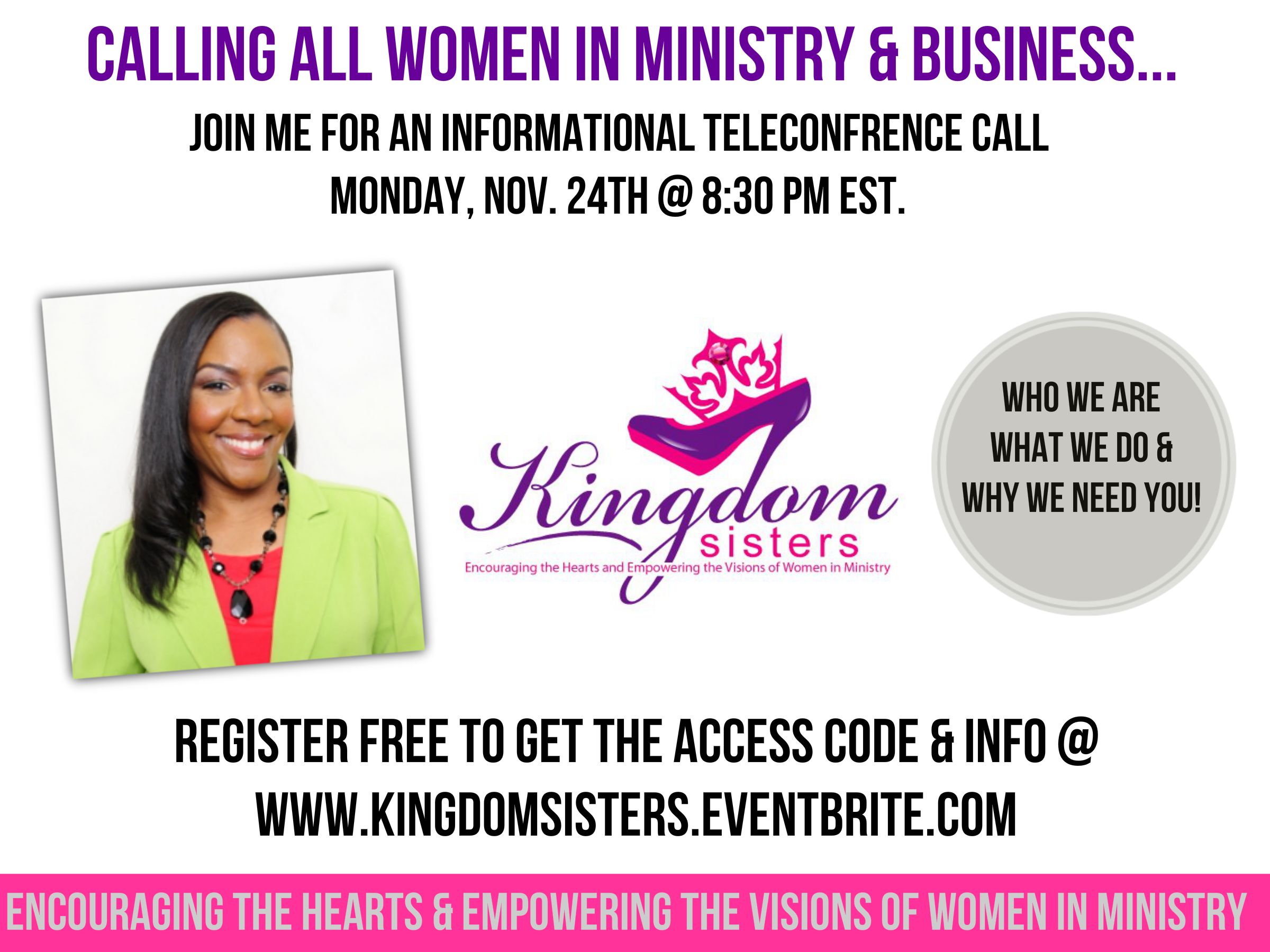 Thank you for registering to receive your free access code to join this informational phone call with Pastor Joyce, two-time author, national speaker and certified life coach to women !
Access Code is emailed once, registration is confirmed.  
With more than 25 years serving pulpits and platforms, Pastor Joyce, AKA "Coach Joyce" has a passion for encouraging the hearts of women in ministry and empowering their visions, by providing a resource network to get them the things they need to move their ministry forward.  
Motivation comes in two forms: words of encouragement and tools to make stuff happen. Kingdom Sisters intends to provide both.  
Upcoming events and opportunities include: Monthly prayer calls, Online conferences Special events and the Kindgom Sisters Summit, where you can share your ministry, talent, skill in your area of expertise.  
Why stay stuck in business, ministry or life, when there may be a Kingdom Sister with the gifts you need to succeed?  You can join the network as a business sponsor, as an intercessor for our monthly prayer calls, be a featured Kingdom Sister in business or ministry in our newsletter, be placed in our directory, enter a submission to be a speaker for the Kingdom Sisters Tele-Conference Summit and much more.  
Please give us 30 minutes of your time Monday, Nov. 24th, to tell you about the Kingdom Sisters Network, who we are what we do and why we need you!  
Organizer
Hosted by: Joyce Gilmer-Certified Professional Coach
Joyce Gilmer is an Author, Motivational Speaker, National Preacher and Certifed Professional Coach.  She is the CEO and Dream Activation Coach™ of Empowered Living Coaching & Consulting, LLC and the Founder of the Kingdom Sisters Network, an online network dedicated to the empowerment of women in ministry, business and life.  Through live events, online tele-classes, and coaching, she is fulfilling her mission to help people get unstuck & move forward in life, business and ministry.   She is a Founding Member of Impact for Coaches, and an affiliate member of the Women Speakers Association.