| | |
| --- | --- |
| Kingdom Rock Vacation Bible School | |
Event Details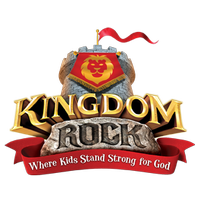 Monday through Friday,
July 29th through August 2nd
from 8:30am to 11:30 am   
Kids from age 3 through 4th grade  
will have a great time singing,  
watching skits, creating crafts and playing games.
Kingdom Rock is filled with incredible
Bible learning experiences that kids  
see, hear, touch and even taste!   
Kids will love God like never before.   
Serve God like never before  
and have the time of their lives doing it!  
Want to be a Volunteer?
Be a… Crew Leader: Through out the week kids travel in small groups to stations with their crews and leader. Crew leaders are not Teachers! They're simply part of the Crew family. They participate in all the activities and encourage kids to talk about and apply what they are learning. Love kids, but hate to teach! This is the place for you!
Be a…Station Leader: Instead of leading independent,  isolated classes, Station Leaders see all the kids each day. There are seven different stations and kids will visit each one every day. Each station features a different Bible learning activity to meet the needs of  different kinds of learners. Teachers will be in pairs for each station.
Donate Supplies: Beginning in June through July 14th, pick up tags in the Narthex for the snacks and supplies we need for VBS. 
 No matter your age or interest, there is a place for you at
Kingdom Rock!
Where

St. John's Lutheran Church
302 NE 2nd Street
Buffalo, MN 55313