Kingdom Family Movement 2016
Thu, Nov 3, 2016, 7:00 PM – Sat, Nov 5, 2016, 10:00 PM EDT
Description
Family. We are all a part of one. Whether spiritual or physical, we belong. From one corner of the earth to another, we gather with a single desire in mind: to see his face and experience his love. We are not isolated. We are not separated. We are connected, merged, fused together and moving towards His kingdom as one. As family. 
We are so excited to invite you to GMA's Kingdom Family Movement! Join us for 3 days of moving closer to God's heart as a family. GMA is proud to announce that we will have our own Leif Hetland, along with Todd White, David Wagner, and Jake Hamilton speaking at this wonderful event. 
CONFERENCE PROMO VIDEO - CLICK TO PLAY
---
WHO ARE THE SPEAKERS?
Leif Hetland is founder and president of Global Mission Awareness. He ministers globally bringing an impartation of God's love, healing, and apostolic authority through a paradigm of kingdom family. A forerunner in modern-day missions, Leif has brought the gospel into the most spiritually dark areas of the world. Over one million souls have been saved through his ministry. He has written numerous books, including his best-sellers Seeing Through Heaven's Eyes and Healing the Orphan Spirit. Leif and his wife Jennifer reside just outside Atlanta, GA where they continue to touch countless lives through their ministry.
Todd White was a drug addict and atheist for 22 years when in 2004 He was radically set free! Redemption and righteousness are the foundation and the keys to the new creation reality that we are to live in and from. Holy Spirit wants to flow through every believer everywhere we go, at work, school, grocery stores, malls, gas stations, everywhere. His true joy is being able to reproduce in people the simplicity of this reality, in a 24/7 kingdom lifestyle! His heart is activating people into the simplicity of who they really are and destroying lies that hold people back from being who God created them to be.
David Wagner is known for his passion for Jesus Christ and his love for people. He is recognized as a relevant and accurate prophetic voice that God is using all over the earth today. He uses his prophetic gifting to empower, equip, and encourage people to discover their destiny and identity in Christ. Dave has a huge heart of mercy and carries a special grace to meet people wherever they are at in life. He is passionate about reaching the lost, healing the hurting, and restoring the broken through the powerful word of God and the demonstration of the Holy Spirit.
Jake Hamilton is a passionate worshiper carrying the language and sound of reformation and revival. He has a deep desire to see generational and denominational boundaries blurred through the simple message of love embodied in the man Jesus Christ and lived out in the context of community. As an artist he desires to push the limits of creativity and as a father and a husband he is committed to his family first. But above any of his endorsements and accomplishments he is a lover of Jesus Christ with the ability to lead others into the same encounter that transformed his life over 15 years ago.
---
What is the schedule of this conference? 
Nov. 3 @ 7 PM - 10 PM: Session 1
Nov. 4 @ 10 AM - 12 PM: Session 2
Nov. 4 @ 2 PM - 4 PM: Session 3
Nov. 4 @ 7 PM - 10 PM: Session 4
Nov. 5 @ 10 AM - 12 PM: Session 5
Nov. 5 @ 2 PM - 4 PM: Session 6
Nov. 5 @ 7 PM - 10 PM: Session 7
---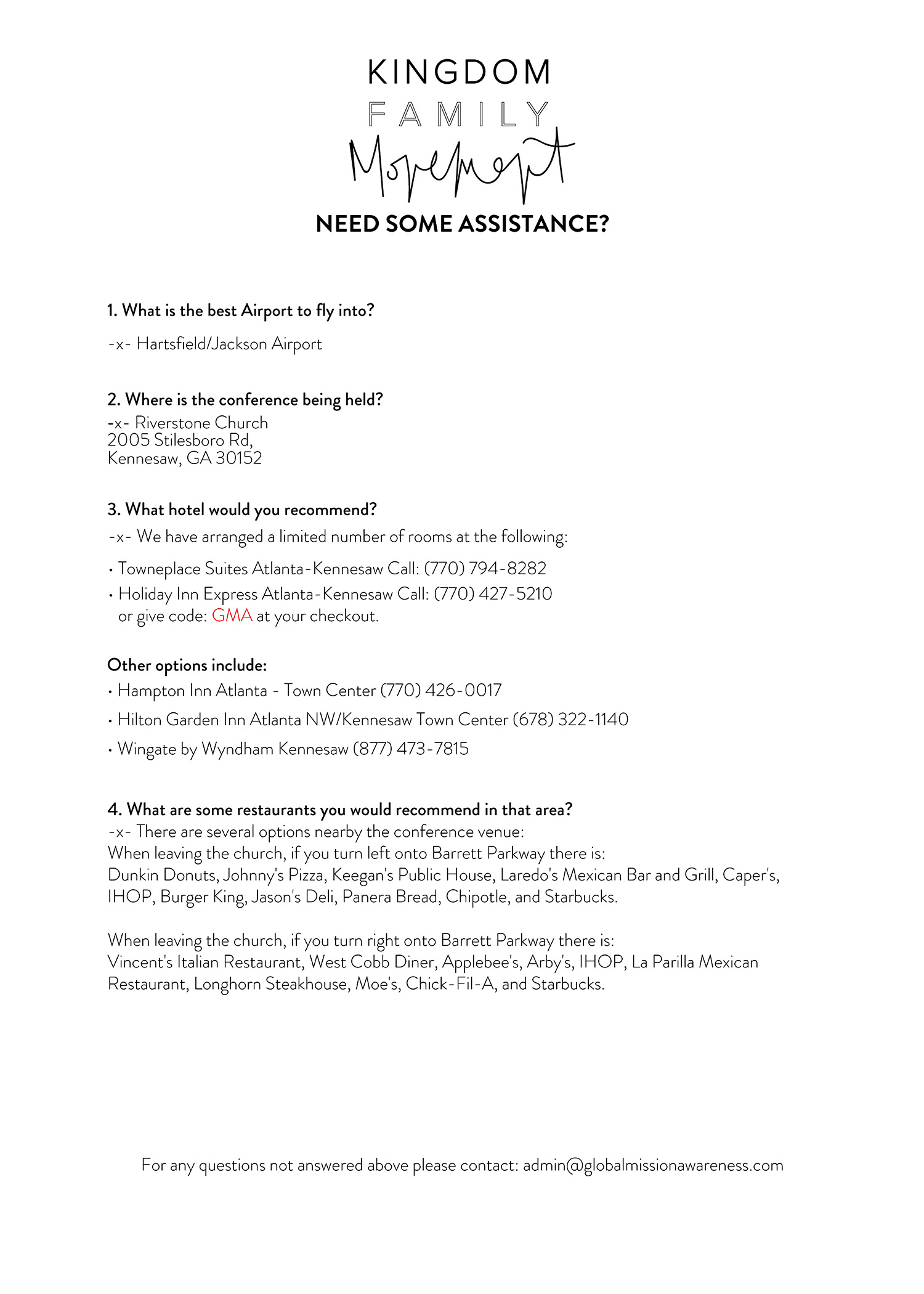 FAQs
Where can I contact the organiser with any questions?
Contact our Administrator at admin@globalmissionawareness.com 
or Call: +1 (770) 487-4800 (Mon-Thurs 9-5 EST)