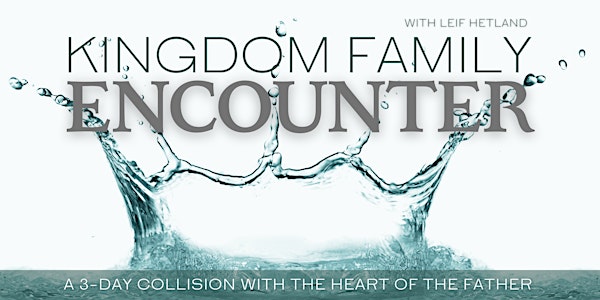 Kingdom Family Encounter
Join Leif Hetland in Billings, MT for 3 unforgettable days as we intentionally collide with the heart of Our Father for His Family!
When and where
Location
DoubleTree by Hilton Hotel Billings 27 North 27th Street Billings, MT 59101
About this event
Gather with believers from all over Montana in Billings for 3 unforgettable days as we intentionally collide with the heart of Our Father for His family. Each session will include dynamic worship, anointed preaching, genuine fellowship and powerful ministry. Expect to be revitalized, renewed and refueled with a passion for God as we encounter His love, His presence, His people, and His destiny for us!
Leif Hetland is the founder and president of Global Mission Awareness. He ministers globally bringing an impartation of God's love, healing, and apostolic authority through a paradigm of kingdom family. A forerunner in modern-day missions, Leif has brought the gospel into some of the most spiritually dark areas of the world. Over one million souls have been saved through his ministry. He has written numerous books, including his best-sellers Called to Reign, Giant Slayers, Seeing Through Heaven's Eyes and Healing the Orphan Spirit. Leif and his wife Jennifer reside just outside Atlanta, GA, USA where they continue to touch countless lives through their ministry.
Visit www.globalmissionawareness.com to learn more about Leif Hetland and the ministry of Global Mission Awareness.
Join us for these life-changing meetings.
There will be tickets available at the door for the whole event or individual sessions!
CHILDCARE: Childcare will be available for children 0-5 yrs. Space is limited. Once you register for childcare, you will receive an email that will allows you to give us information specific to your children. Please be watching for that email to come a month prior to the event.
LODGING: A special rate has been set up with the Double Tree Hotel for $109 per night, under the event name. To reserve a room call 406-252-7400.
PARKING: There are three parking garages near the Double Tree Hotel as well as street parking. If staying at th Double Tree parking is provided.
SCHEDULE:
Doors open 30 minutes prior to session
Thursday, September 16, 2021
6:30 PM: Worship / Leif Hetland
Friday, September 17, 202
1:00 PM: Worship / Leif Hetland
6:30 PM: Worship / Leif Hetland
Saturday, September 18, 2021
1:00 PM: Worship / Leif Hetland
6:30 PM: Worship / Leif Hetland