Description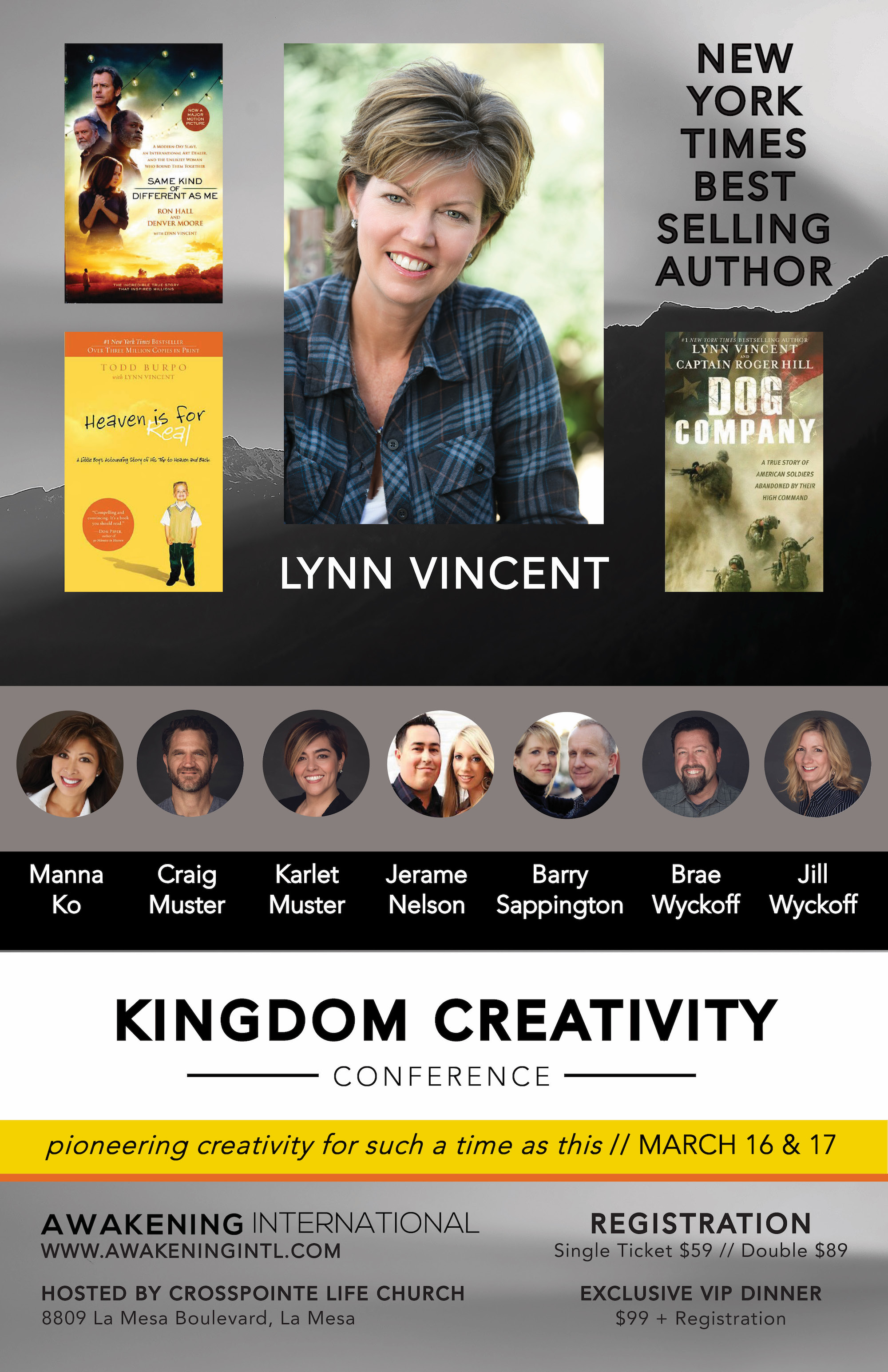 About Lynn Vincent
Lynn Vincent is the #1 New York Times best-selling writer of eleven nonfiction books with more than 16 million copies in print. Her best-known titles are Same Kind of Different as Me (with Ron Hall and Denver Moore) and Heaven is for Real (with Todd Burpo.) Her latest book, coauthored with Sara Vladic, is INDIANAPOLIS: The True Story of the Worst Sea Disaster in U.S. Naval History and the Fifty-Year Fight to Exonerate an Innocent Man (Simon & Schuster 2018.)
A U.S. Navy veteran, Lynn is also a veteran journalist and a former WORLD Magazine editor. Her investigative pieces have been cited before Congress and the U.S. Supreme Court. She has been profiled in major media outlets, including Newsweek and The New Yorker. She is an accomplished writing instructor and public speaker. Lynn lives in the mountains east of San Diego with Danny, her husband, and their three Labrador retrievers.
What is this conference about?
Creativity flows through everyone. God is the Creator and we are made in His image. We co-create with Him. The Kingdom Creativity Conference explores the depths of this subject by releasing Kingdom inspiration to unlock the creativity inside each person. This conference is designed to encourage the imagination given to us to bring change not only to ourselves but also to the world.
Awakening International Training & Reformation Center is a church, training center, and reformation ministry. Our desire is for people to be trained and equipped to engage with the world in sharing the gospel in ways that reflect the nature of God as Love, Truth and Creator. As such, He asks us to engage the world with love, truth, and creativity.
Join us as we celebrate our 3rd Kingdom Creativity Conference. Our first year we had Paul Young, author of the Shack. Our second year we had Darren Wilson, author and film director. This year we are highly favored to have New York Times #1 Bestseller, Lynn Vincent. She wrote Heaven Is For Real, Same Kind of Different As Me, and many others. Two of her books have gone to the big screen and have sold millions of copies around the world.
Come and be ignited like no other time before. This is your moment. This is your year and it is time to be awakened!
Speakers for our 2018 Conference:
Lynn Vincent, Brae Wyckoff, Manna Ko, Jill Wyckoff, Karlet Muster, and Craig Muster
Kingdom Creativity Conference Schedule:
March 15th- Thursday night VIP Exclusive Dinner (6pm to 8pm)
*25 Spaces available. Must register for the conference. Registrants will have access to the VIP Dinner with all of the speakers in a private dinner party. This sold out quickly at the Kingdom Writers Conference last year, so be sure to register for the conference quickly to gain access to register for the dinner! Once you register, you will receive a special link to register for the dinner.
March 16th– Friday (5:00pm to 10pm)
Doors open and registration begins at 5pm.
Event starts at 6:30pm. (Session 1)
Kyme Dang original song debut
Brae Wyckoff (speaker)- "Unleashing the Storyteller Within You"
Lynn Vincent (keynote speaker)- "Fear Factor"
March 17th– Saturday (all day)
Doors open and registration begins at 9am.
Session 2: 10:00am to 11:30am
Jill Wyckoff (speaker)-

"Collaborating for Success: Reaching Beyond Ourselves to Reach the Masses."
Karlet Muster (speaker)-
Session 3: 2pm to 4pm
Q&A with entire panel (Lynn Vincent, Craig Muster, Karlet Muster, Brae Wyckoff, Jill Wyckoff, Manna Ko, Jerame Nelson, Barry Sappington)
Book signing with Lynn Vincent
Book signing with Brae Wyckoff (Demons & Thieves release)
Dinner Break (4pm to 6pm)
Session 4: 6pm to 9pm
Mario DeMatteo- Spoken Word "Creativity"
Darren Oei- Choreographed dance
Manna Ko (speaker)- "Playing to Win Well"
Lynn Vincent (keynote speaker)- "The 20-Year Overnight Success"
Craig Muster- closing/final thoughts
VIP Dinner is $99 per person plus you need to register for the conference before gaining access to the VIP Dinner.
*KWA members get a $10 discount for registration only (no discount for the VIP dinner.)
Quotes from those who have attended past conferences:
"Mind blowing! Life changing! World changing! I can't even begin to tell you about the breakthrough I experienced tonight (Friday). I don't even know if I'll be able to sleep. I have so much to meditate on!"

"It was a "Writer's" Conference but I experienced more Spiritual growth than any conference I have ever been to! Little did I know when God set this in motion for me to attend, that I would be meeting Him there!! - "PRICELESS" indeed!"

"I really went to the conference to get some good writing tips. Sometime yesterday I realized I had walked away without getting any writing tips at all, but somehow managed to get every "writing tip" I'll ever need."

"A mind blowing - Spirit filling conference that has left me knowing that it will take time to see it all unfold. It was like you could feel God sitting in the middle of the room the whole time. All was blessed to be there - thank you soooo much KWA (Brae, Jill, Manna) for bringing all of us together!"