CAPACITY: a. The ability to receive, hold, or absorb something b. The maximum or optimum amount that can be produced
About this event
Join us for this private, live webinar as we dive into CAPACITY. We want to help you better understand and develop your God-given ability to receive all that He has for you and produce all that you are capable of.
This event will be online only in a private setting.
You will have the option of asking questions and participating throughout with live chat.
You will receive the live link via email and that same link will allow you to access the replay as many times as needed.
For couples, friends, and groups we do encourage you to register separately so that you have access through your own email and have the opportunity to comment individually.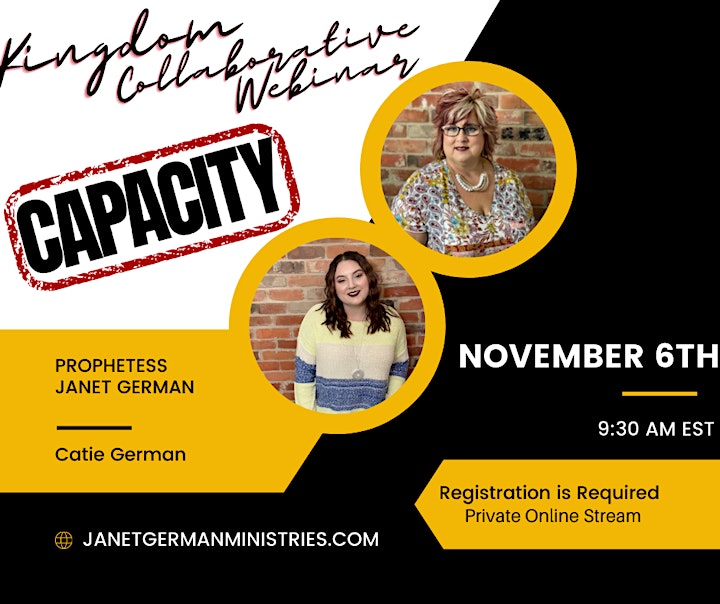 Organizer of Kingdom Collaboratives Webinar : CAPACITY
Janet German is a powerful woman, called by God as a strong and accurate prophetic voice to the nations. She carries a "NOW" breakthrough anointing that shifts and releases you into divine purpose and victory. She has a special uniqueness and flair to draw people into their full potential, and to a place of total prosperity for spirit, soul, and body. Her distinct prophetic word will move you to the edge of your seat, and onto your feet as the Holy Spirit manifests God's power and glory. She boldly crosses, all boundaries and limitations to fulfill her call and mission to "Enlighten, Empower and Enrich" lives through the prophetic Word of the Lord.
Janet travels extensively to wherever the door of opportunity is opened. She and her family live in Bartow. FL