Description
Nehemiah Project & Taylor-Leonard Corporation present a
Kingdom Business Tour featuring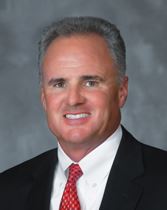 Frank X. Kelly III, CEO of KELLY
According to Proverbs 27:17, "As iron sharpens iron, so one man sharpens another". Whether you're an aspiring entrepreneur, established business owner, or corporate professional, you'd agree it's important to be around people that motivate and inspire you to reach your God given potential.
Kingdom Business Tours unite business leaders to network, collaborate, and share biblical practices that transform businesses and the communities they serve. Each event includes a short tour and an interview of the executive leading that business sharing their faith story and the kingdom culture underlying their daily business practices.
As we launch the 2016 tour, Frank X. Kelly III will share the evolution of KELLY, a family-owned business started in 1976 by his parents, Frank and Janet Kelly, in the basement of their home. Today, KELLY [and its 400+ workforce] is one of the nation's largest and fastest-growing providers of benefits administration and technology, broker and consulting services, as well as payroll and workforce management solutions.
If you believe associations are important and that iron does sharpen iron, REGISTER TODAY and spread the word about this extraordinary opportunity to experience a Kingdom business in action.
Our Agenda:
11:30am - Networking & Lunch
12:00pm - CEO Interview + Q&A
12:30pm - Facility Tour
1:00pm - Adjourn
Organizer of Kingdom Business Tour featuring Frank X. Kelly III, CEO - KELLY