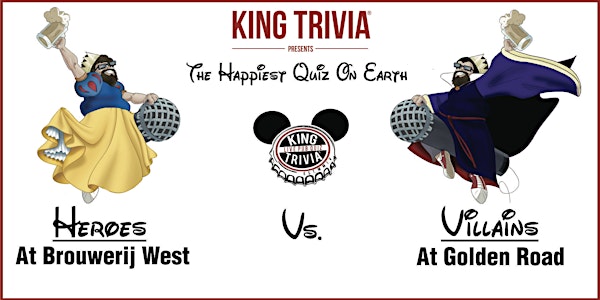 King Trivia Presents: A Disney Themed Event - Heroes
When and where
Location
Brouwerij West 110 East 22nd Street Los Angeles, CA 90731
Description
THIS TICKETING PAGE IS FOR BROUWERIJ WEST (AKA HEROES) TICKETS ONLY!
You may buy tickets for the Golden Road (AKA Villains event) here.
For the first time (in for)ever, King Trivia is giving you the option of playing the Hero or Villain theme night – or both!
Tickets go on sale Monday August 6th at 10 am, starting at $5/person. But buy fast, as ticket prices will go up as we get closer to the event!
---
Heigh-Ho, Heigh-Ho! It's off to quiz we go at King Trivia Presents: The Happiest Quiz on Earth – Part 2! It's time to Let It Go and get your groove on with this magically themed quiz consisting of 2.5 hours of Disney trivia!
But oh no! The Villains have taken over one of our venues! Looks like it's going to be a
Heroes vs Villains

night of Disney Trivia!
Do you sing along with Ariel? Is there a soft spot in your heart for the Rescuers? Do you still have a crush on Flynn Rider? Then you just might be a dashingly beautiful Disney Hero!
Is your animal sidekick a raven or red parrot? Do you relish the idea of wearing a dalmatian fur coat? Have you ever stolen the voice of a younger ingenue? Sounds like you're a dastardly Disney Villain!
The FIRST place team will walk away with approximately 50% of the ticket sales. Dress up as your favorite character, as COSTUMES ARE GREATLY ENCOURAGED! And bring your team spirit – there will be a spirit prize! The night will be dedicated to the Disney Animated Classic collection: we're talking Snow White and the Seven Dwarfs (the very first one) all the way through Moana (the 56th). Your Big Hero team is limited to six players and everybody in attendance must pay, even those that are just spectating sidekicks.


You may see some of your favorite King Trivia Quizmasters playing as well. But not to worry, they paid for their seat, and the questions are locked up high in Mother Gothel's tower until game time!So, be like Oliver and grab your company, call up Basil of Baker Street for some advice, and see how far you'll go at King Trivia Presents: The Happiest (or Vilest) Quiz on Earth – Part 2!
---
FAQs
Can I buy a ticket to both events?
Yes! In fact, we encourage it. The Heroes event (at Brouwerij West) will run from 1:00 to 3:30 pm, which gives players plenty of time to get to the 2nd venue, Golden Road, for their 7:00 start time.
Are there ID or minimum age requirements to enter the event?
Please contact the venue directly if you have someone on your team under that age of 21
What's the refund policy?
No refunds will be given for this event
---
Ticket Pricing
8/06-8/12
Team Ticket - Max 6 players $30
Team Ticket - Split Table - Max 4 Players $20
8/13 -8/19
Team Ticket - Max 6 players $40
Team Ticket - Split Table - Max 4 Players $30