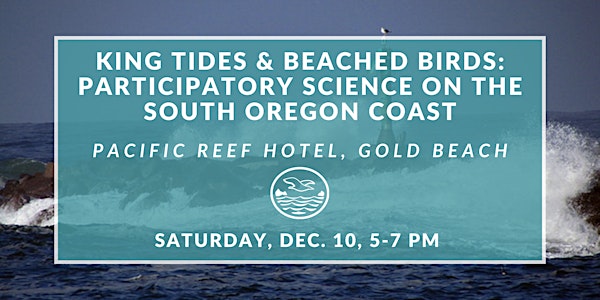 King Tides & Beached Birds: Participatory Science on the South Oregon Coast
Learn about community and citizen science projects on Oregon's south coast with CoastWatch and COASST
When and where
Location
Pacific Reef Hotel 29362 Ellensburg Avenue Gold Beach, OR 97444
About this event
On Satuday, Dec. 10 from 5-7 p.m., CoastWatch will be cohosting the second King Tides Project event of the season. This event will take place at the Pacific Reef Hotel (29362 Ellensburg Ave in Gold Beach) in the conference room, which is a stand-alone building diagonally opposite from the office. Light food and beverages will be served.
CoastWatch and COASST (Coastal Observation and Seabird Survey Team) present back to back presentations on how to engage in participatory science on your local beach. Jesse Jones from CoastWatch will share about The Oregon King Tides Project, through which volunteer photographers document the reach of the winter's highest tides. This event will prepare the audience for the December series, happening December 22nd through December 24. She will share about the project and how to participate, and give insight into the value of documenting current vulnerabilities to flooding to provide a preview of sea level rise. 
Anna Vallery, COASST's Participant Coordinator will talk about COASST's citizen science program aimed at identifying and collecting data on beached birds and how volunteers contribute directly to monitoring their local marine resources and ecosystem health. Participants with COASST build a baseline record of beached birds washing up on local coastlines and help track mass mortality events. COASST will hold a training in Brookings the following morning. COASST is a partner of Oregon Shores and a program of the University of Washington. 
This event is free and you do not have to be a volunteer to attend. Please come and learn more and see if the programs might be a good fit for you! Register here.