King Power Stadium (LCFC) Wedding Show - Biggest in East Midlands
Description
'BACKING THE BLUES' once again...After an amazing Wedding Show season in 2015_2016 at this venue, Needless to say we are returning again to the Home of 2016 Premeir Leauge Football Champions for our next wedding Shows.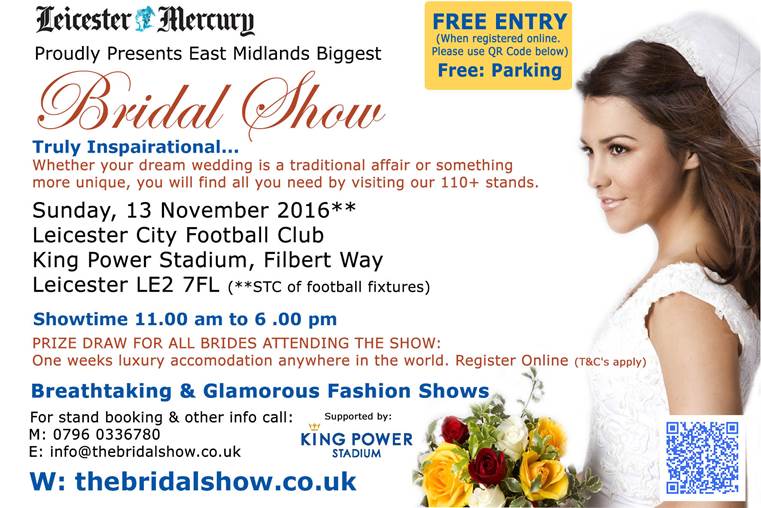 With over 110+ Stands, The Bridal Show at King Power Stadium, Leicester is the biggest in the Region.
Offering to the Brides & Grooms and their families, hundreds of truly inspirational ideas ifrom a wide variety & some of the Best Wedding Service Providers from the Midlands.This will include: Bridalwear, Venue Hire, Decorations, Wedding Cakes, stationery, Florists, Hair & Bridal Makeup, DJ's, Musician, Magicians, Honeymoon arrangers and Much More.
Breathtaking & Glamorous FASHION SHOWS are an integral part of our Wedding Shows - Fashion Shows are Scheduled for 1.00 pm and 4.00pm
FREE TICKETS ONLY OBTAINABLE when Registered online on this (EVENTSBRITE) website. Sell of tickets will close at 9.30 pm on Saturday 12 November 2016.
£2 per person at the door (ALL ticket proceeds collected at the door will go to our nominated charity LOROS HOSPICE