Sales Have Ended
Registrations are closed
If it's been less than one week since this program aired, then you still have time to register for the replay! Simply email support@nyadventureclub.com with your name, email address, and the webinar replay you're interested in viewing, and we'll send over an invoice — once paid, you'll get access to the replay for the remaining time.
Sales Have Ended
Registrations are closed
If it's been less than one week since this program aired, then you still have time to register for the replay! Simply email support@nyadventureclub.com with your name, email address, and the webinar replay you're interested in viewing, and we'll send over an invoice — once paid, you'll get access to the replay for the remaining time.
Can't make it live? Register and get access to the full replay for one week! New York Adventure Club | www.AdventureClub.com
About this event
Half a century before John Williams' Star Wars soundtrack became a pop culture phenomenon, pioneering film composer and 24-time Oscar nominee Max Steiner created the sound of Hollywood movie music, establishing the rules of scoring still in use today. This is the story of how a Vienna-born heir to a theatrical dynasty not only became a top Broadway conductor, but also the composing king of Hollywood.
Join New York Adventure Club as we explore the turbulent life and triumphant career of Max Steiner, a three-time Academy Award winner who wrote highly influential scores for some 300 movies, including King Kong, Casablanca, and Now, Voyager.
Hosted by Steiner biographer Steven C. Smith, our virtual experience surrounding one of the greatest composers of all time will include:
An inside look at Steiner's years in New York, which prepared him for his musical direction of Hollywood classics like The Gay Divorcee, Top Hat, and Follow the Fleet
The story of how Steiner invented the modern film score, with revolutionary work in the 1930s that included King Kong
Steiner's creative struggles and interactions with producer David O. Selznick, studio chief Jack Warner, and stars like Fred Astaire and Bette Davis
Insights into Steiner's chaotic private life, which included a gambling addiction and family tragedy
Rare clips showcasing Steiner himself discussing the watershed moments of his career
Afterward, we'll have a Q&A with Steven — any and all questions about Max Steiner are welcomed and encouraged!
Can't make it live? Don't worry, you'll have access to the full replay for one week!
See you there, virtually!
*Immediately upon registering, you will receive a separate, automated email containing the link to join this webinar
**For the best possible viewing experience, please ensure you're using the latest version of your internet browser — Google Chrome is the most compatible. Exact technical requirements and a webinar user guide will be shared in the automated confirmation email upon registration.
***A full replay of the experience will be available to all registered guests for up to a week
About Steven
Steven C. Smith is a four-time Emmy-nominated producer, and the author of Music by Max Steiner: The Epic Life of Hollywood's Most Influential Composer (Oxford, 2020). His first book, A Heart at Fire's Center: The Life and Music of Bernard Herrmann, received the ASCAP-Deems Taylor Award. It was also the primary research source for the Academy Award-nominated documentary Music for the Movies: Bernard Herrmann.
Steven has written about movies and music for the Wall Street Journal, Los Angeles Times, Entertainment Weekly and Hollywood Reporter. He was a supervising producer and writer on the long-running TV documentary series Biography (A&E) and Backstory (AMC). His other documentaries include The Sound of a City: Julie Andrews Returns to Salzburg and Thou Shalt Not: Sex, Sin and Censorship in Pre-Code Hollywood.
Testimonials
"Steven Smith is extremely knowledgeable about Max Steiner and he also shows an excellent presentation engaging every moment of his talk thought out. It was fabulous." -Jane
"Marvelous speaker with engaging speaking voice. Fantastic presentation" -Barry
"Steven did a superb job organizing and presenting the material Bravo!" -Sam
"Steven was eloquent, interesting, knowledgeable, and obviously enjoyed sharing his expertise with the audience." -Deborah
"Fun and enthusiastic speaker; dynamic film clips and music really added a lot. Also enjoyed the author's notes on the film stills as they educated me. Really fun overall!" -Karin
"Steven Smith was absolutely wonderful! He presented all aspects of Mac Steiner in such an informative yet entertaining way that I was totally mesmerized. It made me love Mac Steiner as a composer, even more!" -Gerri
"The author put a lot of preparation into the presentation and it was flawless. He is a very good public speaker as well. Very engaging!" -Ana
"This was an entertaining and insightful look into Max Steiner's life, music & artistic processes. The supporting visuals added greatly." -Jeudi
"Steven Smith is a Wonderful speaker. He kept you completely interested in the subject and the Presentation was extremely well done." -Rosemary
"Steven is SO knowledgeable. He was thoroughly prepared and gave a great lecture" -Steve
"Steven Smith's elegant delivery in presentation. He was calm and still quick with lots of interesting information." -Lauren
"Steven Smith is an excellent and knowledgeable host. I have his book and this was a great introduction to his subject." -Charles
"The presenter was extremely knowledgeable and had passion for the subject. His talk was very informative. While I knew the name Max Steiner and his reputation in Hollywood's early decades, I never knew about his personal side and his unique sense of humor." -Byron
"Steven Smith was informative, articulate and entertaining about Max Steiner, his subject. He held my interest throughout the presentation." -Dorothy
"The author was charming, well spoken, easy to understand, humorous and his presentation was well-suited to the topic." -Peter
"Good high level coverage. Did not get too music detailed (though I understand music). Moved along well. Presenter was very well prepared and seemed to know his stuff (well - he wrote the book)." -Paul
"The event was so well-produced it looked like a live documentary. Steven is a phenomenal speaker and storyteller." -Denise
"Very knowledgable host, well organized, with examples from Max Steiner's life and work." -Roy
"Steven's enthusiastic and clear narration; excellent illustrations of his points." -Bonnie
"It was well paced, never dull, and Steven is a superb speaker who thinks about his audience." -Jeremy
"Well researched and informative, it was presented in a very engaging way. Mr. Smith is knowledgeable and the presentation is well illustrated with both images and sound." -Suzanne
"LOVED IT! Steven Smith new his subject and had plenty of audio and visual material which flowed smoothly. The time flew." -Michele
"Everything. Presenter very knowledgeable and well spoken. Technical aspect worked well. Topic is fascinating to me." -Mary
"Presenter was well prepared and spoke well." -Marian
"Great examples lots of visuals and clear examples." -Michele
"A very knowledgeable and entertaining lecturer, presenting superb photos and video clips (GREATLY enhanced by his descriptive subtitles describing the music score at that point)." -Harold
"Great content, very professional and knowledgeable host." -Michael
Disclaimer
By attending a New York Adventure Club experience, you accept our terms of service.
Categories: Virtual, Art & Entertainment
Still Photo Credits: L. Tom Perry Collections, Brigham Young University
Organizer of 'King Kong's Composer: Max Steiner and the Hollywood Sound' Webinar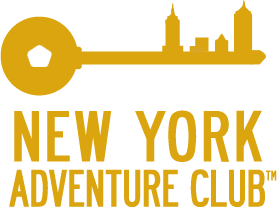 NEW YORK ADVENTURE CLUB
Unlock Your City
We give you insider access to the city's best-kept secrets. But we're so much more than a tour company.
WHO WE ARE

We are a community-driven club that curates the most unique experiences in town, with a focus on history and storytelling. We show you a city you never knew existed, and offer a community you can't live without.
You won't find our special-access tours and exclusive events anywhere else. Think after-hours tours of New York City's most celebrated spaces, themed parties in unexpected locations, and weekend excursions to incredible destinations. All of our events end with social hangouts so you can meet people who love exploring as much as you do.
THE 'CLUB' IN NEW YORK ADVENTURE CLUB

Our current community is more than 23,000 members strong and includes everyone from recent NYC transplants to lifelong residents. Whatever borough you're from (or city or country, for that matter), we'll make it easy for you to take full advantage of the unique places and great people this city has to offer.  
WHERE WE GO
To ensure a one-of-a-kind experience each and every time, we handpick events and outings specifically for the New York Adventure Club community. Recent events include:
* An after-hours tour of New York City Hall
* Special access into some of New York's most coveted private social clubs, including the Explorers Club and National Arts Club
* Petting baby kangaroos, holding sloths, and feeding leopards at Staten Island Zoo

* An NYPD Precinct tour, including a meet-and-greet with detectives and Emergency Service Unit crew members
* A tour of the Polish Consulate led by the Consul General and Vice Consul General of Poland

* A special-access tour of Brookhaven National Laboratory and its Relativistic Heavy Ion Collider (RHIC)
* A Halloween party in a historic gothic crypt, complete with a five-piece brass band
Subscribe with our newsletter to get the inside scoop on the city's most interesting events: http://eepurl.com/1cnVH
Unlock Your City with New York Adventure Club