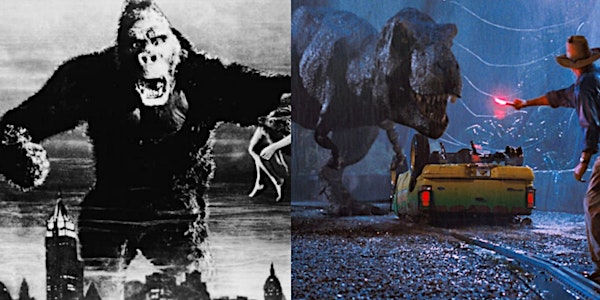 KING KONG (8:15p) & JURASSIC PARK (1015p) @ Elect
KING KONG (815p) & JURASSIC PARK (1030p) @ Electric Dusk Drive In
When and where
Location
Glendale Sears Parking Lot 211 W. California Avenue Glendale, CA 91203
Refund Policy
Refunds up to 1 day before event
About this event
ELECTRIC DUSK DRIVE IN & SECRET MOVIE CLUB present MEMORIAL WEEKEND MONSTER MADNESS!
DOUBLE FEATURE NIGHT! Part of our May 2021 Series. Saturday, May 8, 2021
815pm KING KONG (1933, dir by Merian C. Cooper, Ernest B. Schoedsack, RKO, 100mns, Digital)Doors open: 6:45pm
1030p JURASSIC PARK (1993, directed by Steven Spielberg, Universal, 127mns, Digital) Doors open: 9:45pm
IMPORTANT NOTES: Gates will open for the first feature at 645pm. If you are just attending the second movie, please arrive no earlier than 945pm so we can allow all FIRST FEATURE only attendees to leave and get you in quickly.
PLEASE MAKE SURE YOU ARE PURCHASING TICKETS TO THE CORRECT MOVIE IF YOU ARE JUST SEEING ONE FEATURE INSTEAD OF BOTH.
Also, our January-June 2021 drive-in screenings are subject to more potential weather postponements (mostly RAIN and WIND). Please check your email and our social media (@secretmovieclub) before heading to the event just to make sure we haven't postponed due to weather.
We will re-schedule any postponed event to the nearest possible date. Anyone unable to attend the new date can request a refund up to 24 hours before the rescheduled event.
FINALLY, WE WILL OCCASIONALLY BE SELLING ALTERNATE DESIGN MOVIE POSTERS DONE BY INCREDIBLE CURRENT GRAPHIC DESIGNERS.
CHECK THE ADD-ONS. IF WE ARE SELLING A POSTER, YOU CAN VIEW, PRE-ORDER, AND PICK UP POSTER AT OUR CONCESSION TABLE AT EVENT UNDER YOUR NAME!
PARKING LOT: Glendale Sears Parking Lot, 211 W. California Ave, Glendale, CA 91203
HOW TO:
Make sure when you purchase your ticket(s), you do the following:
1)PURCHASE A TWO FEATURE MAIN TICKET ($37) which includes a $25 car fee and the driver's ticket. This gets you into BOTH features.
OR PURCHASE A SINGLE EARLY BIRD ($23) or DAY OF TICKET ($28) which includes the car fee and the first ticket for the driver. This gets you into the single FEATURE you select by title.
2) GO TO ADD ONS: Purchase either an additional $12 per person ticket (for BOTH Features) or an additional $8 per person ticket (for a SINGLE FEATURE) for however many other people after the first person will be in the car. You can always bring more people and pay at the gate as long as you have purchased the TWO FEATURE, EARLY BIRD, or DAY OF TICKET.
3)PRE-ORDER ANY CONCESSIONS OR MOVIE MERCHANDISE you would like from the additional Add-Ons. You can pick up all concessions & merchandise at our table in the middle of the Parking Lot.
To attend, you need a car with an FM radio or a handheld radio you bring yourself. We will space out cars to make sure folks can safely maintain 6 feet of distance. We ask that folks stay in their cars unless they are picking up concessions or using the restroom. Whenever you are out of your car, you are required to wear a mask for everyone's safety.
IF AT ALL POSSIBLE, PLEASE BRING A SMALL OR REGULAR SIZED CAR (sedan sized or smaller). We want to make sure EVERYONE gets a great space. SUVS, TRUCKS, CARS WITH HIGH ROOFS/RACKS/ITEMS ON ROOF often have to be parked further away from the screen to avoid sightline issues.
If you bring a larger car, arrive as near to when we open our gates as possible to get the best possible space.
We are proud to continue our partnership with ELECTRIC DUSK DRIVE IN (https://www.electricduskdrivein.com) into May 2021!
Tonight, we head into the final stretch of May with a roar not a whimper when we screen the original 1933 KING KONG @ 8p that shocked and delighted the world with a huge breakthrough in storytelling and special effects. Then we follow it up with Steven Spielberg's JURASSIC PARK, directly inspired by the 1933 original, and also taking the audience at warp speed to a new era of monsters and breakthrough effects.
The 1933 KING KONG is still, for this programmer, the undisputed champion. Although a number of the remakes/reboots are rewarding in their own right (including the wonderfully epic Peter Jackson remake), the 1933 KING KONG is the best paced, most thrilling popcorn monster movie with heart ever made.
You know the story by now. Adventurers travel to mysterious Skull Island to investigate reports of a gigantic beast. A heart pounding adventure ensues as they travel deep into the jungle. Then when they encounter the massive beast known as Kong, they foolishly decide to try to bring him back to New York to show him off and make money.
Well. . .Kong don't want to be chained! But along the way, he develops a true affection and emotional bond with Ann Darrow, the woman used to lure him to his capture.
KING KONG starts with a bang and never lets up. With incredible stop motion sequences of dinosaur fights, chases, caves, skyscraper climbs, KONG is THE OG summer popcorn blockbuster.
We follow it up with the movie it directly inspired that possible, better than any other movie, took the heart and soul of KONG and updated it to the modern era: Steven Spielberg's JURASSIC PARK.
Again, you know the story. Dinosaur DNA perfectly preserved in prehistoric amber is used to re-create a variety of Dinos who are housed in a kind of amusement park island. When Scientists are invited for a sneak preview of the park ahead of its opening, let's just say. . .the rides don't agree to cooperate. The Dinos rebel and the humans are forced to reckon with these massive forces of nature and the consequences of their own foolish attempt to cage animals who never knew a cage.
Spielberg roared (forgive the pun) back like the Kong of spectacle moviemakers with this movie to prove, once and for all, when he wants to, no one can beat him for sheer adventure moviemaking, thrills, suspense, terror, and excitement.
So join us for two action packed, monster movie effects extravaganzas. And let's celebrate our slow but steady return to normalcy by kicking off the summer season right.
Best always,
Craig Hammill
35mm Secret Movie Club Founder.Programmer
FREQUENTLY ASKED QUESTIONS FOR OUR PARKING LOT CINEMA SERIES
REFUNDS:
We can offer refunds up to 24 hours before showtime. Please request a refund through Eventbrite and we will process ASAP. After that, no refunds. Sorry.
HELPFUL PARKING LOT CINEMA TIPS:
Please make sure you know how to hit off your car headlights before attending. For newer cars, the process is usually:
1. Activate the Parking Break.
2. Make sure the lights are switched to off.
3. Then turn the car on. The lights will stay off unless they are manually turned on. Repeat the process to turn them off again. 
Bring warm clothes, blankets, a few layers just in case it gets chilly and you don't want to run your car the entire movie (although you totally can if you want).
Make sure you know how to work your CAR RADIO so you can TUNE to any frequency you want.
The earlier you arrive, the better space/closer to the screen you will get! Once you get parked, you can totally leave the lot, go to get food, come back.
HOW CAN I CONTACT YOU IF I HAVE OTHER QUESTIONS/RECOMMENDATIONS:
You can always email us at community@secretmovieclub.com or sales@electricduskdrivein.com with any other questions, concerns, thoughts, recommendations.