About this Event
8.4 Sunday (Hip-Hop)
Nectar presents:
KING ISO
Swisher Sleep
David Olivas
Fizz& Celestino
Deadly Poets
DJ Gerze
$15adv / $20dos
7pm, 21+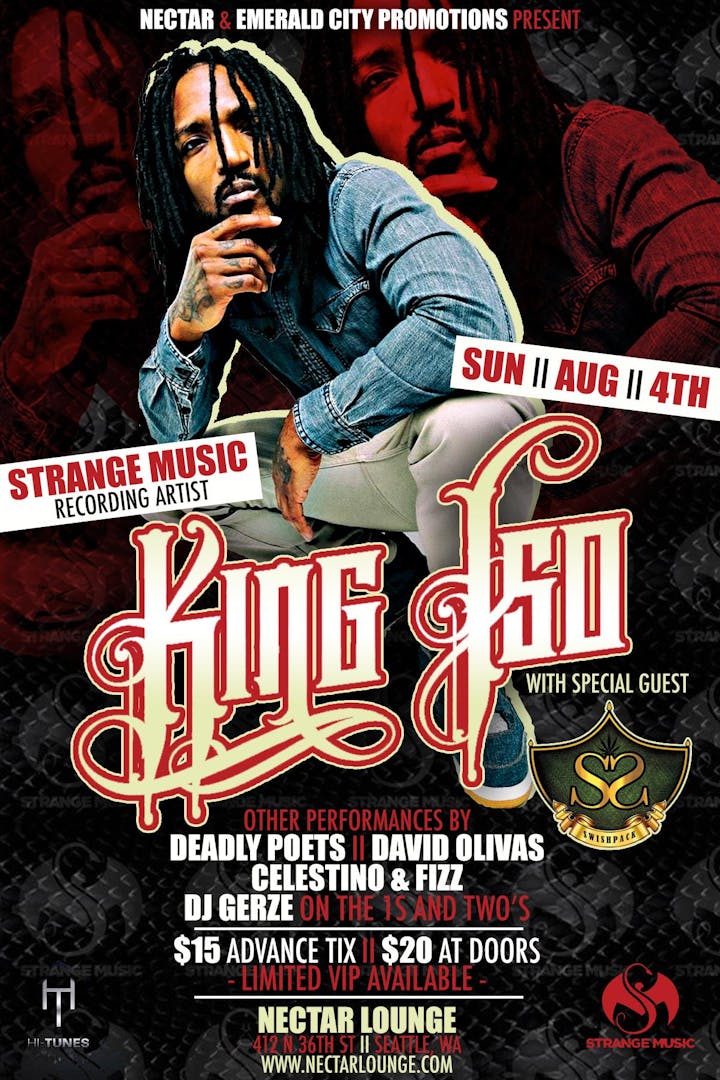 KING ISO
Coming up in the supportive yet competitive Omaha, Nebraska independent rap scene, King Iso traveled a twisting path as his drive for music pushed him onward. The rapper went from struggling with homelessness to signing with Twisted Insane's Brainsick Muzik to eventually falling out with the label and connecting with icon chopper rapper Tech N9ne. Years of focused hard work yielded a series of passionate mixtapes, including 2015's The Insanity Plea, and led to collaborations with bigger-name rappers.
Born into a military family in 1989, Iso moved around a lot before landing in Omaha early in life. He was first exposed to music by his stepfather, playing classic hip-hop albums while he was growing up and beginning to work on his own music at age 13. Inspired by the fast-paced multi-syllabic styles of Bone Thugs-N-Harmony and the West Coast chopper scene, Iso developed his fast and versatile delivery style early on. His early teen years were equally consumed by rap and gang life. His involvement in crime eventually resulted in jail time, and upon his release he grappled with homelessness, low-paying gigs, and trying to leave violent street life behind.
He first went by the stage name Reali-T, releasing the T-Virus mixtape in 2013 and then Project Iso later that year. Following the Project Iso mixtape, he adopted the moniker Iso and released a nonstop stream of music, including the multi-volume Different series as well as Venom and IKON, both released in 2014. He eventually began working with Twisted Insane's Brainsick Muzik label, which released his breakthrough 2015 mixtape, The Insanity Plea, a project so well received that it inspired the young rapper to officially change his name to King Iso.
Dementia Following 2016's Autophobia, Iso developed tensions with Brainsick Muzik in part from difficult tours and interpersonal issues with Twisted Insane. On one of these tours, Iso was sought out by Tech N9ne, who came to a show in Kansas City on the recommendation of industry friends who had been buzzing about King Iso's talent. The two became friends and eventually collaborated on Tech's track "Bad JuJu," which appeared on his 2018 album, Planet. Tensions mounted between Brainsick Muzik and King Iso when rumors began circulating that Iso had clandestinely abandoned the label to sign with Tech N9ne's Strange Music. Though the rumors were false, they led to King Iso angrily cutting ties with Brainsick. He released his next album, Dementia, independently in the summer of 2018. The atmospheric and varied set included features from Tech N9ne, Rittz, King Kash, and others.