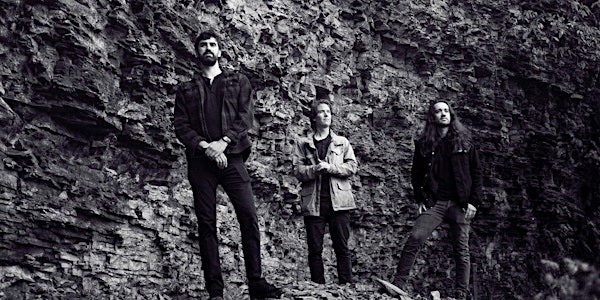 KING BUFFALO with THE SWELL FELLAS
KING BUFFALO with THE SWELL FELLAS
When and where
Location
Hendershot's 237 Prince Avenue Athens, GA 30601
Refund Policy
Contact the organizer to request a refund.
Eventbrite's fee is nonrefundable.
About this event
King Buffalo is the trio of vocalist/guitarist Sean McVay, bassist Dan Reynolds, and drummer Scott Donaldson. Since forming in 2013, the self-proclaimed "heavy psych" band has made its name via 4 EPs, 4 Full-lengths, and tours with the likes of Clutch, All Them Witches, Uncle Acid & the deadbeats, The Sword and Elder.
Rochester, New York-based trio King Buffalo will issue their fifth full-length, Regenerator, on Sept. 2, 2022, as a self-release in North America and through Stickman Records in Europe. Preorders will be available on June 10th via http://kingbuffalo.bigcartel.com.
Written and recorded by the band with mixing and engineering by guitarist/vocalist Sean McVay and mastering by Bernie Matthews, the seven-song outing is the third in King Buffalo's stated 'pandemic trilogy,' following Two of 2021's Best Albums in The Burden of Restlessness and Acheron.
Both of those albums – like 2018's Longing to Be the Mountain, 2016's debut, Orion, and the various EPs and other offerings they've made over the last eight years – made bold declarations about who King Buffalo are as a band, and Regenerator is no different. As McVay, bassist/synthesist Dan Reynolds and drummer Scott Donaldson continue to explore the outer reaches of modern psychedelic songcraft, melding progressive rhythms, drifting atmospheres and accompanying surges of electricity, the new collection only further establishes them as one of the brightest lights shining in underground rock today.
As the third of three, Regenerator seems inherently to tie together the two LPs most immediately before it, and as King Buffalo unfold the leadoff title-track across nine and half minutes, it becomes clear just how truly they have marked out their own sonic presence. The later melodic highlight "Mammoth" – with McVay's most confident vocal yet – shimmers with hope that somehow doesn't come across as desperate, and as "Hours" engages classic space rock and the closing "Firmament" summarizes the first, second and third series installments, the final chapter of this trilogy becomes the essential cornerstone of King Buffalo's work to-date.
The band returned to live activity late last year, touring alongside Clutch and more recently a full North American spring tour with Uncle Acid and the Deadbeats. By the time Regenerator arrives, they will have completed a UK and European headlining tour with festival appearances in Germany, the Netherlands, Austria, Switzerland, Portugal, Belgium and Denmark.
Hailing from their hometown of Ocean City, Maryland, and now residing in Nashville, TN, The Swell Fellas honed their craft at beer drenched bars and college parties. The three old friends took lessons from their early days of improvising extensive riff heavy jams, and formed a dark, refreshing sound that will have you riding a wave of intense meditation into soaring musical crescendos. In 2020, the band released The Big Grand Entrance in January, three song EP The Great Play of Extension in April, single Death Race in August. After an intensive early 2022 tour schedule supporting All Them Witches, The Swell Fellas gear up to release new EP, Novaturia, on June 17th, 2022.
​This power trio is made up of a pair of brothers, Conner and Chris Poole (guitar and drums respectively) with their longtime friend, Mark Rohrer, a rock guitarist who they begged to buy bass gear. Growing out of their homemade backyard studio in MD, the band is pushed forward by Rohrer's brand of melodic bass playing, wailing lead guitar with dynamic instrumental effects, and an underscore of wonderfully technical drumming. And so, the trio have distilled their personal chemistry into something greater than the sum of its parts. With larger than life lyrics inspired by the ebbs and flows of their personal lives, the band remains surprisingly grounded for a group who are so prone to exploration.
​After countless nights spent in Walmart parking lots with their 91' chevy van, highway breakdowns, and rented uHaul's, the band is building a reputation for packing out clubs across the East coast. Eschewing tropes of stoner and psych bands in the scene today, these small-town east coasters are in it for the long haul with their seemingly unpredictable compositions and an insatiable hunger for the road.
​Conner Poole // Guitar
Chris Poole // Drums
Mark Rohrer // Bass