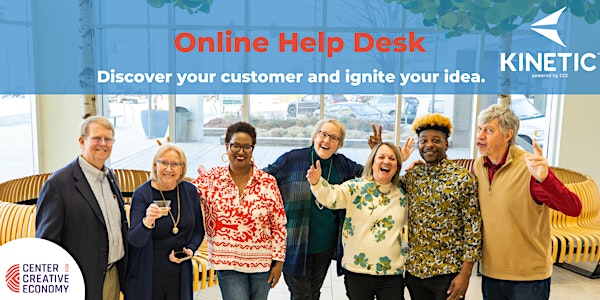 Kinetic Creative Boot Camp Online Help Desk #2
Kinetic Creative Boot Camp: Discover your customer and ignite your idea! We are here to help - Learn more about Kinetic and how to apply.
About this event
The Center for Creative Economy has launched Kinetic, a 6-week, cohort-based program that helps aspiring entrepreneurs workshop their early-stage creative business ideas and explore their customer base.
Weekly curriculum (with in-person and remote options) is taught by a team of subject matter experts who mentor and counsel founders. Kinetic graduates have successfully launched their startups, earned spots in business accelerators, and secured grants.
Through the month of February & March 2023, Kinetic will deliver in-person and online workshops twice a week from Winston-Salem, NC.
Kinetic is for Creatives who are:
Working on a business idea
Ready to test their idea, but aren't sure what the first step is
Ready to turn their hobby into a business
Need help building a foundation of business skills and knowledge
What Kinetic can do for you:
Identify your customers and start talking to them
Validate your creative idea
Help develop a business model
Help you build a forecast to understand expenses and revenue
We hope to see you there!
Learn more about Kinetic and CCE @ www.kinetic.ccetriad.com
If you have questions, don't hesitate to email Kami Leslie - CCE Program & Operations Manager: kami@ccetriad.com