About this Event
Kindred is a two day celebration of UNK Art and Design's past, present, and future. We are asking everyone to please register for each event that they plan to attend so we can get a head count for catering.
All of these events are FREE, we just want to get an idea of how many are planning to attend.
More information on these events can be found below.
Art Building Construction Tour and Chris Cox Poster Exhibition Closing Reception
Friday, May 31 from 5 p.m. to 7 p.m
UNK Fine Arts Building and the Walker Gallery
Join Art and Design faculty, alumni, and friends of the department for a tour of the new space and ongoing construction to the Fine Arts Building. We will also be hosting the closing reception for UNK alumnus Chris Cox's poster exhibition in the Walker Gallery.
Art Social at the Alumni House
Friday, May 31 from 7 p.m to 9 p.m.
UNK Alumni House (214 West 39th St., Kearney, NE 68845)
At the conclusion of the closing reception, join us at the Alumni House to catch up with faculty and peers.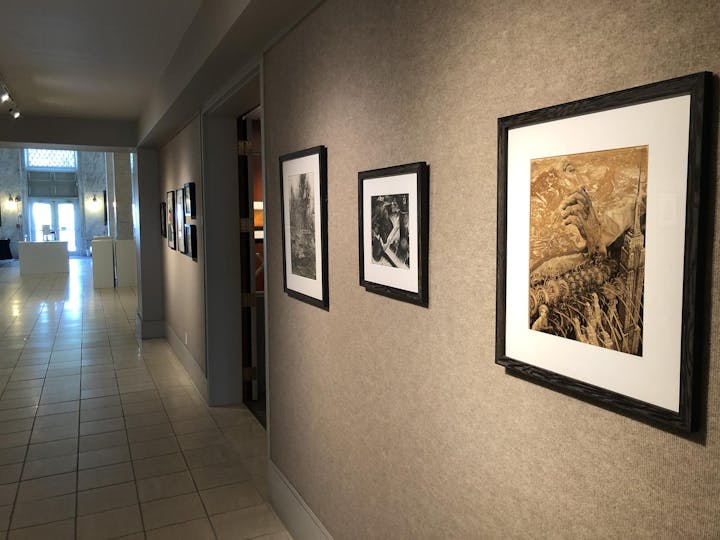 UNK Art and Design Faculty Show and Silent Auction
Saturday, June 1 from 7 p.m. to 9 p.m.
Museum of Nebraska Arts (2401 Central Ave, Kearney, NE 68847)
MONA will be hosting the closing reception to the UNK Department of Art and Design Faculty Show. A silent auction will be held for the artwork on display with proceeds being donated to the Art and Design department for additional renovations and equipment.
Art work will be on display at MONA from May 18 until the closing reception on June 1.
Who Is Attending (so far):
Jackie Abell
Allen Boe
Derrick Burbul
Liz Chvatal
Connie Cox
Amanda Erickson
Ryan Faden
John Fronczak
Gina Garden
Dana Ghorashy
Mark & Melissa Hartman
Sam Hayes
Scott Heath
Darla Heggem
Bob Heiden
Janet Jones
Pat Jones
Robyn Kendle
Yunji Lim
Julie Lingbloom
Dana Loeffler
Evan Ludwig
Ryan Lund
Maverick Miller
Randall Myers
Danielle Olson
Dan & Judy O'Neill
Brook Pierce
Samuel Rapien
Wendy Rios
Teliza Rodriguez
Dawn Sailors
Drake Sauer
Richard Schuessler
Melissa Sellers
Karen Shundoff
Ashley Stuhr
Stephanie Todd
Adam Torpin
Natalie Valalik
Doug Waterfield
Jon Watts
Desiree Wilson
Andrea Woollen