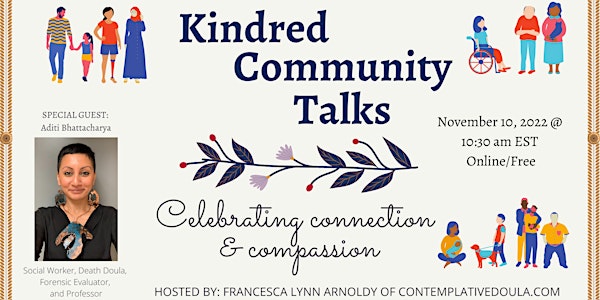 Kindred Community Talks
Join me, Francesca Lynn Arnoldy, and my kindred guest as we discuss their compassionate work in the world
About this event
THE TALK: During our virtual 30ish-minute gathering, we will discuss the origins of each guest's fascinating line of work and their tips for sustaining inspiration and energy. All registrants will receive the recording of the Talk. Live audience members can submit questions via the chat and also stay for our 15-mintue, unrecorded "after party" to converse directly with Francesca and the guest. (Limited tickets available)
OUR GUEST: This Talk features Aditi Bhattacharya.
Aditi Bhattacharya (she/her) has been practicing trauma informed and culturally centered anti-violence social work since 2010 including systems advocacy, outreach and collaborative program development. As the Deputy Director of Client Services at the NYC Anti Violence Project, Aditi champions and amplifies the voices of LGBTQ+ and HIV impacted survivors of all kinds of violence for systems change that is anti-oppressive, anti-racist and supportive of community-led care. What she learns on the ground, she shares in teaching spaces with criminal justice students at John Jay and social work students at Columbia U, so that the movement remains vibrant and vital.
She is a Forensic Evaluator, working in New York and New Jersey court systems, advancing the humanity of court-involved persons on both sides of the law. Aditi is also a Death Doula and practices gift economy in her support of persons meeting their mortal arc. Aditi grounds all this work for herself in farming practice. As a settler on unceded Lenape Land, she is grateful to serve the Ramapo Lunaape Turtle Clan on their farm, to advance food justice to the Turtle Clan community in Central New Jersey.
*This is event is free and open to everyone. By registering, you are also signing up for emails from Contemplative Doula. You can unsubscribe at any time.
~May this be a meaningful communion~