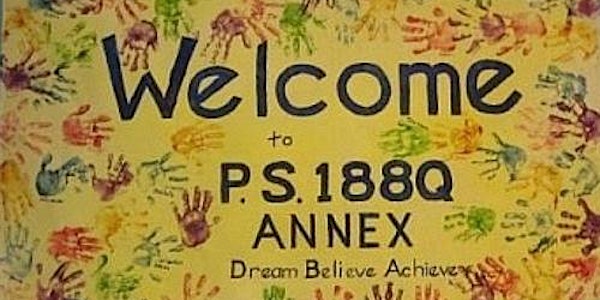 Kindergarten Evening Gifted Tour
By P.S. 188Q/Annex Administration
Date and time
Wednesday, May 8, 2019 · 6am - 7pm EDT
Location
P.S. 188Q Next to the American Martyr's Church located on Union Turnpike off of Bell Boulevard Bayside, NY 11364
Description
Dear Prospective GT Parent/Guardian,
Thank you for your interest in P.S.188Q. We will be having an evening GT tour at our annex on Wednesday, May 8th from 6:00 p.m. until 7:00 p.m.
The tour takes about an hour and we ask that families not bring children. You may have a lot of questions and it can be very long for young children. Due to the large number of families who attend during the evening, please no more then 2 members per family.
Our annex is located off Bell Boulevard on Union Turnpike next to the American Martyr's Church. It is behind the churches parking lot. Please do not park in the lot. The lot belongs to the church and is strictly for church funtions. Please find a legal street parking and walk to the building. The entrance faces the church and rectory. Don't forget to bring ID to sign in at security.
If you have any questions, please contact us at 929-600-5683. We look forward to meeting you.
Sincerely,
Janet Caraisco, Principal, Ed.D.
Christina Nartowicz, Asst. Principal