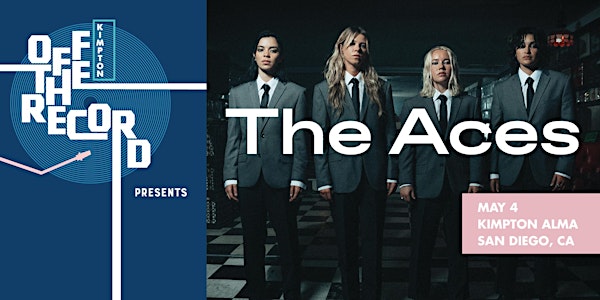 Kimpton Off the Record Presents: The Aces
Kimpton Off the Record features a diverse lineup of incredible artists with 100% of ticket proceeds benefiting our community partners.
By Kimpton Hotels and Restaurants
Date and time
Starts on Thursday, May 4 · 7pm PDT
Location
Leave of Absence 1047 FIFTH AVENUE SAN DIEGO, CA 92101
About this event
Kimpton Off The Record Presents: The Aces
Official Website: KimptonOffTheRecord.com
Doors Open: 7PM
About the Artist | The Aces
In the two years since indie-pop quartet The Aces, released their debut album, When My Heart Felt Volcanic, the band sold out their headline US tour, supported 5 Seconds of Summer, COIN, and X Ambassadors, and spent countless hours documenting everything in-between in the songs that would make up Under My Influence. Together, sisters Cristal and Alisa Ramirez (vocals/guitar and drums), McKenna Petty (bass), and Katie Henderson (lead guitar/vocals)—all friends since grade school—explore growing up and falling in love in the 21st century with candid honesty and endearing relatability. Their sophomore project brings fans deeper into The Aces' world of funk-tinged romance, heartfelt breakups, and relentless positivity—no matter what's going on. Released in July 2020 and featuring the hit singles "Daydream," "My Phone Is Trying To Kill Me," "Kelly," and "801,"Under My Influence received praise for its exploration of love, relationships, mental health, religion, and sexuality, with several band members owning their identities as queer women and using gender pronouns in their music for the first time. In 2021, the band returned with the release of their latest single "Don't Freak," inspired by their own experiences with mental health stigmas. The song and the band were featured on the reality competition series Exposure, out now on Hulu
About the Series | #KIMPTONOFFTHERECORD
2023 Kimpton Off The Record Line Up:
​February 23: Christian Kuria @ Eden | Phoenix, AZ
May 4: The Aces @ Leave of Absence | San Diego, CA
June 1: Tank & the Bangas @ King | New Orleans, LA
Coming Soon: Kimpton The Forum | Charlottesville, NC
Coming Soon: Kimpton Seafire Resort + Spa | Grand Cayman
At Kimpton, we believe music brings us closer together. Now in it's third season, our beloved live music series Kimpton Off the Record continues to celebrate the sounds that unite us and make us feel alive.
Our Partners
NATIONAL URBAN LEAGUE
Kimpton has proudly partnered with The National URBAN League on their mission to reduce equality gaps, empower communities, and enable African American and other underserved urban residents to thrive. As a historic civil rights and urban advocacy organization, The Urban League has 90 affiliates serving 300 communities, providing direct services that impact and improve the lives of more than two million people nationwide.
Grand Opening SPRING 2023
www.stayalma.com/san-diego-restaurant/leave-of-absence
Two elements guide every part of our menu: fresh air, and fire. From wood-fired pizzas to oysters on the half shell, every dish we prepare is perfect for poolside enjoyment. Join us on the roof for an authentic taste of San Diego: world-class ingredients, prepared with care and respect.
Experience the Kimpton hotels difference 79+ award-winning locations in 55 cities globally.
Enjoy a nightly social hour, live music, and locally loved restaurants. They even have amenities for your pet! Indulge in Kimpton hotel perks you didn't know you needed and let the staff provide a ridiculously personalized experience.
Kimpton® Hotels & Restaurants is part of IHG® Hotels & Resorts
About the organizer
Experience the Kimpton Hotels difference at one of 79+ award-winning locations in 55 cities globally.
Enjoy a nightly social hour, live music, and locally loved restaurants. They even have amenities for your pet! Indulge in Kimpton Hotel perks you didn't know you needed and let the staff provide a ridiculously personalized experience. Kimpton® Hotels & Restaurants is part of IHG® Hotels & Resorts. Book your stay today: www.kimptonhotels.com