Location
The Hut
475 W. Valley Ave.
Holly Springs, MS 38635
Description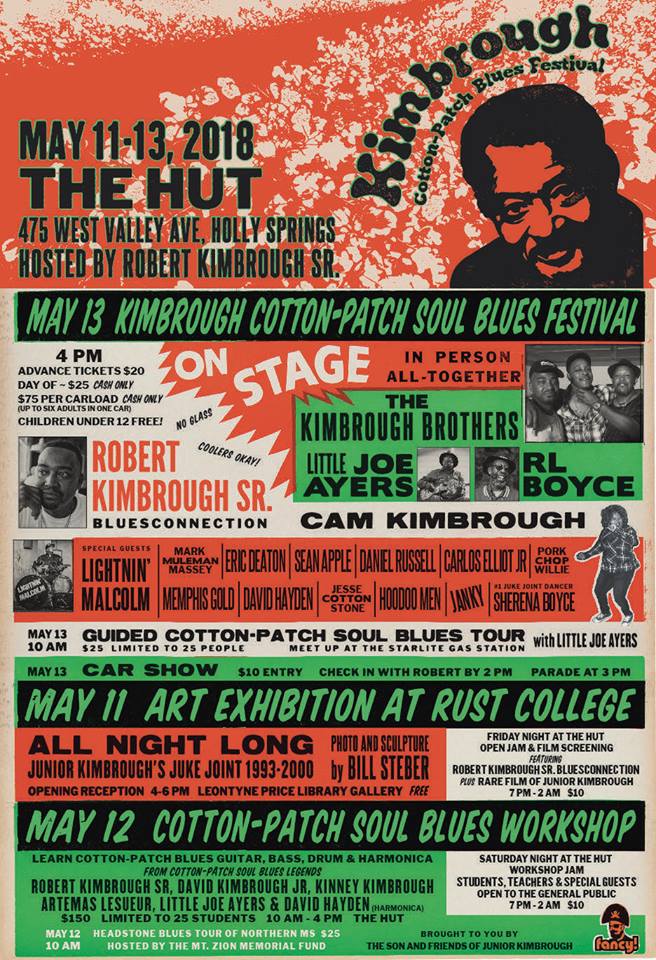 Kimbrough Cotton-Patch Blues Festival hosted by Robert Kimbrough Sr. at The Hut in Holly Springs May 11-13, 2018.
Presented by The Son and Friends of Junior Kimbrough - a grassroots effort dedicated to preserving the spirit and music of David "Junior" Kimbrough.
The events will kick off Friday May 11, 2018 4-6 pm with a reception party for a photo and sculpture exhibit. Items on view by master shutterbug Bill Steber, Leontyne Price Library Gallery at Rust College. Bill began photographing Junior at his club in the early 1990s and continued to photograph his sons over the next 25 years. The exhibition will include stirring metal sculptures Bill created from remnants collected among the charred remains of Junior's infamous Chulahoma club.
FREE!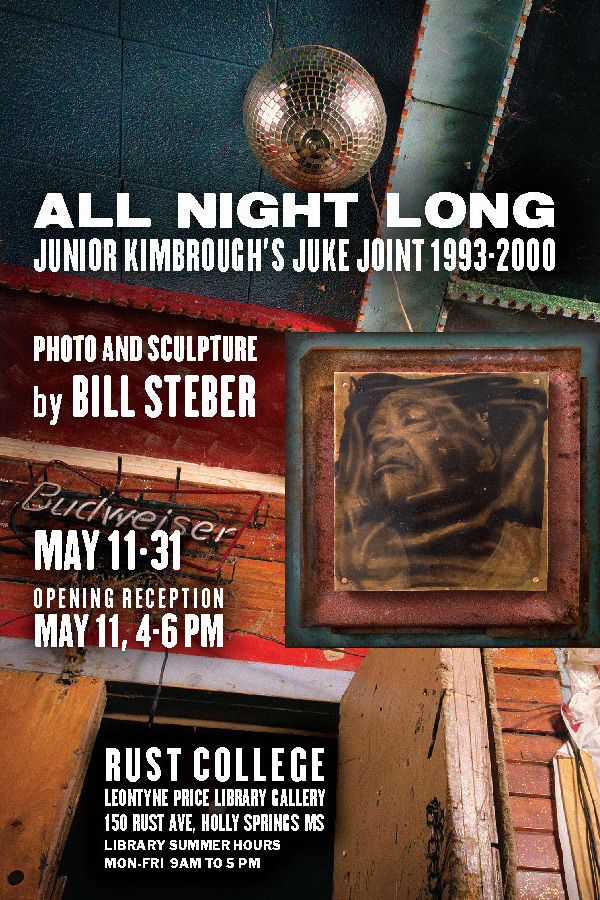 The Hut
475 West Valley Ave.
Holly Springs
Friday MAY 11, 2018 7 PM - 2 PM
FRIDAY NIGHT OPEN FLOOR JAM, Archival Film Screening
Join Robert Kimbrough Sr. BluesConnection on the floor for a live electric Cotton-Patch Blues open jam. Robert GONE LITE IT UP. HELP HIM TURN IT OUT. Also screening unavailable 1990 Live performance footage and interview with Junior Kimbrough at the Chewalla Rib Shack (60 mins). With Little Joe Ayers on bass and Calvin Jackson on drums. Film by Jas Obrecht and recently unearth footage of Junior, Joe, and JuJu playing at Johnny Smiths walking horse show, May 1989. Thanks Jama!
$10.00
Saturday MAY 12, 2018 10 AM - 4 PM
9:00 Join Little Joe for the classic Mississippi gas station breakfast at the StarLite.
10 am
Cotton-Patch Blues Guitar, Bass, Drum and Harmonica and Work Shop
Junior's sons Robert, David and Kinney will be joined bass and drum instruction all day. Little Joe Ayers will also be available for Cotton-Patch Blues guitar lessons. David Hayden a Dallas based musician will join the workshop to teach harmonica. Students will be encouraged to show-off "their" style, while the Blues Legends shares their secrets. Learn Cotton-Patch Soul Blues from the legends themselves.
11AM-3pm
An alternative event will be offered by our partner Mt. Zion Memorial Fund. Mt. Zion will lead visitors to other grave sites of local bluesman and women in the area.
$25.00
Limited to 25
Later Saturday night back at The Hut, the students will be invited on to jam with the same Blues Legends. The night will run in the traditional juke joint style of switching off with plenty of guest musicians. Fish sandwiches, burgers and cold beer will be available. The club is open to all, and locals are welcome! This type of unfiltered, smoking-hot Blues is simply what the Kimbroughs are famous for.
$150.00 Limited to 25 students
$10.00 General Public for the Night Time Jam
Sunday morning MAY 13, 2018
9:00 AM Meet Joe at the StarLite for a cup of Jo before hitting the road to see the historic Cotton-Patch sites.
10 AM
Cotton-Patch Soul Blues historic tour: ride around town with Little Joe and Robert on Sunday morning to all the local spots that pertain to Junior's life in the Holy Springs area. The tour includes the home he shared with his sons, where Junior hosted countless house parties, Junior's clubs, Blues Markers, Marshall Scruggs and Junior's grave. Joe and Robert will be on hand to tell stories, answer questions, and pose for photos.
$25.00 limited 25 people
We've added a car show this year!
The Car Show is $10 to enter.
Wax up those hot wheels. Arrive at 2 pm to enter. Parade starts at 3 pm.
RECREATION OF SUNDAY NIGHT AT JUNIOR'S 4PM
Join Robert Kimbrough Sr., and his brothers David and Kinney, plus Original Soul Blues Boy Mr. Joe Ayers for a late afternoon Mississippi family picnic. Celebrating the music of Junior Kimbrough artists to appear Robert Kimbrough Sr. BluesConnection, Cam Kimbrough, Eric Deaton, Daniel Russell, Little Joe Ayers
Lightnin' Malcolm, RL Boyce, Sean Apple, Jesse Cotton Stone, HooDoo Men, Janky, and more!
$25.00 at door CASH ONLY
Advance tickets ONLINE ONLY $20
Day of $75 per carload CASH ONLY (Up to six adults in one car)
Children under 12 free
Coolers allowed
No glass
RAIN OR SHINE ALL SALES FINAL