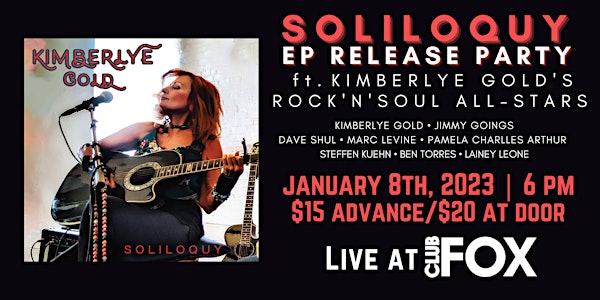 KIMBERLYE GOLD'S ROCK 'n' SOUL ALL-STARS - SOLILOQUY EP Release Party
Kimberlye Gold's Rock n' Roll Allstars EP Release party is open to the public for the first time!
When and where
Location
Club Fox 2209 Broadway Street Redwood City, CA 94063
About this event
After a long hiatus since her last album SYCAMORE STREET, SF Bay Area native and former LA/NYC/Nashville resident singer/songwriter Kimberlye Gold has released her new EP SOLILOQUY, produced by Jimmy Goings.
Kimberlye's hook-laden songs of hope, filled with the promise of love, the risk of heartbreak, and the ultimate power of redemption and letting go will grab you from the first note and leave you wanting more!
Get ready to git on up for a little bit country, a little bit rock'n'roll, and a whole lot of funky soul from Yer Lil' Redheaded Guitar Gal, backed up by the cream of the crop of SF Bay Area musical royalty, Kimberlye Gold's Rock'n'Soul All-Stars!