Kim Stanley Robinson at The Interval: How Climate Will Evolve Government an...
Description
The Long Now Foundation welcomes
Kim Stanley Robinson
(Best-selling, award-winning science fiction author)
"Beyond Capitalism: How Climate Will Evolve Government and Society"
@ The Interval at Long Now: check-in begins at 6:30; talk will start at 7:30
A variety of KSR's books will be on sale and he will sign them after the talk

Stay afterwards for drinks and conversation with our speaker
In his forthcoming novel New York 2140 (due in March 02017) Kim Stanley Robinson portrays a world forced into post-capitalism by climate change. Rising water has turned streets into canals and skyscrapers to islands, yet New York City's residents adapt and the city remains a bustling, vibrant metropolis as always. Though it has been forever changed.
In his talk at The Interval at Long Now, Robinson will share his thoughts about the future, which inform his recent work, and his vision for how the world must change in the century ahead. The evening will include glimpses of his upcoming book and a conversation with Long Now's co-founder and president Stewart Brand who will host.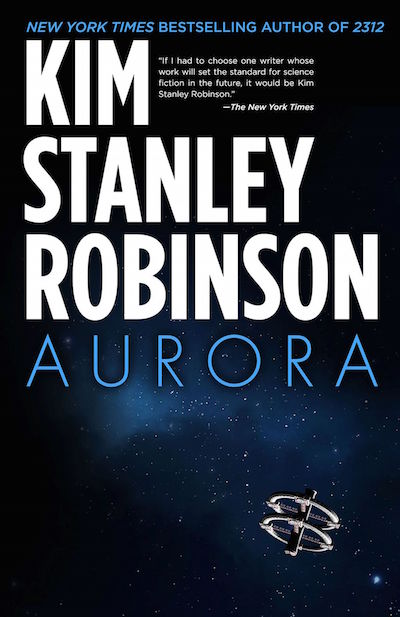 "The thrilling creation of plausible future technology and the grandness of imagination...magnificent."
— Sunday Times, review of Aurora

San Francisco's Borderlands Books will have a selection of Mr. Robinson's books for sale at the talk including his most recent novel Aurora and his classic Mars series--the first of which Arthur C Clarke said should be required reading for future space colonists. He will sign books after the event.
Long Now members can access a free livestream of this event online. The studio of Edward Burtynsky is sponsoring The Interval's live audio stream in 02016. Mercury Films and Studio Burtynsky's forthcoming project Anthropocene (02017) looks at how civilization has re-engineered the world in ways that will persist into geological time. Their support enables us to stream these events for our members all over the world.

Become a member for access to live audio streams of our Seminars and Interval events.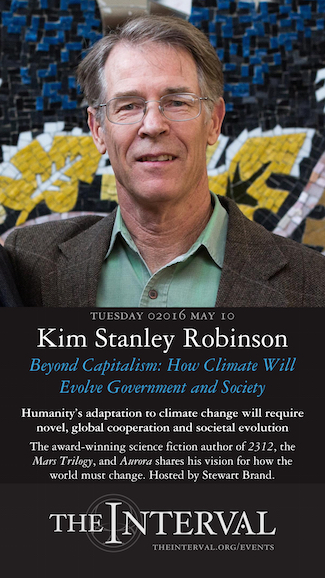 Kim Stanley Robinson is an American novelist, widely recognized as one of the foremost living writers of science fiction. His work has been described as "humanist science fiction" and "literary science fiction". His published work includes 19 novels and over 40 short stories. He has a B.A. in Literature from UC San Diego and an M.A. in English from Boston University. He earned a Ph.D. in literature from UCSD with a dissertation on the works of Philip K. Dick.

In his celebrated career, Robinson has won two Hugo and three Nebula awards, amongst many others. Most recently he was named the 02016 Robert A. Heinlein Award winner, given each year to an author whose writings inspire the human exploration of space.
In 02008 he was named a "Hero of the Environment" by Time magazine, and in 02011 became a Muir Environmental Fellow at UCSD's John Muir College.

His next book New York 2140 is due in March of 02017 from Orbit Books. He lives in Davis, California.


"Intellectually engaged and intensely humane in a way SF rarely is, exuberantly speculative in a way only the best SF can be, this is the work of a writer at or approaching the top of his game."
— author Iain M. Banks, about 2312

Join us for a talk by one of our greatest living science fiction authors as he once again shares his vision of the future.


Long Now members hear about Interval events first: become a member today