KIM MINICHIELLO WS_4 "Watercolor Sketching: Capturing Your Subject with Bru...
Description
SOLD OUT!
We are offering a second Watercolor Sketching workshop lead by Kim Minichiello on October 20, 2018. WORKSHOP 7: Watercolor Sketching: "Capturing Your Subject with Brush & Paint". Check it out HERE and register today to guaranty your spot for the October 20 workshop!
WORKSHOP 4: Watercolor Sketching: Capturing Your Subject with Brush & Paint
DATE: Saturday, June 16, 2018, 10:00 am to 1:00 pm
INSTRUCTOR: Kim Minichiello
LOCATION: Winter Garden Plant St., Historic District. We'll meet by Axum Coffee, 146 West Plant Street, Winter Garden, FL. Please arrive early if you wish to get a coffee first.
For the second year, Urban Sketchers Orlando is taking part in 10x10, the worldwide initiative to offer educational workshops wherever sketchers live. Launched in celebration of Urban Sketchers' 10th anniversary in 2017, the program brings a variety of courses on urban sketching techniques taught by talented local instructors in their home cities. In 2017, cities around the world began offering 10x10, a series of 10 courses telling the stories of our places. For 2018, Urban Sketchers have a new creative plan of long-term workshops.
DESCRIPTION:
Hands-on opportunity to be inspired by and learn from a former Walt Disney Imagineer and world traveler artist Kim Minichiello! This workshop will focus on more of a direct watercolor painting approach to sketching with an emphasis on sketching directly with your brush using watercolor paint. Kim will show you how to simplify a scene and break it down into simple shapes, block in your composition with a simple pencil sketch and then mix color from your watercolor travel kit, to sketch directly with your brush.
LEARNING GOALS:
Simplifying a scene for a pleasing sketch and composition.

Proportion, how to fit your scene or subject on your page and break down what you see into simple shapes.

Mixing color, using a split primary palette and neutralize color, to achieve a more realistic pleasing color in your sketch.

Apply watercolor loosely over you simplified pencil sketch.

Start the wonderful practice of recording your travels or daily life in your sketchbook that will become treasures for years to come!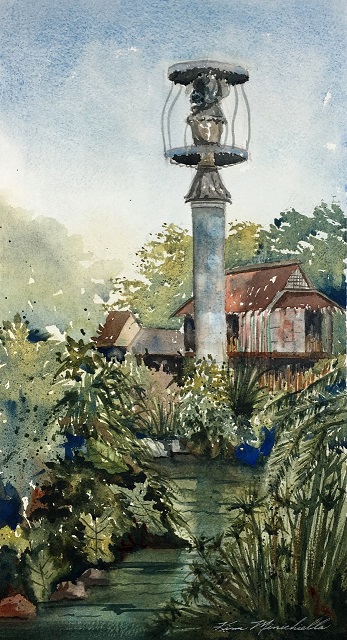 SUPPLIES:
One good round synthetic hair brush, I use an Escoda Perla #14 nothing smaller please,
Travel watercolor kit, recommended, Winsor & Newton field watercolor kit, Cotman or Artist Grade.
Sketchbook with watercolor paper or thicker paper that can handle water media
Other materials:
mechanical pencil

kneaded eraser

a few sheets of paper towels, I prefer Viva

a collapsable water container

a water bottle, I use empty water bottles and refill with water for painting.

binder clips to keep pages from blowing in the wind while painting

nice but not necessary, a small 4" spray bottle with water

a portable stool or chair, not necessary, but nice to have
ABOUT THE INSTRUCTURE: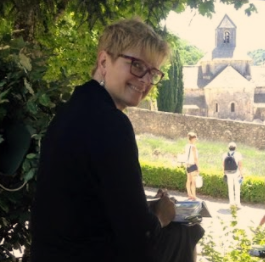 Kim Minichiello (Windermere, FL)
Kim Minichiello is an award winning internationally exhibited artist and former Walt Disney Imagineer. Kim began a watercolor sketching practice while living in Hong Kong, China and Paris, France before Urban Sketchers was founded. Kim's desire to create watercolor sketch journals while traveling the globe led her to a career as a professional painter after more than a thirty year career in design.
Kim is a member of nine professional painting societies, a signature member of three, and has been juried into and won awards in a number of regional, national and international painting exhibitions. She is one of the founding members of the Orlando Florida Chapter of the worldwide Urban Sketchers group, and the 2019 President of the Florida Watercolor Society. Kim teaches workshops and private lessons and paints in her studio, as well as on location, en plein air, locally, in the Disney Parks and when she travels. Kim's plein air paintings done at Epcot and Disney's Animal Kingdom are featured in the Art of Disney Gallery at Disney Springs. To learn more about Kim and her work please visit her website and blog at KimMinichiello.com.
CLICK HERE TO SELECT MORE COURSES FROM OUR 10X10 WORKSHOP SERIES