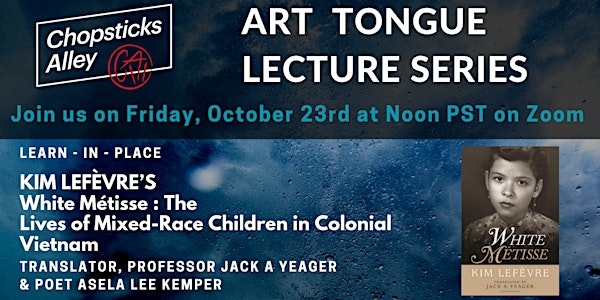 Kim Lefèvre's White Métisse : The Lives of Mixed-Race Children in Colonial
In this evocative memoir, Kim Lefèvre recounts her childhood and adolescence growing up in Colonial Vietnam with translator Prof Jack Yeager
About this event
Join Chopsticks Alley Art Tongue lecture series where we will bring to you an interactive art and culture immersion experience.
With Translator, Jack A. Yeager, professor of French studies and women's and gender studies at Louisiana State University in Baton Rouge
Guest Moderator, Michael Vann, author and professor at Sacramento State University
Special performance by Poet Asela Lee Kemper
White Métisse by Kim-Lefèvre
"Set within a tumultuous period of Franco-Vietnamese history―resistance and revolt, World War II and the Japanese invasion, the first war for independence against the French―White Métisse offers a unique view of watershed events and provides insights into the impact of upheaval and open conflict on families and individuals. Lefèvre's story captures the instability and daily humiliations of her life and those of other marginalized members of society. Sent by her mother to live with distant family members who view her variously as ungrateful, a bad seed, or "neither gold nor silver," she is later abandoned in an orphanage with other métisse girls. Lefèvre's discovery of her own sexuality is overshadowed by her mother's concerned advice to not repeat the same mistakes she had made, reminding her daughter of the Vietnamese social mores that condemn her very existence. Eventually the challenge and solace of education lead to a scholarship to study in Paris and Lefèvre departs Viet Nam for a new life in France in 1960."
You will be able to questions and relax in the comfort of your own home while learning about Asian art and culture.
Space is limited RSVP soon!
An email will be sent to all participants with the link to join the lecture 2 days before and 2 hours before the lecture begins.
For questions please send an email to chopsticksalleyart@gmail.com